Matchbox 20, Goo Goo dolls roll into Riverbend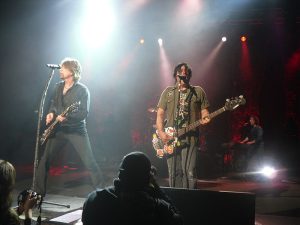 By. Sydney Stansbury
The school year is drawing to a close, much to the relief of students and teachers alike. Summer clothes are slowly making their way out of the closets, and outdoor activities are piling up. Pools are opening and summer songs are being released by country artists everywhere.
If you're tired of the same old playlist of country crooners, head up to Riverbend Music Center on June 30 for a concert you're sure to love.
Matchbox Twenty and the GooGoo dolls kick off their tour on June 25 in Manchester, New Hampshire. The bands who've been around since 1995 and 1986 respectively are alternative rock, so they're a little off the beaten path, but it's a show that you're sure to enjoy.
On June 30 this concert will be rolling into Riverbend Music Center for its fifth show of the tour. This outdoor venue has been open since 1984 and has hosted names like Brad Paisley, Jimmy Buffet, and Ella Fitzgerald. Tickets for the show range from $30 to $90 and can be purchased online.
If you're off work and looking for some fun in the sun, this concert may be the perfect way to relax and enjoy some music on a hot summer night.