Baccalaureate speakers leave lasting impressions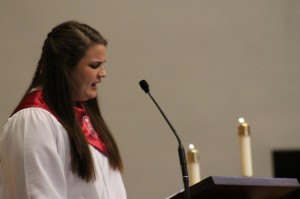 By: Julia Mikulec
On May 16, the graduating class of 2013 gathered at St. Patrick's Catholic Church for their Baccalaureate Mass.
After the seniors processed in and took their seats, Kelly Kirwan, English teacher, called the class and their families to worship. In her speech, kirwan reflected on a memory she had of her 5 year old daughter, skipping down a path on a summer afternoon.
"I knew I was witnessing pure joy," Kirwan said. "She was footloose and fancy-free." Kirwan's talk focused on the joy of graduating, and well as the joy the class experienced during their time at assumption. Kirwan ended with these words, "Let us celebrate your moving on, Class of 2013. Your moving on, full of joy."
The other speaker at Baccalaureate was Meredith Ernstberger, who was chosen by her class to speak at the mass. Meredith walked her class through their years at AHS, reflecting on moments of self-definition, happiness, and joy. In all, Ernstberger talked about how thankful she was for the time she was able to spend at AHS.