A Year of Trump: Making America Great Again?
By Sarah Michels, Editor-in-Chief, Rosecall
As America approaches January 20th, 2018, it begins to look back at the first year of Trump. It was a year that surprised, shocked, saddened, and excited people. It was a year of controversy and protests. And it was a year of Tweets. Lots and lots of Tweets.
No matter their party allegiance, everyone can agree that Trump managed to saturate his first 365 days with endless action. This was clear from the beginning; Trump took his first 100 days seriously, reaffirming his intention to deliver on many of his campaign promises through the signing of 32 executive orders and 90 executive actions. Additionally, he signed 53 executive orders during his first year alone, while Obama, as well as the majority of the most recent Presidents, signed around 34-35 orders each year of his term.
Throughout the past year, the United States has experienced a significant drop of .7% in the unemployment rate under Trump, rivaled only by Bill Clinton's .8% drop and Jimmy Carter's 1.1%. Politicians and historians affirm that it is debatable whether this change is due to the work of Trump or Obama, but either way, it's a positive sign.
However, one negative of Trump's first year is his lackluster approval rating. He reached a high of 45% approval in March and a low of 33% in November, according to Gallup News. Trump has three years to raise his average approval rating, but if the data continues along the same path, he will surely be the modern president with the lowest first term average approval rating, directly behind Jimmy Carter (45.5% approval)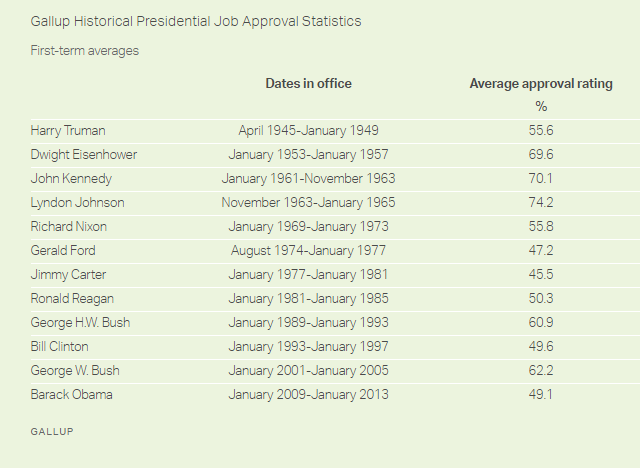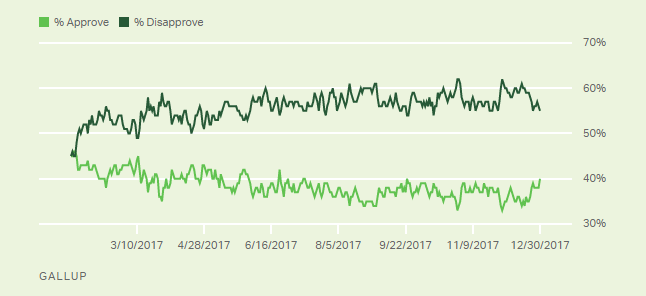 Many of the executive orders Trump has signed hold great potential for change, whether individuals consider them good or bad, while others are merely ceremonial. Here are some of the most significant orders, along with their official name and a brief description to allow you to develop your own opinion of the current administration as we head towards the first anniversary of Trump's presidency.
The Environment
January 24th: "Expediting Environmental Reviews and Approvals for High-Priority Infrastructure Projects"
This executive order made Trump's intention to continue the construction of the Dakota Access Pipeline, stalled under Obama. The order says that all pipelines used to build this infrastructure project must be created in the United States. This is a classic example of Trump's emphasis on "America First", and will temporarily create more jobs for Americans. The Dakota Access Pipeline has been controversial, both because of its proximity to Native American lands and potential harm to the environment. If the Pipeline were to leak, the substances travelling through it could contaminate drinking water as well as the Native American territory. Proponents of the Pipeline claim that it would be safer to transport oil and gas via the Pipeline than on trains, trucks, or other vehicles.
March 28th: "Promoting Energy Independence and Economic Growth"
One of Obama's major plans was the Clean Power Plan, which focused on environmental conservation in terms of carbon emissions throughout the US. This order was in charge of reviewing the Plan and determining whether to continue it. Additionally, it directs federal agencies to get rid of environmental regulations that might hinder the progress of domestic energy sources within the country.
April 26th: "Review of Designations Under the Antiquities Act"
This order is yet another major change Trump has made in the environmental policy of the United States. It directs the Secretary of Interior to reconsider the federal protection of any national monument over 100,000 acres in area. While some support this move because it will devote more land to harvesting domestic energy sources, it is concerning to liberals and environmentalists due to its lack of concern for environmental conservation. One of Obama's major accomplishments was the delegation of 554 million acres of land as national monuments, and this could effectively undo all those efforts.
April 28th: "Implementing an America-First Offshore Energy Strategy"
Offshore oil drilling has been a dividing issue among Democrats and Republicans throughout the past years, and Trump mentioned implementing more of it during his campaign. This order confirms his promise by getting rid of several regulations created after the BP oil spill in order to avoid a similar tragedy. Additionally, it directs the Secretary of the Interior to find places to develop off-shore energy sources, such as oil, natural gas, wind, and methane hydrates. Trump is convinced that this will not only create more jobs for Americans, but also help "make America great again" by increasing its domestic power.  Environmental groups are not fans, but oil companies and most Republicans support this executive order.
August 15th: "Establishing Discipline and Accountability in the Environmental Review and Permitting Process for Infrastructure"
This executive order is yet another action that reduces the environmental legislation that Obama implemented during his eight years. It revokes an order that established stricter environmental review standards in floodplain areas. It also takes this one step further, creating a policy called "One Federal Decision" for major infrastructure projects. It sets a two-year goal for average completion time of the permitting process, which has been criticized for its current lack of efficiency, as well as tasking a federal agency to direct each project.
December 20th: "A Federal Strategy to Ensure Secure and Reliable Supplies of Critical Minerals"
President Trump was concerned that the United States' reliance on foreign countries for critical minerals such as oil makes us vulnerable. This order emphasizes his intent to fund wider exploration and more advanced technology to harvest our own critical minerals within the country. This will allow America to hold the bargaining chips when it comes to foreign negotiations.
Healthcare
January 20th: "Executive Order Minimizing the Economic Burden of the Patient Protection and Affordable Care Act"
Trump's first official act as President was to make progress in the repeal of the Affordable Care Act, commonly referred to as ObamaCare. It allowed the healthcare law to be suspended when it caused financial difficulty for healthcare corporations and citizens.  This executive order did not get rid of the healthcare plan completely, but it set Trump's intentions to do so in stone. The action was primarily about Trump keeping his promise and claiming power, for it didn't implement any significant change.
October 12th: "Promoting Healthcare Choice and Competition Across the United States"
This executive order is intended to promote greater healthcare choice and competition throughout the nation. It changed a lot of Obama's healthcare work in the process. This new healthcare plan is much less complicated than the Affordable Care Act, but also expected to raise premiums for elderly citizens.
Immigration
January 25th: "Enhancing Public Safety in the Interior of the United States"
Sanctuary cities are cities where illegal immigrants can go to stay safe without being asked many questions. This executive order gave these cities an ultimatum: either follow the law when it comes to immigration (turn illegal immigrants in, don't help them, and detain people who are suspected of being illegal, even if they are arrested on unrelated charges) or have federal funding pulled.
January 25th: "Border Security and Immigration Enforcement Improvements"
Trump's concern with building a wall on the border between the United States and Mexico was perhaps the hallmark of his entire campaign. This executive order reaffirmed this intent by delegating 5,000 extra border patrol agents near Mexico's border, as well as permitting the immediate detainment and deportation of those find to be illegal immigrants. This comes at a time when Mexico's leaders have said that despite Trump's promises, they will NOT pay for the wall; Americans must foot the bill themselves.
January 27th: "Protecting the Nation From Foreign Terrorist Entry Into the United States"
The first of Trump's two travel bans, this prohibited the immigration of people from Iran, Iraq, Libya, Somalia, Sudan, and Yemen to the US for 90 days, all refugees for 120 days, and the immigration of Syrians for an indeterminate amount of time. Each of these countries as primarily Muslim, but Trump claims that the ban had nothing to do with religion and everything to do with protecting the border from terrorism. The level of controversy concerning this ban was extremely high, and the ban ended up ultimately failing due to blocking by a Washington federal judge.
March 6th: "Protecting the Nation from Foreign Terrorist Entry into the US"
The second of Trump's travel bans, this executive order slightly revises the original plan. It includes all of the same countries excepting Iraq, who promised to share more information with the US if they were free from travel restrictions. Additionally, instead of suspending Syrian immigration permanently, it suspends it for 90 days along with the rest of the nations.
October 24th: "Resuming the United States Refugee Admissions Program with Enhanced Vetting Capabilities"
Trump's administration is generally opposed to letting refugees into the United States, but this order serves as a compromise of the more extreme travel ban. It enacts an intense screening process for foreigners, especially refugees, in order to ensure that no terrorists are able to enter the country under the guise of being a refugee.
Foreign Affairs
January 23rd: Withdrawal in the TPP (Trans-Pacific Partnership)
The TPP was a free-trade agreement between the United States and eleven other countries bordering the Pacific Ocean. It was created to offset China and India's power in the trade industry. Some of its policies included removing tariffs between the countries in the partnership and utilizing trade quotas. Trump made clear his intent to terminate the US' role in this alliance during his campaign, and he followed through, making the withdrawal from TPP one of his first official presidential actions.
January 23rd : Mexico city policy
Ever since Reagan's presidency, administrations have taken turns instating and terminating the Mexico City policy. This policy says that if a foreign organization not associated with a government (NGO) provides resources for abortion or women affected by abortion, the US will not provide ANY foreign aid to them. This policy, while not new, caused many protests concerning Trump's treatment of women and stance on abortion.
April 8th: Missile Announcement
In response to a Syrian attack on the United States in the form of chemical terrorism, Trump decided to act as Commander in Chief without Congressional approval. While this executive order announced his plans to launch missiles at Syria in retaliation, it did not garner official approval.
April 29th: "Establishment of Office of Trade and Manufacturing Policy"
This order begins the process of renegotiating the NAFTA (North American Free Trade Agreement). Originally, Trump wanted to get rid of the trade agreement entirely, but he has decided to compromise. This order created the Office of Trade and Manufacturing Policy, which will assist Trump in dealing with trade agreement such as the NAFTA.
September 21st: "Imposing Additional Sanctions with Respect to North Korea"
This executive order establishes much stricter sanctions on North Korea. These include cutting off all financial assistance and revenue towards the country, punishing any business or individual trading with them, and stopping ships and planes from travelling between the two countries. This order comes after North Korea's underground nuclear test, which was a clear threat to the safety of both the United States and the world.
Economics
February 3rd: "Core Principles for Regulating the United States Financial System"
This is one of the first of many of Trump's actions that reduced the restrictions of the United States marketplace. It reviewed Wall Street regulations, determining which ones were redundant or unnecessary, so that they could eliminate them. This will allow citizens greater freedom to make their own financial decisions without the influence of the government. Opponents are concerned that this loosening of regulations may increase risk of another financial crisis like the one that occurred in 2008.
March 16th: Trump's first budget
As show in the below graphic, Trump enforced deep cuts for many different sections of the Executive Branch, hitting the environment the hardest. Additionally, he petitioned for 30 billion dollars for the Department of Defense to go towards defeating the terrorist group ISIS, as well as 3 billion dollars for the Department of Homeland Security for protection of the border.
April 21st: "Identifying and Reducing Tax Regulatory Burdens"
This executive order is primarily associated with the simplification of the complicated and lengthy tax code. The Treasury Department was given 150 days to file a report saying which regulations cost taxpayers too much money, were too complex, or were not actually in the IRS' authority.
Crime
February 9th: "Preventing Violence Against Federal, State, Tribal, and Local Law Enforcement Officers"
In response to the recent rise in police killings, in places such as Dallas, Trump signed this executive order. It says that committing crimes against law enforcement is worth more punishment. Additionally, Jeff Sessions was given the job to review existing laws concerning the protection of law enforcement to determine whether they need to be bolstered.
February 9th: "Task Force on Crime Reduction and Public Safety"
On the same day, Trump gave Jeff Sessions, the Attorney General, the assignment to identify new strategies and laws to reduce crime. He will submit an annual report that is supposed to help prevent illegal immigration, drug trafficking, and violent crime. This executive order comes after Trump falsely claimed that the murder rate was at an all-time high, which received much backlash.
February 9th: "Enforcing Federal Law With Respect to Transnational Criminal Organizations and Preventing International Trafficking"
This executive order establishes the Threat Mitigation Working Group, which is in charge of identifying ways to reduce local, state, federal, and international crime. It focuses on the areas of human trafficking, drug trafficking, financial crimes, cyber-crimes, and weapon smuggling.
Government Regulations
January 30th: "Reducing Regulation and Controlling Regulatory Costs"
Trump has focused on reducing the complicatedness and size of the federal government in his first year of office. This order states that for every new regulation proposed, the federal government must repeal two existing regulations. This is intended to increase the efficiency of managing government money. Also, it states that the budget for new regulation spending for 2017 at $0. Essentially, the government must lose at least as much regulation as it gains. Some Democrats are concerned that may put many natural resource related regulations in danger.
February 24th: "Enforcing the Regulatory Reform Agenda"
This executive order establishes that there will be Regulator Reform Officers within each federal agency that have the job of combing through regulations and deciding which ones should be repealed. The criteria they are especially searching for are regulations that are outdated, unnecessary, or overly expensive. Those who oppose the executive order claim that it will eliminate necessary protection for federal agencies.
March 13th: "Comprehensive Plan for Reorganizing the Executive Branch"
Reducing the size of the Executive Branch is one of Trump's main aspirations, and this order helps accomplish that. It directs the Office of Management to conduct a 180-day review of federal agencies to decide which ones may be unnecessary or redundant. reduce size of executive branch. Critics states that while this seems like a positive change, it could be used as justification for getting rid of agencies Trump just doesn't like rather than ones that should be terminated.
May 11th: "Establishment of the Presidential Commission on Election Integrity"
This executive order directed Vice President Mike Pence into an investigation on voter fraud. This comes election integrity: Pence will head investigations into voter fraud and suppression of voting in order to alleviate the issues of the election system that Trump believes cost him the popular vote win.
Sources: https://www.thebalance.com/what-is-the-trans-pacific-partnership-3305581
http://www.politifact.com/truth-o-meter/article/2017/jan/27/heres-what-donald-trump-did-first-week-president-u/
http://www.businessinsider.com/trump-executive-orders-memorandum-proclamations-presidential-action-guide-2017-1/#executive-order-february-24-enforcing-regulatory-reform-40
https://www.nbcnews.com/politics/white-house/here-s-full-list-donald-trump-s-executive-orders-n720796
https://www.federalregister.gov/executive-orders/donald-trump/2017
http://news.gallup.com/poll/201617/gallup-daily-trump-job-approval.aspx