Hurricane Florence Hits North Carolina
By Tara Haffner, Copy Editor
Hurricane Florence approached North Carolina and caused an immense amount of damage. Areas affected in Virginia and the Carolinas include Myrtle Beach, Chapel Hill, Wilmington, and Durham. Wilmington is now closed off from the rest of North Carolina because of the damage in the area, and although the hurricane has moved out of these areas, the damage it has done remains for survivors. So far, sixteen rivers have been at major flood level, twenty six people have died, ten thousand people are without shelter, and a quarter of the crops have suffered damage in North Carolina. Many people still remain without power while others had to endure being rescued by the Coast Guard.
Flash flooding has been a major effect of Florence in every town that has been hit. Many tornado watches and warnings were also announced in the midst of Florence's storm. According to the National Oceanic and Atmospheric Administration's Ocean Service, in Wrightsville Beach, the ocean reached 4.11 feet above high tide which broke the record that Hurricane Joaquin set in 2015 by more than a foot.
The governor of North Carolina, Roy Cooper, has called this storm an "uninvited brute". The name fits due to this hurricane's title as a category 4 storm and its high winds that peaked at 140 miles per hour over ocean water before reaching land. Some areas had mandatory evacuations take place like North Carolina's Harnett County.
One part of recovering from this kind of storm that many ma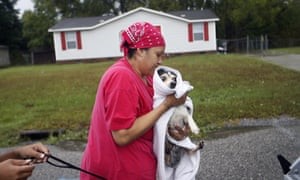 y not think about, is rescuing pets. One woman named April Casey, rescued 18 dogs. She said, "They can't save themselves." She and her crew went to rescue pets whose owners chose to leave them as they evacuated. The pets were taken to high water vehicles as the streets continued to be flooded. Because of people like April, many pets' lives were saved from Florence.
One survivor, Annazette Riley-Cromartie, talked about her experience in the storm, saying, "We tried to go outside, but the water got above his chest. We could hear people yelling for help." She is talking about her family trying to get around the water and her husband going outside, but not having any luck getting further outside. Rebuilding is the main goal for all survivors and their families right now. As an outsider, it may seem like there is nothing to do to help. However, if you are interested in helping, there are many relief funds helping those affected by Hurricane Florence online like the American Red Cross.