Uncle Kracker sings for Louisville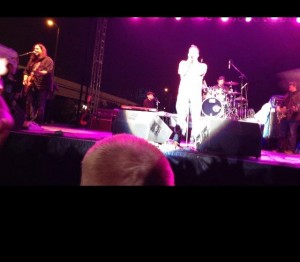 By: Heather Schmitt
Uncle Kracker made a pit stop in Louisville to join in on the Kentucky derby festivities. He came to the waterfront on Saturday April 28, and all that was needed to attend was a Pegasus pin that could be purchased for $5 at almost any retail store.
Although it was a rainy and muddy event, many fans still came out to show their appreciation to Uncle Kracker. The fans ranged from all ages starting at around 15 years old to about 40. The show started at 9 P.M. and Uncle Kracker sang many hit songs including Smile. The enthusiasm was heard through all of Downtown as the band played and the fans sang along.
As the concert went on, there were many food buses offering a variety of fried foods and sugary drinks for everyone to enjoy at reasonable prices.
The concert ended around 11P.M., but many fans continued to hang out and show their support. Although it was a rainy night, Louisville still got to experience the full effect of Uncle Kracker on the Waterfront!