By: Avery Dobozi
Last week was Mission Week, an annual week where students take a break from classes and immerse themselves in experiences that open their eyes to new ideas and opportunities. This year's Mission Week's theme was Unleash Your Power, a theme that gave students the opportunity to learn how strong and capable they are to accomplish the unimaginable. They heard from speakers, went to amazing places, and even completed eye-opening service throughout the week. Each student had a different experience and learned so much about themselves and the people around them.
On Monday, all freshmen, sophomores, juniors, and seniors had the opportunity to listen to speakers about how to unleash their power. The day started with an amazing talk from speaker, Kristen Geez, about finding our passions through Jesus. She told her own story about how she listened to God and was able to go from a bully to a keynote speaker and CEO of her company "Advising Generation Z". Senior, Lauren M., said, "She was very motivating, especially when she talked about going from being a bully to helping other people. It was inspiring to see how people can change." Kristen later hosted a breakout session where students could build their dream Assumption graduate, and brainstorm the amazing talents, capabilities, and mindsets Assumption students had. Another breakout session was hosted by Gary Montgomery, former sports broadcaster, teacher, and Assumption dad/grandpa. He taught students about finding Jesus and speaking up about faith. Students also had the opportunity to watch the Advanced Theatre's BLOOM productions, student written plays about unleashing power. There is no doubt that Monday of Mission Week was a day to remember!
Tuesday was also an eye-opening day for students. Freshmen got to travel across Louisville to different sites that relay the ideas of the critical concerns of the Sisters of Mercy. Sites included the Roots Museum, Kore Art Gallery, Fleur de Flea Market, Logan Street Market, OMIES Yoga, and more! Freshman, Yahira P. "I liked the field trip because I got to learn about other cultures and try other foods. I loved how we were able to support small businesses through sites like Logan Street Market." said. Sophomores got to listen to speakers about healthy relationships and their own worth. Sophomore, Krystal Pena-Ovalle, said, "I'm so glad that I learned how worthy of healthy relationships I am. I never realized the red flags in relationships, and I am happy I was taught how to ensure safety for myself and others." After listening to speakers, both sophomores and juniors got to participate in self-defense classes. Juniors got to attend a college fair with colleges represented from across the nation. They delved into talking about their future with a session on Naviance. They prepared for the rest of the week where they would be job shadowing and college touring. Seniors also learned about sexual assault and abusive relationships.
Story continues below advertisement
On Wednesday, freshmen experienced amazing talks regarding bullying, self-worth, and boundaries. They watched the documentary about bullying produced by the Be Kind campaign, and heard from speaker, Angie Fenton, who comes to talk to freshmen every year. Freshman, Lucy K., said "Angie taught us that were all insecure and helped us come together and bond as a class. She was very empowering." The sophomores spent both Thursday and Friday working at their ACTS agencies. The juniors spent Wednesday at the job shadows, experiencing careers ranging from nursing to real estate. Olivia B. said, "I went to Brown Forman and worked with their global brand director. I had so much fun. I am grateful for Assumption for providing me the experience." Seniors learned about different ARISE organizations, including Hand in Hand Portland, Auxier, and Nicaragua. On Wednesday, they prepared to go to these agencies, and on Thursday they actually did service to help these agencies.
Thursday was the last day of 2022 Mission Week. The freshmen were split into specialized groups including singing, dancing, photography, journalism, cooking, and videography. They worked in these groups all day, and then presented their projects to the whole grade in a celebratory showcase in the afternoon. Michiah W. "It was really fun because we got to meet people who aren't normally in our friend groups and explore different opportunities. I loved the showcase because I got to support all my sisters." Sophomores spent another day at their ACTS agencies, and juniors had the day off to go on college tours. Seniors worked more with their service agencies that they had been assigned the day before.
Some seniors had the opportunity to travel for Mission Week through ARISE mission trips. Seniors travelled to Cincinnati, Auxier, Washington D.C., and the Nature Center in Louisville. Senior, Alice Palmer, went to Washington D.C.. She said, "It was such a cool learning experience and brought me close with peers I didn't think I would ever be close with. I got to go to the Sister of Mercy headquarters and hear from sisters from across the country. I loved being able to rally for immigration policies outside the White House, it was absolutely my favorite part."
There is no doubt that Mission Week 2022 was a success. Students were able to learn more about themselves and their peers while unleashing their own power.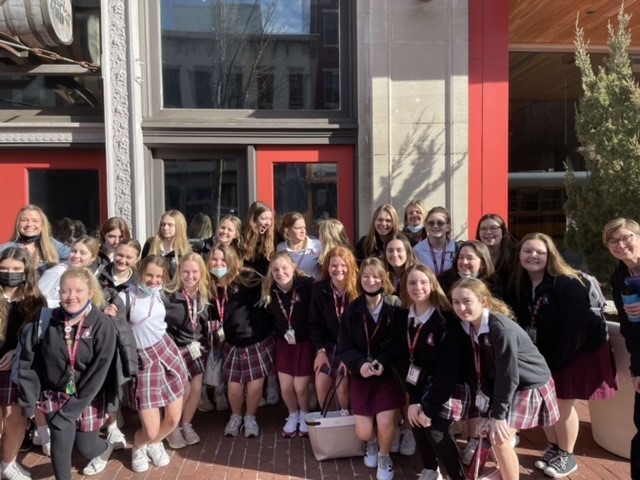 Freshmen pose on their field trip to the Frasier Museum. The freshmen went on field trips on Tuesday to help introduce them to the Critical Concerns of the Sisters of Mercy.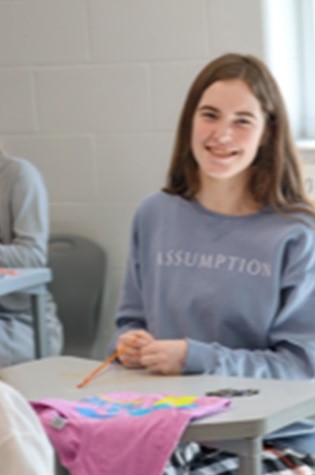 Senior, Hadley O. works on a service project for Hand in Hand Ministries. The seniors worked with different agencies for several days over Mission Week.