Meatless Mondays Sweep the Halls and the Environment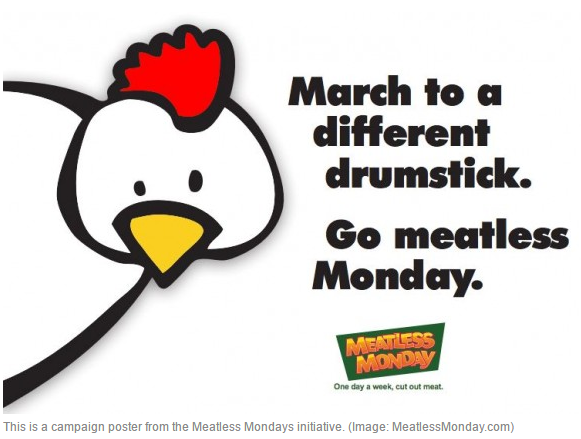 Meatless Mondays is a global movement that has been around for 13 years and now is a movement at Assumption. This idea was inspired by "Meatless Monday" and "Wheatless Wednesday" introduced during World War I to save food. Its main goal now is to reduce health risks and our carbon footprint globally. The Environmental Concerns Committee is working towards making AHS more environmentally sound.
Senior Kait Petter said, "Even if you just eliminate meat from your diet one day or even one meal a day, you are still saving animals and helping the environment." It has been shown to limit water usage, reduce greenhouse gases, and reduce fuel dependence. One pound of beef needs about 1,850 gallons of water to produce.
Meatless Mondays aren't just saving the environment, but also saving money. Chef Lee said that anytime they cut back on buying "whole meat," like chicken, beef, or pork, it cuts back on food costs.
"The impact on Assumption is more than an impact on AHS because you take with you what you've learned about sustainability," stated Lee. English teacher Jessica Williams wants people to gain a new perspective in thinking about food.
Though this movement has many supporters, there are always people who don't see the benefit.  Lee said, "You always have those people who really like their meat. You just have to weigh your options. Folks aren't always up for a change." And this is the case for many movements today. To people who are against it, Williams says, "One day a month is a great way to try and at least give it a chance."
So far, the community of Assumption has accepted this new initiative. The ECC is trying to run Meatless Mondays once a month in the upcoming school year. The next Meatless Monday is May 16th, and the ECC encourages people to step out of their comfort zone and participate in something that benefits the planet.
By: Sarah Metzger