As we start approaching fast into summer many people will be looking for a good show to binge watch on those "boring" summer days. White Collar is a high intensity crime show that has an equally intense secondary plot line and illustrates a relationship by a convicted felon and an FBI agent.
The show White Collar produced by USA network begins with the main character, Neal Caffrey (portrayed by Matt Bomer) an extremely charming, renounced art thief, being imprisoned by the secondary main character, FBI agent Peter Burke, (played by Tim DeKay). In exchange for restricted freedom agent Burke contracts Caffrey in solving high profile embezzlement and laundering scandals.
Caffrey, a notorious criminal, is insanely smart and is a key player in every investigation him and Burke are assigned to. This doesn't go without Caffrey having a second agenda during his time outside of jail. Someone inside the FBI has his beloved girlfriend, Kate, held hostage and even though he is forbidden to investigate her case, Caffrey discreetly searches for Kate and breaks many agreement in his contract and inches closer and closer back to prison as he risks everything.
The show White Collar is very entertaining and is a good show to tease your mind as there are endless plot twist. Caffrey and Burke are an amazing team that serve as character foils throughout the show and give a good balance to the show. The ultimate dilemma is will Caffrey stay or will he abandon Burke and leave for a life on the run with Kate?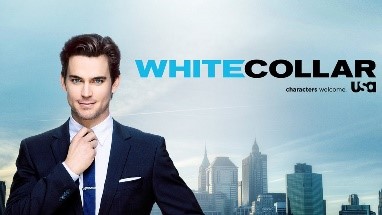 By: Lyndsey Newport