A View from the Sidelines: Tiger Run 2017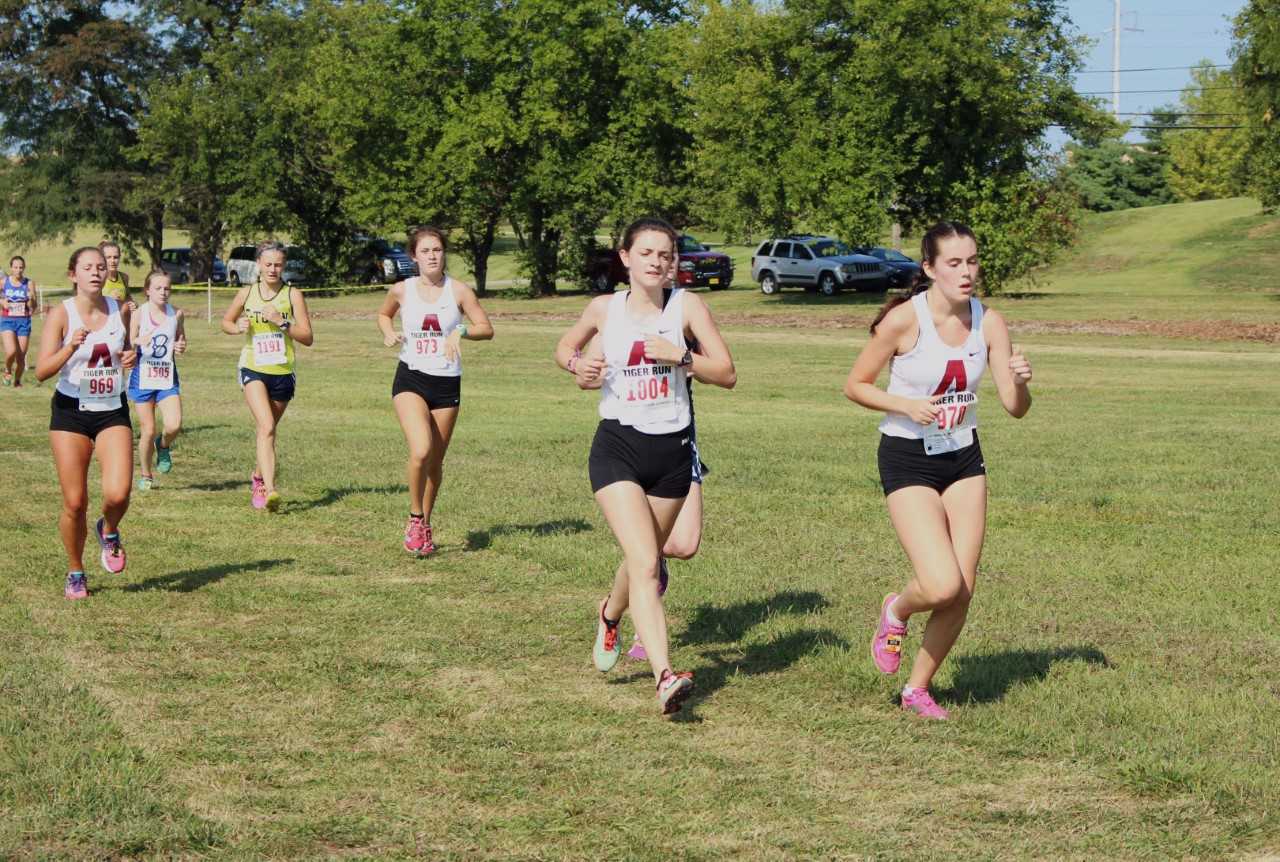 By: Sarah Michels, Editor in Chief Rosecall 
Saturday, August 26th was just another day of racing for many Rocket Runners. The normal Varsity squad did not compete, but the rest of the team took part in the 5k (3.1 miles) at Champions Park. Assumption placed 10th in the very competitive Varsity race, led by seniors Sarah Whalen and Annalee Holland, with respective times of 22:09 and 22:24. The JV team placed first in the JV race, beating second place Sacred Heart by 53 points and showing everyone that Assumption is prepared to reach a new level of competition this Cross-Country season. The team was led by junior Jessica Stein (1st place) with a time of 21:13 and Taylor White (2nd place) with a time of 21:19. Additionally, five Assumption runners placed in the top ten, a very difficult feat to accomplish (Lindsey Domene-4th, Julia Corman-5th, Maddie Nalley-8th).
The Rocket Runners certainly had a successful race, but the real story is about a runner who might not have stood out as much as the top finishers. Nicole Grendi is a senior who has been a member of the Assumption Cross-Country and Track team since freshman year. However, until this year's Tiger Run, she had never been able to compete in a single race. In 2014, one week before Tiger Run of her freshman year, and after an entire summer of high-quality training, Nicole discovered that she had a stress fracture in her pelvis, leading to months spent on crutches, unable to compete. The following year, the same exact injury came back, and thus another season was lost. Shortly after, Grendi was diagnosed with Juvenile Arthritis, which meant she would never be able to run for Assumption's team. Grendi was "beyond devastated" when she heard the news, but she remained a positive influence on the team, attending every practice, meet, and out-of-town trip. Sitting on the sidelines is excruciatingly frustrating but Grendi says she "can't even imagine what [her] years at Assumption would have been like had [she] not been on the team" because the girls are "some of [her] best friends."
Imagine Grendi's surprise when Coach Barry Haworth informed her that she would be competing at the Tiger Run this past month. She hadn't run since a tempo run during freshman year, but one of Nicole's Senior dreams was to run a 5k during senior year. "I have always dreamt of crossing the finish line proudly wearing our Assumption A uniform," Grendi stated.  Although she was nervous that her hip pain would bother her during the race, she didn't let it get in the way of her excitement.
Nicole began the race just like anyone else, pacing alongside some of her fellow Assumption runners for the first section of the race. Her hips didn't bother her, and at the mile mark, she was doing wonderfully, running much faster than anyone expected her to, even ahead of quite a few Assumption girls. Grendi said about the beginning of the race, "We got to the first part where all the fans were cheering, and it felt so good to have so many people cheering for me." After the initial excitement, Nicole slowed down slightly, but stayed strong, maintaining her position in the race. With a little over a mile to go, Grendi suddenly got a horrible side stitch, but she told herself, "You have to finish. You can do this." Her great mental and physical strength was apparent to all who were watching, for Nicole only walked three times, and even then, for less than ten seconds. She continued to push through the pain, gaining endurance from her large fanbase.
Finally, Nicole was nearing the finishing stretch and could see her teammates waiting to run her in. "I started to smile because I knew I was going to finish and it was the best feeling ever hearing everyone cheering 'Go Nicole!'" Grendi said about the experience. As she crossed the finish line of her first and last high school race, every single Assumption runner was lined up ready to cheer her in and give her a hug after she the race was over. Nicole said, "I could not have gotten through [the] race without my teammates cheering for me through the whole race. The memory will be cherished in my heart forever." It was a day that will stick in the Rocket Runners' memories for years to come.