Traffic is for Cars, Not Humans
By Sarah Michels 
Christmas music was playing over the speakers, shoppers were hastily searching for the perfect gifts, and Analisa and Adriana Conway were talking to women who weren't who they thought they were during midterms week at Oxmoor Mall. "Nothing seemed out of the ordinary," said Analisa Conway about her experience with the women claiming to represent the "World Mission Society Church of God", a church they said was popular among young women throughout the community. A young Asian woman and a middle-aged white woman approached them near Starbucks and Teavana, asking for their numbers and for them to come visit their church the next day. When Adriana received a text message the following day inviting her to the church again, she blocked the number. It wasn't until a few weeks later that the Conway sisters realized the danger they might have been facing.
These women are suspected of being human traffickers.  Several young ladies were approached by them when they were alone and vulnerable during the Christmas season, whether in the mall or parking lots, Louisville or Lexington, many sensing that there was something deeper than Christian evangelization in their motives. The Church has been accused of exhibiting cult-like behavior before, and recently started a new parish in Louisville. Concerned girls and mothers posted recounts of their suspicious experiences with these women on Twitter, spreading the word to stay alert and avoid being alone in public places.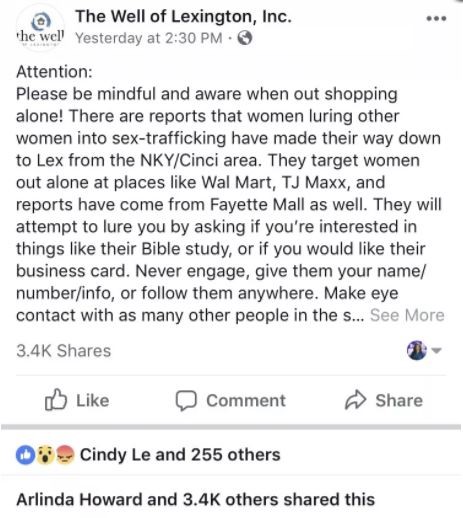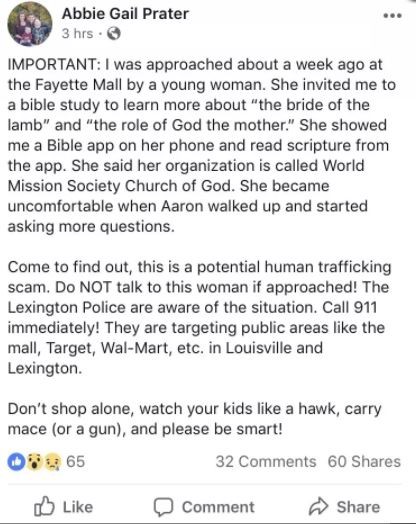 The World Mission Society Church of God denies the allegations against them, dismissing them as social media-fueled false rumors. They claim that their missionaries are not as aggressive as they have been reported to be, and that there is no solid evidence against them.
Human trafficking is defined by Homeland Security as "modern-day slavery [that] involves the use of force, fraud, or coercion to obtain some type of labor or commercial act." According to the United States Department of Health and Human Services, every minute someone will be either bought, sold, or forced into the slavery of human trafficking. Anyone can be a victim of human trafficking, but the homeless, runaways, LGTBQ+ members, and substance abusers are typically the most susceptible. Generally, human traffickers target women and children, most between the ages of 14 and 17.
This incident, whether it is actual human trafficking or not, is an opportunity for members of the Louisville community to face the prominent issue of sex and labor trafficking in their city and state. Tom Bell, the Cyber Crimes Investigations Manager of Kentucky's Cyber Crimes Unit, said "At any given time, there are probably somewhere in the neighborhood of 12,000 to 14,000 computers online in Kentucky actively trading child pornography images, seeking out children, looking for victims." Louisville is especially popular for traffickers due to the great number of major interstates that intersect within the city. And the problem has been getting worse. While in 2014, there were 57 reported incidents of human trafficking in the state, in 2015 there were 99, and in 2016 the reports nearly doubled, with 169 incidents, according to the Kentucky Human Trafficking Report.
What is being done to combat this issue? Nationally, all public schools are required to exhibit the National Human Trafficking Reporting Hotline number (1-888-373-7888) within their schools. Also, the Justice for Victims of Trafficking Act, established in 2015, increases the strength of punishment for traffickers, forms the U.S. Advisory Council on Human Trafficking, whose leaders are all former victims, and requires training for those in the police force who may face this issue. In Kentucky, progress has also been made throughout the past few years. In November of 2017, Governor Steve Beshear established "See Something-Say Something-Save a Life", legislation that directs every hotel to train its staff on how to recognize the signs of human trafficking and how to respond if they perceive these signs.
This solution mirrors a bill brainstormed by the Assumption Y Club that they presented at the Kentucky Youth Assembly (KYA) convention in 2017. The bill was called "An act to provide training for hotel and transportation employees on the signs of human trafficking", and a team of alum Colleen Begley, senior Kara Bruns, and juniors Hali McCain and Samantha Riggs were in charge of presenting it. According to Kara Bruns, this bill "focused on establishing a mandatory training session to help hotel employees recognize signs of human trafficking and be better equipped to help victims." The bill passed the House and the Senate, but the KYA Governor vetoed it. The group attempted to fight the veto, but did not get enough votes to override it. This KYA group is very passionate about this issue, and want people to realize that it affects more people than they expect. Bruns stated, "Many U.S. citizens assume that this issue, and others like it, are only existent in distant places. The first step to finding a solution to the problem is addressing and recognizing its pertinence."
No matter who you are, you or someone you know could be a victim of human trafficking. Always stay alert on social media and when alone, and as Analisa Conway said, "never give out your number to strangers, because they might be able to track you." Here is a list of some common signs of sex and labor trafficking. Remember, it is always better to be safe than sorry. If these signs remind you of someone you know, tell a trusted adult or call the National Human Trafficking Reporting Hotline (1-888-373-7888).
Isolated/disconnected from everyone they used to socialize with
Irregular and unexplained school absences
Explanations and conversation that seems coached
Dramatic change in behavior
Unexplained bruises
Few personal possessions OR a sudden increase in luxurious items
In a relationship with a controlling or noticeably older person, with whom they are submissive
More fearful or paranoid than normal
Disoriented (doesn't know the date/place they are)
Stories that don't add up
Sources