By Sarah Michels 
"If you had asked me on January 22nd, I would have said this is the last place a shooting would happen." Briley Chambers, a senior at Marshall County High School, says her community never saw the tragedy of January 23rd coming. This was the 11th such tragedy of 2018, only three weeks into the year.
Chambers pulled into the parking lot at 7:50, waiting for her friends to arrive so they could walk in together, just like any other day. She texted her friends that she was getting out of her car at 7:57, completely ignorant of the fact that at that moment, a freshman had just opened fire inside the building. As Chambers grabbed her backpack from the backseat, she saw students sprinting out of the main gym doors. She says, "I didn't know what was happening until I heard someone scream that there was a shooter, so I got in my front seat and called my mom. I was in a panic and completely shocked."
For the remainder of the day, Chambers stayed at her mother's work, a nearby elementary school, watching the news for updates and calling those she knew to make sure that they were okay. By the end of the day, Chambers was "numb", still in a surreal state of disbelief, hoping to wake up from this "awful nightmare". When she finally got to see her friends the next morning, Chambers was extremely relieved. "Even though I had already heard from them and knew they were safe, it didn't feel right until I was able to be with them and hug them," she said.
The shooting at Marshall County resulted in two fatalities, Bailey Holt and Preston Cope, and eighteen additional injured students. The shooter, as well as the two killed, was a freshman. People described him as a quiet and happy boy who enjoyed music, but clearly there was more behind the scenes. He will be charged as a juvenile for murder, attempted murder, and assault, and most likely sent to juvenile prison until he is 18, when he will appear before a judge to determine whether the trial jury's sentence will be imposed on him or not.
Unfortunately, this shooting is not an anomaly; tragedies like these are rapidly becoming more common. Since 2013, there have been 290 school shootings from coast to coast of the United States, and it's unlikely that this will change quickly. No longer are schools considered a guaranteed haven of safety.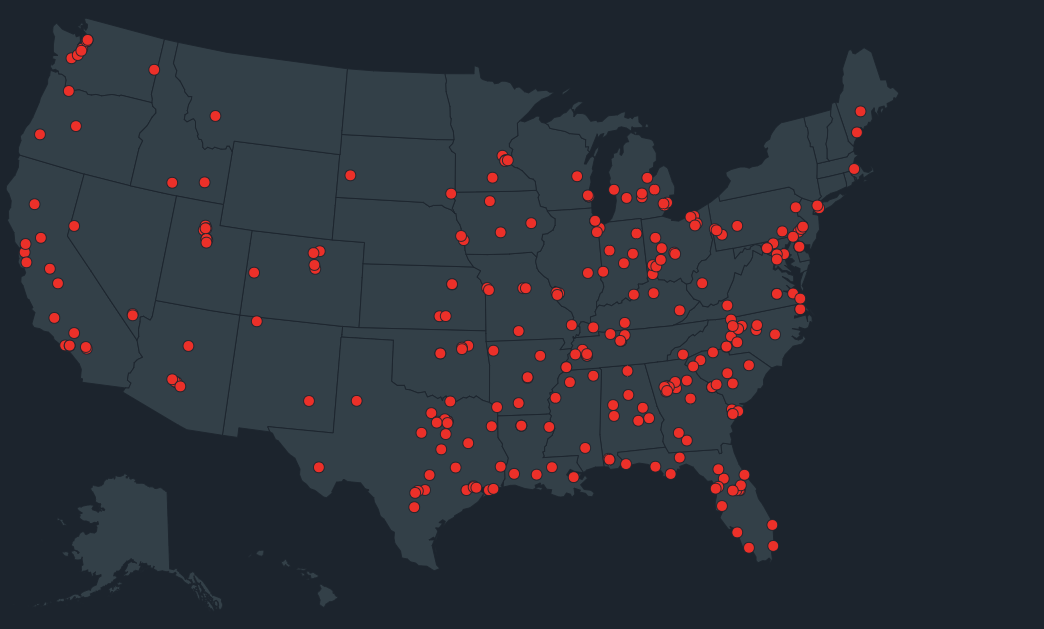 The nation has differing and often contradicting opinions on how to solve this issue. Many schools are now enacting lockdown procedures and drills at random times of day in order to simulate the best response to an actual shooting. Some have taken this further, turning to armed guards or additional security at the school's entrance. Chambers says that Marshall County now requires all students' bags to be checked for weapons with metal detector wands before they are allowed to go inside. Police officers have also been received further training on how to respond to these kinds of situations.
Another proposal is to strengthen gun laws, requiring more intense background checks and thorough training so that gun owners are responsible and can safely do things like lock up their guns, store the bullets separately, and load and unload the safety correctly. However, others suggest that the United States keep the gun laws as they are, and instead turn their focus towards better and broader mental health and bullying prevention resources for adolescents. Lastly, some claim that the violence of the media and videogames is to blame, saying that the system of being rewarding for killing and violent behavior is the root of the issue.
Whatever the solution is, it is important that people stop sensationalizing the tragedy, and rather focus on the families and victims. Don't give the shooter attention; give it to the victims and the grieving members of the community.
Marshall County is healing slowly. The school has provided comfort dogs, professional grief counselors that are always available, and a constant police presence. The teachers are acknowledging the grieving process, taking lessons more slowly so that students do not get too overwhelmed. "The walls are covered in signs from schools all over the country and we've received thousands of cards and donations," says Chambers. Superintendent of Marshall County High School Trent Lovett released an official statement on Twitter encouraging the community to "wrap [their] arms around these families and around these students" as they deal with the aftermath of this tragedy.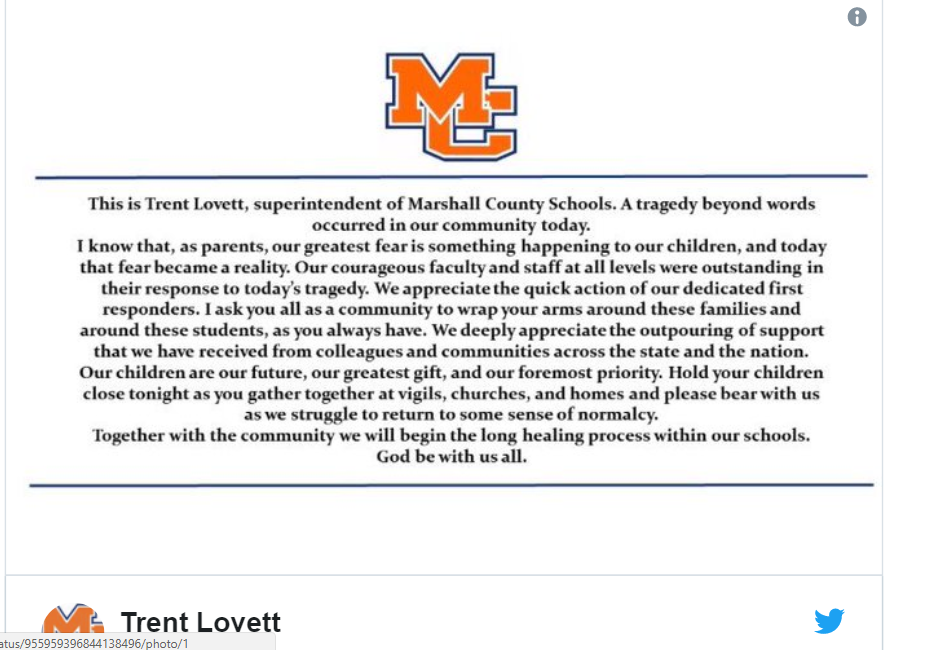 The school shooting of January 23rd, 2018, is not another Sandy Hook or San Bernardino or Columbine. It's not just another tragic story to add to the list. It is more than that. Marshall County is a story of hope, of growth, of healing, and we need to treat it as such. As Briley Chambers says, "I want Kentucky and the nation as a whole to realize that Marshall Strong is not just a hashtag or a phrase on a t-shirt. We are strong. This tragedy does not define us. What defines us is our response and the way we move forward. I hope that Marshall County does not become synonymous with a school shooting. We have experienced devastation, but not defeat. Marshall County means hope, and love, and unity. We are a family."
http://www.king5.com/article/news/12-school-shooting-incidents-have-occurred-in-the-us-so-far-in-2018/281-511306237
https://www.cnn.com/2018/01/23/us/kentucky-high-school-shooting/index.html
https://www.cnn.com/2018/02/01/us/school-shootings-in-2018/index.html
https://en.wikipedia.org/wiki/List_of_school_shootings_in_the_United_States#Number_of_shootings_per_century
https://www.usatoday.com/story/news/nation-now/2014/04/19/school-shootings-timeline/7903671/
http://www.foxnews.com/us/2018/01/25/kentucky-school-shooting-suspect-held-on-charges-murder-assault.html