By Jorgia McMeans, Design Editor
As dangerous fires wreak havoc on the west coast, more and more cities are being threatened by mother nature's wrath, here's what we can do to help.
Here in Louisville, the high August temperatures mean more days of summer, but for Californians, the heat is fueling wildfires that have been ravaging their towns for almost two months now. "Fire Season" typically begins in mid-August, however, this year, the fires began almost a month before this time, in late June.  According to climatologist Paul Ullrich, things aren't looking up for the golden state, as it is only the beginning of this deadly season "I wouldn't be surprised if this season is the worst on record" Ullrich says. These dangerous blazes don't just threaten southern California anymore; the whole state is now dotted with fires, spreading from as low as San Diego all the way up to the Klamath National Forest located near the California-Oregon state line. There are now 24 active fires in California, and California fire officials say these flames are only 34% contained.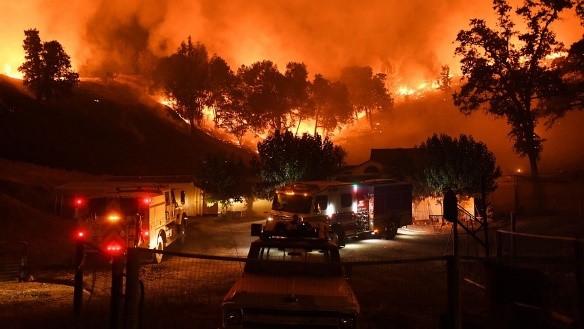 This is grim news to many Californians, as over 1,200 houses and structures have already been destroyed along with nine deaths. The death and destruction rate are expected to climb along with the unusually high August temperatures. Not only are the fires taking a toll on the people and the land, they've also put a sizeable dent in California's fire budget. Originally, the California Wildfire Fund for 2018 contained $443 million for 2018, and dismal $8 million dollars remain in the fund. The cause of these destructive forces of nature can be traced back to climate change according to numerous environmental studies. While there may not be any actions that students here at AHS take to end these wildfires, there are many ways we can be more environmentally conscious at school. Mrs. Lincoln, a teacher and environmentalist here at Assumption has a couple "green" tips and tricks she is happy to share with students!
"We have to break our plastic addiction," Lincoln says. Certain plastics called "Plastics 1-7" which include that used to be recycled are no longer accepted by Rumpke, Assumptions garbage service. Recycling plastic has lost its value in the market, meaning a large amount of the plastic that students put in the recycling bins ends up in the landfill anyways. The solution? The City of Louisville still takes the types of plastics that Rumpke no longer accepts so if you or someone you know recycles through the City, take your plastic with you! It not, try to cut down on plastic usage and pack lunches and snacks in reusable containers. Here are some more ways to go green at school:
Carpool! To cut down on CO2 emissions, you can carpool with a buddy to school instead of wasting gas. It cuts down on gas money and harmful fumes.
Don't idle, if you wait in your car before or after school, having your engine running is extremely harmful to the environment. If it's hot try rolling down your windows, or if it's chilly bring a blanket.
Unplugging electronics seems like a small thing, but it can cut down on how much electricity the building uses. Unplugging things like lamps and chargers when they aren't in use can help save energy!
Environmental tips from https://gradeslam.org/blog/10-ways-students-can-be-more-environmentallyfriendly