By Katie Kraus, staff member
This past Wednesday, November 14, Assumption participated in the long-standing tradition of sports signing. The athletes were involved in swimming, softball, soccer, field hockey, and to no one's surprise, volleyball. A large number of girls were signing this year, with family, friends, and coaches filling the seats of the theater. The signers were Libby Kraus (Field Hockey), Lauren Zanetti (Field Hockey), Addison Cline (Soccer), Braxton Downs (softball), Emily Lewantowicz (swimming), MaryAnn O'Toole (volleyball), Lauren Myrick (volleyball), Callie Martin (volleyball), Karly Basham (volleyball),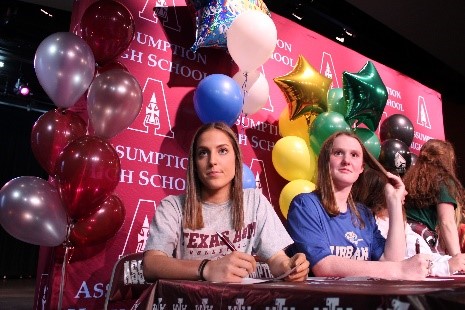 Emma Monks (volleyball), Alexa Hendricks (volleyball), Camille Nazor (volleyball), and Maggie Burns (volleyball). All of them are fantastic players in their own way, and all are very much deserving of the excellence that comes with being a college sports player. The girls all made speeches to thank their friends and families along with their coaches who made speeches highlighting memorable moments in each player's career.
For one sport, it was the first time that an athlete was moving on to a higher level of competition with Emily Lewantowicz being the first athlete for Assumption Swim that has committed to play at the college level. After the signing was over, family and friends alike all crowded around to get pictures with these amazing women, and afterwards, everyone celebrated with cake in the lobby. It was a celebratory time for everyone, and for most of the parents, it was a realization that college was nearing. Their girls are moving on to college and beyond.