By: Emily Dewey, Photo editor
Australia is in the middle of a crisis. The Australian bush fires started in late September and continue today roughly 4 months later. To understand the real impact of this situation, you must know what preceded these fires. Australia has been in an ongoing drought because of the constant climate change. This has worsened in the past 30 years causing bush fires to become unstoppable with this year being the hottest and driest on record. The sweltering heat has caused "bush fire seasons" to appear more tragic and have more lasting effects.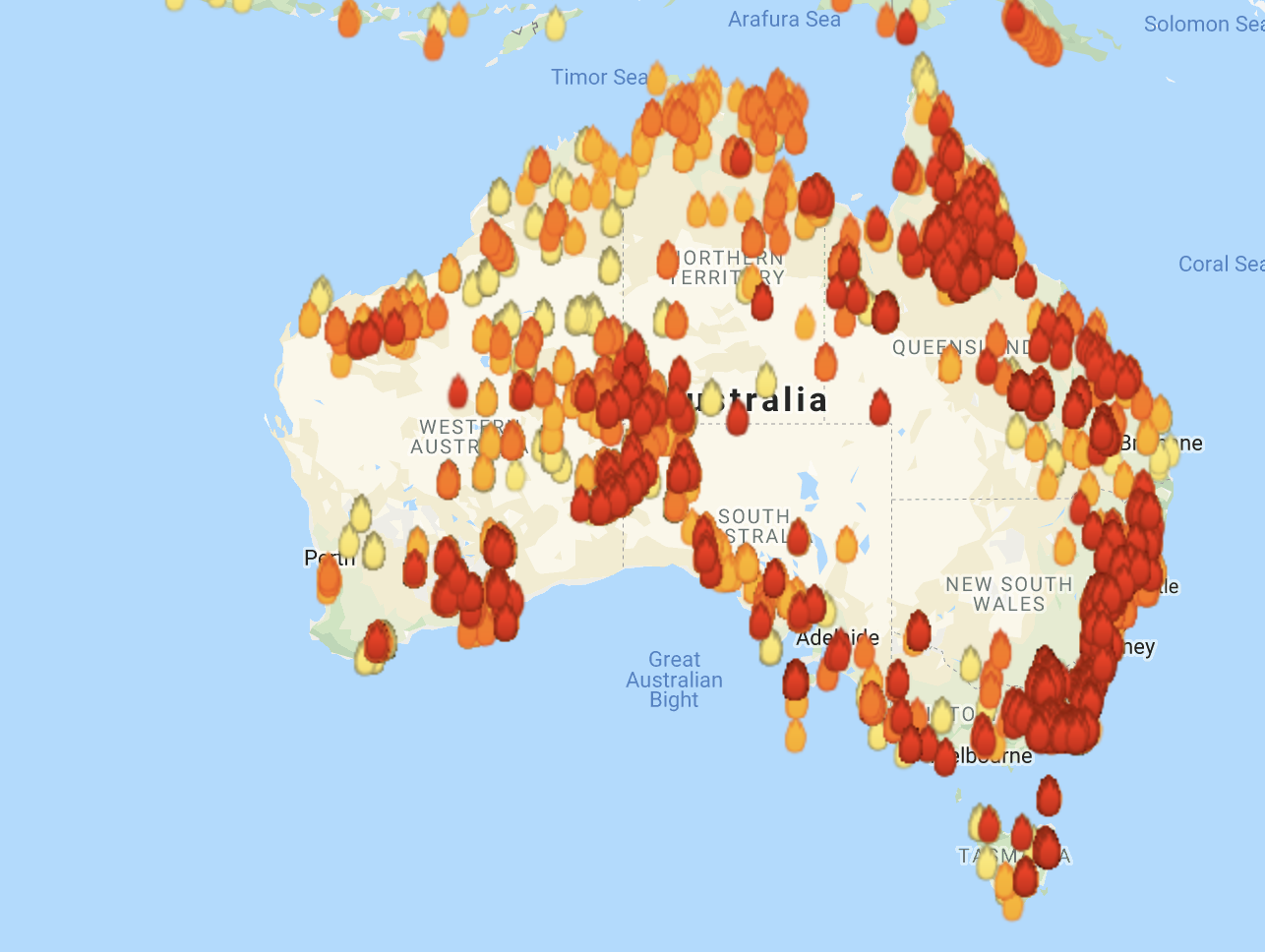 In addition to all of these natural causes, it would be wrong to also ignore the human affect. The lack of funding, manpower, and changes to policies has turned Australia into a torched pile of ash. The fires have now killed 24 people, destroyed more than 15.4 million acres, wiped out over 14,000 homes, and killed over 480 million animals (all not accounted for and increasing). Lack of social media and news coverage has also affected how the fires spread. While now it is being heard of, most didn't know about these fires until early January. The smoke arising is said to leave the sky in a constant state of a smoky red haze and is said to have poor air quality that is like smoking 37 cigarettes a breath. One of the main problems is the lack of a sufficient fire department. Over 100 units of firefighters from the United States and Canada have deployed to help in this crisis.
The brisk winds of Australia have caused fires to spread almost 80 miles an hour. Southern parts of Australia are cooling off as tropical cyclone Blake is arriving along the northwestern coast, but this is not solving the problem. It is said that in order for all of the fires to be put out for good, Australia would need 3 weeks of straight rain. The fires have destroyed areas around Sydney and Adelaide, New South Wales, and south Australia. New South Wales and Victoria have been affected the most, forcing thousands to flee and seek shelter. The most updated sources show that hundreds of helicopters have dropped over 2,500 pounds of carrots and sweet potatoes over animal territories that have been devastated in order to provide food to hungry wallabies and kangaroos. Although this may seem sweet, over 162 animal species are now considered endangered and starving since the start of the fires. If you or anyone you know can help donate to help relieve this disaster, here are some reliable links. Anything helps!
https://www.redcross.org.au/ (Australian red cross)
https://www.savethekoala.com/donate (Australia koala foundation)
https://www.rspcansw.org.au/bushfire-appeal/?location=stickybardesktop (help injured animals)
https://www.wires.org.au/blog/emergency-donations-to-help-wildlife (wildlife rescue)