College Application Advice
By Sarah Koch
Between COVID-19, the stress of senior year, and juggling all of our college applications, it's no surprise that most of us are stressed right now.  To help alleviate some of that stress, we've compiled a list of helpful college application tips!  All are directly related to the CommonApp and organized by their respective sections, but feel free to use these tips to help you on your other applications as well.
General Advice
Go on tours (physically or virtually) and sign up for interviews with colleges you're interested in! Many schools track demonstrated interest, so this will help you stand out as an applicant.  There are lots of options for virtual information sessions available on Naviance under the "What's New" tab.
Meet with your college counselor at least once! They will answer any questions you have, as well as walk you through the process of asking teachers for letters of recommendation.
Pay attention to DEADLINES! Our college counselors need extra time to prepare transcripts and attach letters of recommendation, so check the form that was emailed to you with the list of deadlines.
Set up an FSA account and fill out the FAFSA! The form for 2020-2021 officially opens October 1.
Sync your CommonApp account to Naviance ASAP! This is how our college counselors will attach our letters of recommendation and transcripts, so it's vital that you connect these accounts.  You'll receive a prompt to do so on Naviance, which you can follow after completing the FERPA waiver.
Speaking of FERPA… take care of this section early on in your application process! Under "My Colleges," there is a section to fill out for this, along with extra questions for each college.  It is important that you complete the release authorization ASAP so that your applications can properly be processed.
Make sure your Naviance account is updated with the colleges you're applying to, as well as with the application type/deadline for each. Be sure to also add all of these colleges to your CommonApp list.
VERY IMPORTANT: After you officially submit an application, go to Naviance and request a transcript for the school you applied to! Then, fill out the blue TRAC form for this college (Mrs. Jackson and Mrs. Habich attach this at the bottom of every email they send), and you're good to go.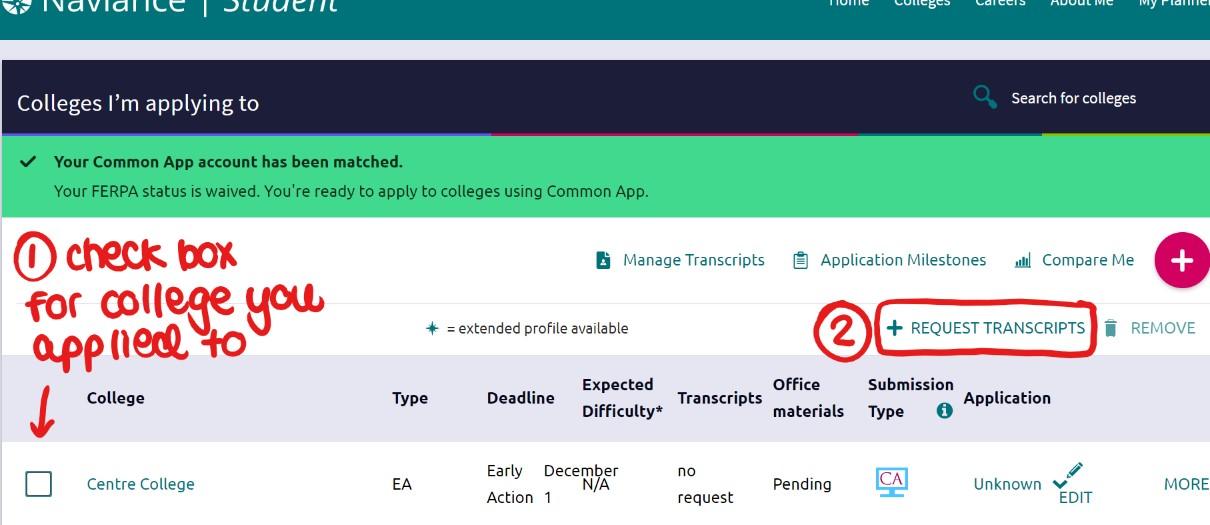 On the CommonApp…
Profile and Family Sections
Get these sections out of the way in the beginning!  It's mostly demographical information.  You may need a parent to do this part with you since there are questions about parental education and employment.
Education Section
Most of this section is fairly easy to complete.  It asks for logistics regarding your high school, any colleges you've taken DC courses through, your grades, and your schedule for this year.  It will also ask if any outside organizations have helped you with your application.  Make sure to double check every section as you complete it, and once more at the end!  This applies to your whole application, not just this section.
Another part of the Education section asks for Honors.  These sections are areas where you can shine as an individual and as a leader.  Up to 5 Honors are allowed—choose the ones that are the most prestigious/most important to you!
Lastly, the Education section will ask you about your Future Plans (career interest and highest degree you intend to earn).  There are Undecided options for both, but specifying your answers is helpful.
Testing Section
It's important to note that while you will self-report test scores here, it is NOT enough to simply fill out this section of the CommonApp.  You must also go through each test's website (such as www.act.org or www.collegeboard.org ) to send your scores to individual schools.  This is not required if your school has gone test-optional, but be sure do to both or neither—don't fill out your ACT score on the CommonApp but not send it through the ACT's website.
Another feature to utilize: in addition to past AP test scores, the CommonApp allows you to list classes you are currently enrolled in but have not yet taken the exam for.  If this applies to you, list your classes using May 2021 as the exam date.
Activities Section
Activities are another place where you can make yourself stand out among applicants.  They can include anything from work to clubs to service, and there are ten available spaces.  It is important to list your activities in order of their importance to you!  The description boxes are limited for each, so if you're struggling with the character limit, edit your sentences to omit words such as "I" and "and" (semicolons are your friend here!).  Don't worry about perfecting sentence structure; rather, communicate as much as you can in the 150 characters given.
P.S. Don't forget to check whether or not you want to participate in similar activities in college!  This can help colleges gauge how well you'll fit into their extracurricular community.
Writing Section
Arguably t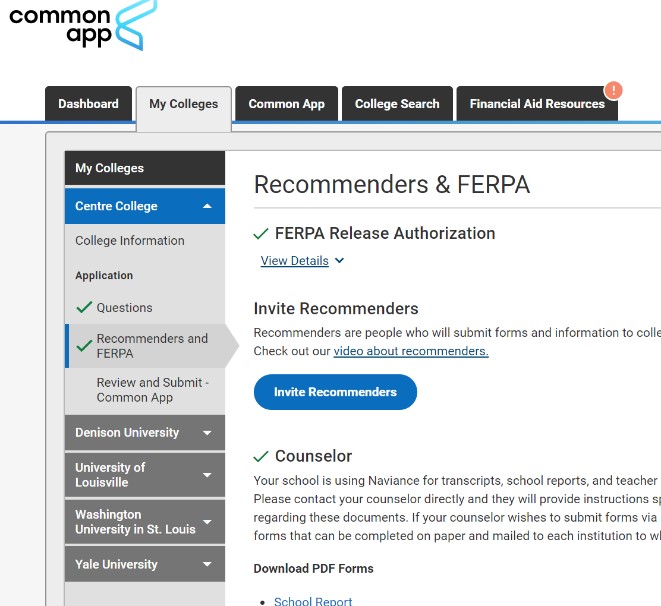 he most important part of your application, the writing section is where students submit personal essays.  These essays are key to showcasing more of yourself than the rest of your application gives reviewers.  Therefore, originality and sincerity are extremely important.  Avoid cliché topics such as sports injuries, mom/dad/grandparent role models, music, friend drama, a family member's sickness, or academic struggles.  Write about something that sets you apart from other applicants and be careful about sharing your essay with another classmate (plagiarism happens all too often!).  Don't write about COVID-19, either; there's an extra box in this section where you can describe how it's affected your year.  Lastly, remember that your reader is human—they might have different opinions than you do, so politics and other touchy subjects must be approached objectively.
If you have further questions, remember that our college counselors are here to help!  Don't hesitate to reach out to them, and remember to carefully read all of their emails.  Happy applying!