By Emily Letterle
All recipes come from Celebrate! With Woman's World "Halloween Treats!" magazine.
Layered Spider Dip
This cute, creepy-crawly appetizer is super easy and quick to make!
Ingredients:
1         (16 oz.) can refried beans
3         tomatoes, about 1 lb., diced and drained
1/3     cup chopped red onion
1        clove garlic minced
1/4    tsp. salt
1       (8 oz) guacamole
1/2   cup sour cream
1/2    cup shredded cheese
6        medium-large pitted black olives
Steps:
Spread re-fried beans across the bottom of a shallow serving dish.
In a medium bowl, mix tomatoes, onion, garlic, and salt.
Spread tomato, onion, garlic, and salt mix evenly over beans.
Using a knife, spread the guacamole in a circle in the center of the dish.
Sprinkle cheese around the guacamole on top of the tomato mixture.
Transfer sour cream into a plastic sandwich bag and snip a small hole in the corner.
Carefully pipe a spider web over the guacamole.
Slice four olives in half lengthwise to create the spiders' bodies and place the other halves aside for the time being.
Slice a small part of the edge off the remaining halves to use as the spiders' heads.
Place the bodies and heads together on the dip.
Cut four more olives in half and take small slices from these halves to use as the spiders' legs.
Chill until ready to serve. Serve with tortilla chips.
Servings: 8
Total time: 30 mins
Note: This appetizer was delicious and also made a cute decoration! For added Halloween vibes, try putting the tortilla chips in a décor cauldron.
Tombstone Treats
This spooky cemetery sweet will leave your ghosts, ghouls, and guests impressed!
Ingredients:
1            (18.4 oz) pkg. chocolate fudge brownie mix
2/3        cup canola oil
2            eggs
1/4        cup water
1            (16 oz.) cont. milk chocolate frosting
1            (16.5 oz.) tube refrigerated sugar cookie dough
Brown or black food coloring
Sweetened flaked coconut
Green liquid food coloring
1            tube white decorating icing
Mellowcreme pumpkin candies
Steps:
Heat oven to 350 ͦ F.
In medium bowl, stir brownie mix, oil, eggs, and water until blended.
Evenly spread batter into greased pan.
Bake for 12-15 mins, until a toothpick inserted into center of pan comes out clean.
Let brownies cool in pan.
Separate and cover ¼ cup frosting.
Transfer brownies onto a separate baking sheet and cover with frosting.
Cover with plastic wrap and chill brownies until firm, about 1 hour.
Dust a surface lightly with flour and roll out cookie dough to ¼ inch thickness.
Cut cookie dough into about 20 tombstone shapes and transfer to baking sheet
Mix ¼ tsp. brown/black food coloring and ¾ tsp water until blended.
Lightly brush the diluted food coloring on top of cookies.
Bake cookies until edges are lightly browned, about 7-8 mins.
Let cool 5 mins before transferring to a cooling rack to finish cooling.
Put coconut flakes and green food coloring to tint in a plastic bag and toss until coconut is dyed.
Cut the brownie into 20 rectangles.
Decorate cookies with icing.
With reserved frosting, attach one cookie to the back of each brownie.
Sprinkle brownie with coconut to create the grass look and place one candy pumpkin.
Servings: 20
Active time: 1 hour
Total time: 2 hours
Note: These treats are so cute and taste so good! If you are not a fan of coconut, don't worry because I could barely taste it on mine. Make sure you use enough frosting to glue the cookies to the brownies!
Transylvania Garlic Fettuccine
This delicious pasta will have you bugging out and craving more!
Ingredients:
8            colossal ripe pitted olives
48          chow Mein noodles from 16-oz can
1            lb. fettucine pasta
2            Tbs. olive oil
1            small onion, finely chopped
8            cloves garlic, chopped
4            oz. piece pepperoni, diced (optional)
1            (24 oz.) jar marinara pasta sauce
Freshly ground pepper
Steps:
To make bugs:
Use a toothpick to poke three holes on each side of a big olive.
Carefully insert 1 chow mein noodle into each hole.
Insert a smaller olive into opening of each bigger olive and place aside.
For pasta and sauce: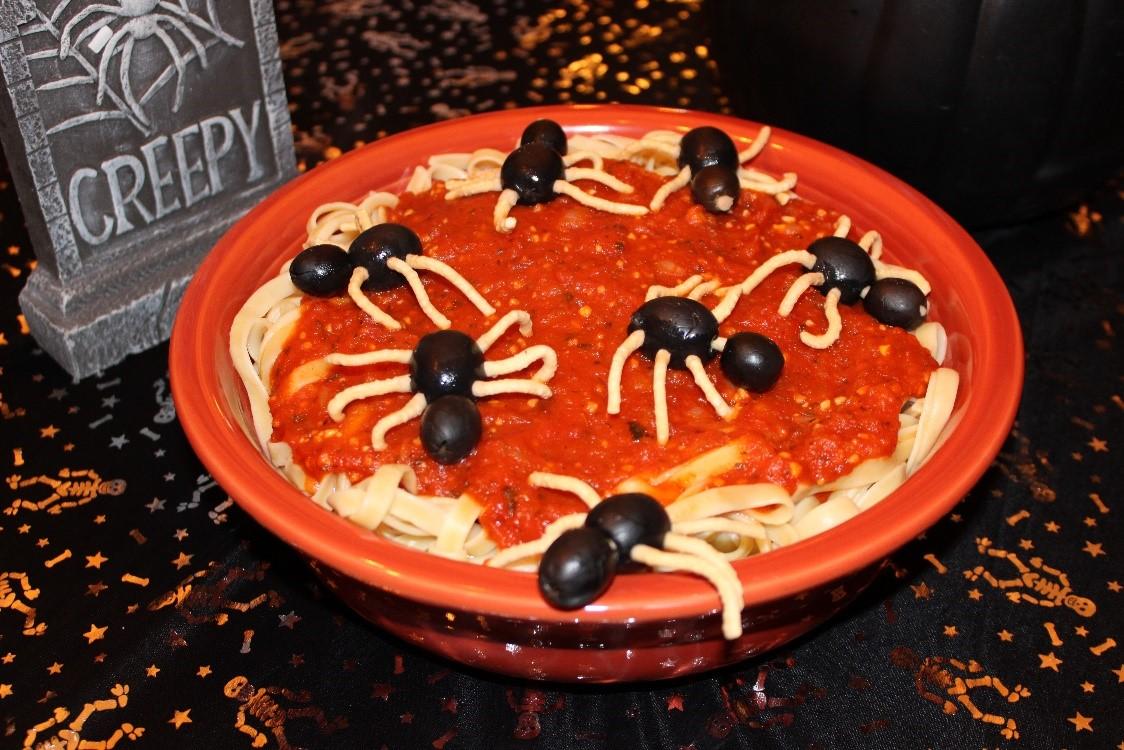 Bring a large pot of salted water to boil and cook pasta according to box instructions.
Once cooked, drain and cover pasta to keep warm.
In a large skillet, heat oil on medium-low heat.
Add onion and cook, stirring occasionally until softened, roughly 5 mins.
Add garlic to skillet, stirring occasionally until golden and tender, roughly 3 mins.
If using pepperoni, add to skillet and cook, stirring occasionally, until lightly browned, roughly 2 mins.
Stir pasta sauce into skillet. Turn heat to high and bring to a boil.
Once boiling, reduce heat to low. Cover and simmer for 5 mins.
Season sauce with pepper.
Transfer pasta to serving bowl.
Add pasta sauce.
Add olive bugs.
Servings: 8
Active time: 30 mins
Total time: 40 mins
Note: I am vegetarian, so I did not add the pepperoni. This recipe is amazing! The onion and garlic in the sauce really take the pasta a step up. I will be making this recipe (minus the olive bugs) all year long!