New Music Releases This Month
By Alli Brooks
All lists were found through "official charts" and Spotify playlists. 
Let's get into what songs and albums are getting or have been released in October 2020. 
Pop: 
Pop music never goes out of style and there are already tons of new song this month in this genre. This year many pop songs from Albums such as Dua Lipa's Future Nostalgia and Selena Gomez's Rare as well as singles put out by artists have blown up from social media such as Tik Tok. Here is a quick list of recent releases from October that might not have reached your playlists yet: 
Lonely – Justin Bieber and Benny Blanco 
Commander in Chief – Demi Lovato 
Baby, I'm Jealous – Bebe Rexha ft. Doja Cat 
Lie to Me – Tate McRae and Ali Gatie 
Fake – Lauv & Conan Gray 
Alien – Lee Suhyun 
Be My Eyes – Pentatonix 
Where is Our Love Song – Stevie Wonder ft. Gary Clark Jr. 
And many more are on their way. 
R&B: 
Some big releases from the R&B genre came earlier this year with songs such as PARTYNEXTDOOR and Rihanna's Believe It as well as Megan Thee Stallion's Savage from March and Go Crazy by Chris Brown and Young Thug back in July. This September, SZA released Hit Different and Usher released Bad Habits.  
Some of the top releases from October so far are: 
Savage Mode II – 21 Savage and Metro Boomin 
Anniversary – Bryson Tiller 
Capital Gains – Willie the Kid 
My Life 4Hunnid – YG 
Gasanova – Yung Gravy 
New Beginnings – Reason 
Burden of Proof – Benny the Butcher 
So Icy Gang vol.1 – Gucci Mane and the New 1017 
Partypack – PartyNextDoor  
Out of these, 4 debuted on the Billboard 200 list of songs. 
Rock: 
Like all Music Genres, some music production has been delayed because of Covid-19 until this month. Some things to listen and look out for this October from the rock genre include: 
2020 – Bon Jovi 
Halloween – Frank Zappa 
Digging Deep: Subterranea – Robert Plant 
The Symbol Remains – Blue Oyster Cult 
Morrison Hotel: 50th Anniversary deluxe edition – The Doors 
Rust Bucket – Neil Young and Crazy Horse 
And many more oldies but goodies. 
Country: 
2020 has been a big year for country musicians, so here are some albums to look out for in the country genre from this October and onward: 
A Holly Dolly Christmas – Dolly Parton 
Twenty-years of Rascal Flatts: The Greatest Hits – Rascal Flatts 
Skeletons – Brother Osborne 
When I think About Christmas EP – Runaway June 
Live from the Troubadour EP – Tanya Tucker 
Ain't that Kind of Cowboy – Trace Adkins 
Rebels & Angels – Terry McBride 
The Other Side – Cam  
Forever After All – Luke Combs 
Indie: 
This genre has some smaller and bigger artists that came out with singles and albums this October.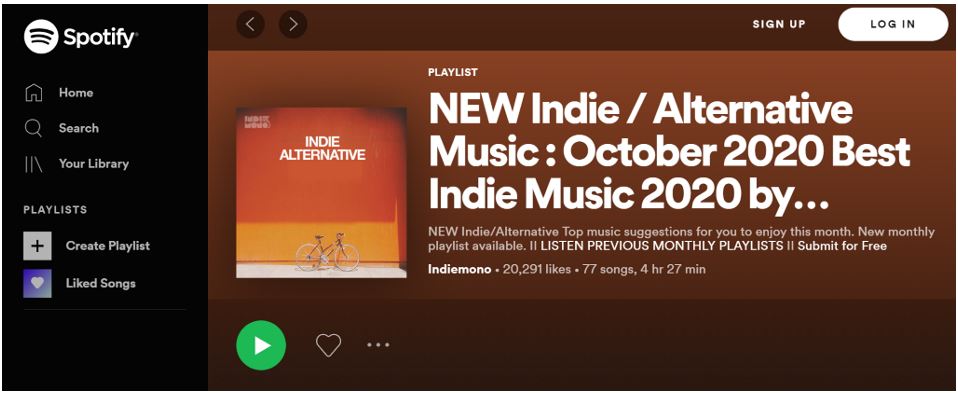 So, some honorable mentions from the indie genre of music include: 
Drinking Wine – Oscar Lang 
Keep Your Head Up – Djo 
leave me alone! – boy Pablo 
Lost in Translation – The Neighborhood 
Nobody Gets me (Like You) — Wallows 
Mansion – Riley Moore 
Keep exploring music and find new jams to enjoy.