By Alli Brooks
Recipes were found through the websites 'Delish', 'Iheartnaptime', and 'The Cookie Rookie'. 
With the season of Fall comes comfort and warmth. The best place to find that is through food! Today I will be sharing three fun fall recipes that are delicious and sure to impress you and anyone you share them with! 
To start we have a fresh, fall salad. Salads are so simple and this one has some extra touches to fit the season. 
The ingredients for the Easy Fall Salad are: 
Greens and lettuce

 

Apples

 

Dried cranberries

 

Pumpkin seeds

Cheese of choice (mine is goat cheese)

 

Shredded chicken (optional)

 

Roasted 

butternut squash (optional)

 
The first step to make this recipe is to wash off all your produce.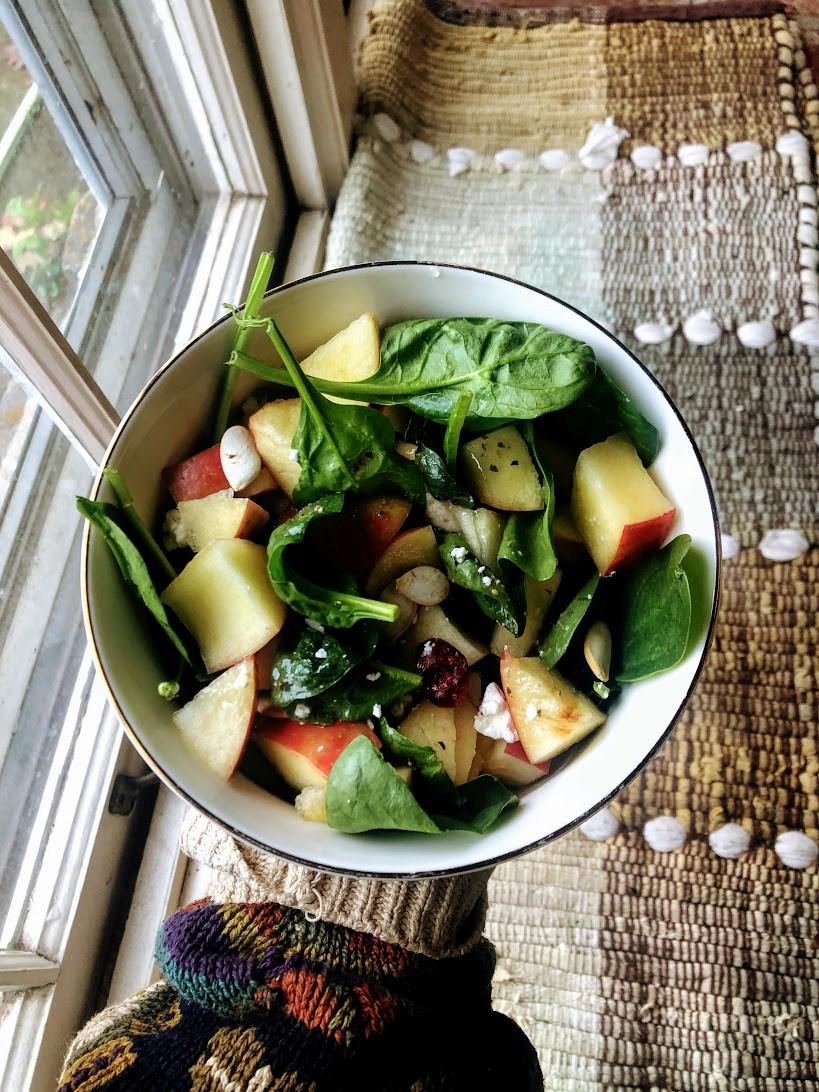 Then take your greens 

of

 choice. It can 

be lettuce or kale or spinach

. Place them in a large bowl or

 a small bowl for an individual salad. 

 

Cut the apples into cubed pieces and place them on top of the salad along with the cranberries and pumpkin seeds. 

 

If you wanted to 

add chicken or roasted butternut 

squash,

 

you could

 add them in at this point. To roast the squash

 cut it into cubed pieces and set on a baking sheet

 and put 

o

live oil and salt on them. Set the oven to 

425 degrees F

.

 and roast in there for 40 minutes

. If you wish to add chicken you would just buy pre-cooked chicken and shred it with a fork or 

cook it and then shred it, it is up to you.

 

A dressing to go on this salad would be a sweet vinaigrette or regular vinaigrette as it will bring out the fall flavors.

 You can also use any 

dressing of your preference.

 
Butternut Squash Soup 
Ingredients: 
1 large squash

 

2 potatoes

 

(

peeled and chopped

)

 

3 tbsp. extra olive oil

 

Salt

 

Pepper

 

1 tbsp. butter

 

1 onion

 

1 celery stalk (thinly sliced)

 

1 large carrot (

chopped)

 

1 tbsp. fresh thyme

 

1 qt. chicken broth

 
Directions: 
Preheat oven to 400 degrees and put 

the butternut squash and potatoes on baking sheet in the oven. 

Season with olive oil, salt, and pepper. Roast from 25 minutes or until tender.

 


In a large pot over medium heat, melt butter and add olive oil. Add

 the vegetables in and cook until softened (7-10 minutes)

 season with salt, pepper, and thyme.

 

Add the squash and potatoes to t

he pot and pour over chicken broth. Simmer for 10 minutes, then blend

 in an immersion blender until creamy

.

 

Serve with a garnish of thyme!

 
Pumpkin Pie Brownies 
Ingredients: 
Box brownie mix of your choice

 

½ can pumpkin (not pumpkin pie filling)

 

6 oz

 cream cheese

 

3 table spoons of 

sugar

 

1 table spoon pumpkin pie spice

 (cinnamon, allspice,

 nutmeg, ginger, mace, cloves)

 

½ cup chocolate chips (optional)

 
Directions: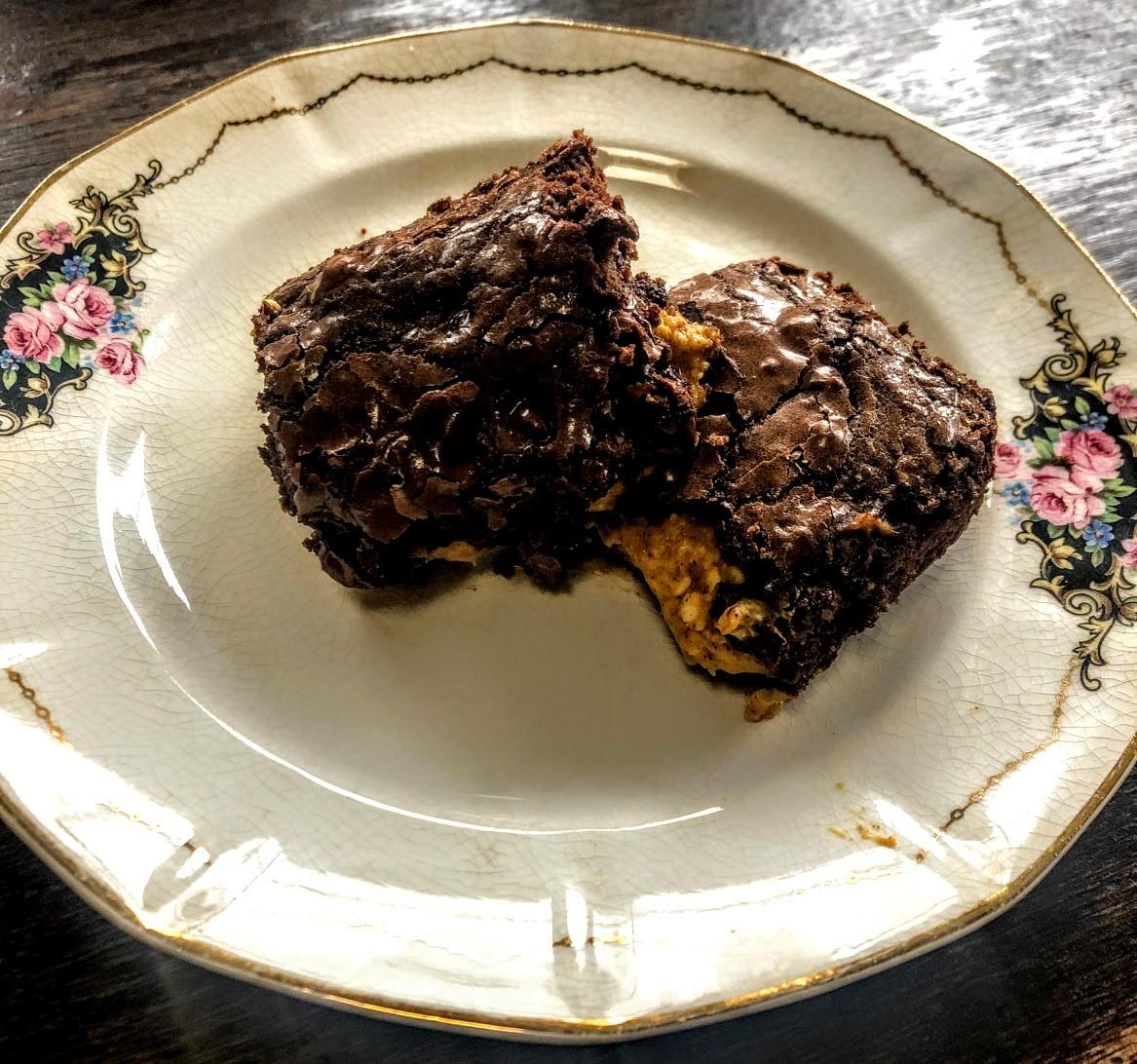 Preheat oven to

 instructed temperature on the brownie mix box.

 

In one bowl mix the brownie mix and add the chocolate chips if desired.

 

In a separate bowl mix the pumpkin, cream cheese (softened), sugar, and pumpkin

 pie spice. Mix until very smooth.

 

Spray your pan with

 oil, then pour a layer of brownie mix. Spreading it to be sure it covers the whole bo

ttom. Then add the pumpkin mix. You can do it in chunks or try to spread it out evenly

. Lastly add the leftover brownie mix back on top.

 

Put in the oven and bake for an extra 10 minutes than recommended on the box.

 
To learn more about these recipes, check out @rocketsjournalism on Instagram for an IGTV video!!