By Erin Lewantowicz
*This article was written before the decision to close schools was made.*
Lunch has been so different this school year due to the Covid-19 pandemic. We have to eat in our homerooms and keep our masks on. Although some people like to buy from Flik, I know a lot of people don't want to pay or don't feel safe, so they choose to bring their lunch. These changes have made it a lot more difficult to decide what to bring for lunch. I used to love bringing leftovers for lunch because I could reheat them in the microwave, but that is no longer a possibility. I know many of us have been bringing the same lunches each day, so here are a few ideas to help change it up!
Sandwiches or wraps

These are both great options because you can do so much with them—the possibilities are endless. You can do the classic PB&J, a PB&Nutella (I love this because it tastes like a Reese's!), ham/turkey and cheese, chicken, etc. These are great on regular bread or on a tortilla!

This is a fully prepared, basic lunch. There is a peanut butter and jelly sandwich, goldfish, and an apple. This only takes a few minutes to make in the morning.

Salad

Salad is another great idea because you can change your salad every day. I know sometimes they can seem bland, but there are a lot of great salad recipes that include not only vegetables, but also fruit, protein, and carbs.
Breakfast for lunch

If you have a little more time or forgot to eat breakfast, you can bring it for lunch. You could bring pancakes, eggs, bacon, sausage, toast, etc. and enjoy a little breakfast during your lunchtime.

Ants on a log

This is another simple lunch if you aren't too hungry. Ants on a log are easy to prep, too. You use celery (log), peanut butter, and raisins (ants) to create this fun snack.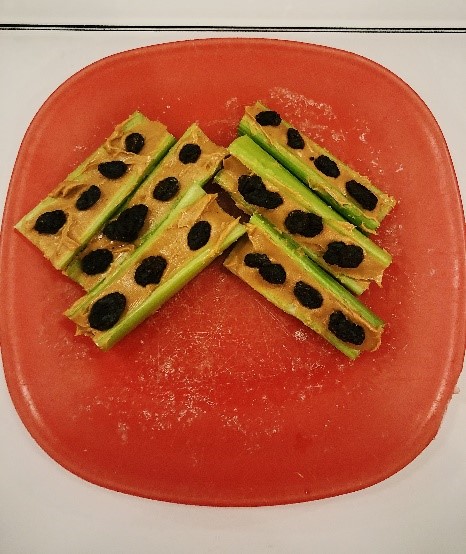 Yogurt with fruit

Another easy lunch is just to bring yogurt with your favorite fruit. If you use icepacks, it should stay super fresh and still be tasty when it's time for lunch.
All of these lunch ideas are easy to make and delicious! I hope they helped you come up with some new lunches for school. Another tip if you want to eat a hot meal is to use a thermos to put your food in. This should keep it nice and warm!
Check out our video tab for a video with Erin!