Celebrating the Holidays Virtually
By Michaela Pate
The holidays are a season mostly spent with loved ones, but this year is very different. Due to COVID-19 the holidays have been changing in order to keep friends and family safe. There are many unique and fun ways to celebrate this year while distanced! Here are some fun ideas to help spread holiday cheer and safely celebrate Christmas with friends and family.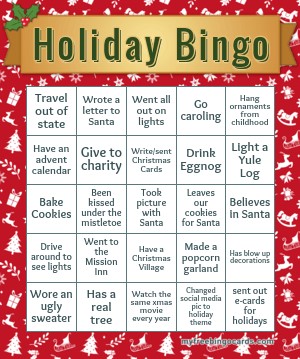 Holiday Bingo
This would be a fun and interactive game for all ages! There are many templates online to find the perfect Christmas themed cards for the players. There can even be prizes offered to make it more fun!
Watch a Movie Together Online
Everyone loves a good holiday movie with a cup of hot cocoa! There are many streaming services through Zoom, Netflix, Skype and other software that allows each person to watch the show or movie together while in their own homes. Watching a Christmas movie like A Charlie Brown Christmas or How the Grinch Stole Christmas is something all friends or family could enjoy together.
Cook or Bake Together Over Zoom
During the holiday's it is a tradition for many families to gather together for a meal to celebrate. While everyone may not be able to get together physically, there are still ways to carry out this tradition! Families and friends can get on a video chat to cook, share recipes, and eat all the food together. This is a fun way to share your favorite dishes and eat some good food with loved ones.
Trivia
There are so many fun facts about Christmas movies, songs, stories, and so much more! Online, friends and family can compete and see who knows the most random facts that go along with the holiday season. There are many questions on the internet when looking for the questions to use to play!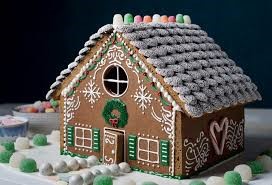 Gingerbread House Building Competition
This a competitive and awesome way to interact virtually. Each person or family gets their own supplies and a time limit to make their gingerbread house. Then, everyone can vote on the best house built!
These are just some fun and creative ways to celebrate this holiday season virtually! While it may not be the same as years past, it can still be a holiday to cherish with friends and family. Junior, Caroline Schuhmann shared how her family is celebrating Christmas this year.
This year, Caroline says she is celebrating the holiday's differently due to COVID. While her family is not able to come together inside and spend the day celebrating, she is still going to visit her family outside to open some presents. Also, she says they are still able to do Secret Santa with her cousins, but they are going to have to drop off the presents at each other's houses instead of opening and exchanging gifts together. Caroline says she is going to miss Christmas Eve where she usually has her family over to eat dinner. Caroline is going to miss spending time with all of her cousins on Christmas day because now she is not going to be able to spend as much time with them.
Even though this Christmas is not ideal, the holiday spirit can still be shared this season by finding new ways to spend time with the one's we love! Hopefully everyone will have a wonderful and safe Christmas this year!