By Lily Bickel
Assumption High School's Rocket Launch has decided to do a Senior Spotlight. Our senior for this piece is Katie Foley. Katie was asked a series of questions about her Assumption experience and her future college career. When asked what made her choose Assumption, Katie had a lot to say, "I chose AHS because I was so welcomed when I visited, and I already felt like I was part of the community before I even finished grade school". The sense of community is a part of why so many teachers and students cherish their time at Assumption. Everyone is always accepting of anything.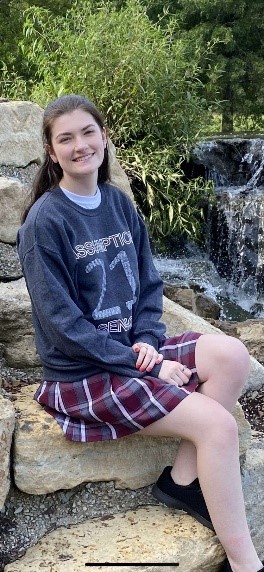 Katie's favorite thing about AHS is the teachers. They have such a strong positive impression on students. Katie states, "They are going to make it hard to leave without crying".  The teachers are a great part of our Assumption community, but nothing beats that feeling when a friend is made freshman year that wasn't known in grade school. Katie's first friend at AHS was Siena Riley. They met freshman year in Biology where neither of them knew anyone. A great way to strengthen that new friendship is to eat lunch in the café. There are so many favorite foods to choose from, but Katie's favorite is the macaroni and cheese. Great choice!
Over the course of four years at AHS, students and teachers make special connections. Katie says the best part of being a senior is "knowing that I have so many teachers and staff to go to when I need help or just need someone to talk to". As everyone knows, virtual learning can be exceptionally challenging because of how new it is. Katie says she has a love hate relationship with virtual learning. On the bright side, it makes it easier for her to get to work after school and it allows for more family time now that classes are in her own home. However, missing friends and classmates can be a devastating realization. "It's not the same seeing them through a screen", says Katie.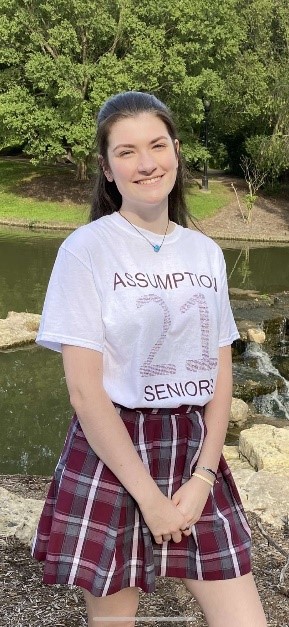 Through these troubling times, some advice from an upper-class woman could be useful for the lower-class women and juniors. Katie says, "My advice is to be kind to everyone. Reach out to people you're not very close to, or even help someone out with tutoring. Anything to meet new people before your time at AHS runs out". Katie's favorite class at AHS throughout her four years has been Creative Writing with Mrs. Hughbanks. She says she was very invested in the subject matter, and she enjoyed being surrounded by "supportive, kind, and wickedly smart women who helped me grow".
Despite class work, seniors must worry about their college applications. Katie says her college application process was as easy as it could be, but it's still a college application. She managed to get most of them done during her study blocks or free periods. Most seniors are done with college applications, and luckily so is Katie. She has been accepted at Belmont University in Nashville, Tennessee. "No doubt in my mind that I will be going there", says Katie. She plans on majoring in the Creative and Entertainment Industry which will allow her opportunities to work with film companies such as Lionsgate or Pixar. It sounds like Katie has an exciting future ahead of her! The AHS community is rooting for Katie, and all of their 2021 seniors.
Photos provided by Katie Foley'21