Shows to Look Forward to in 2021
By Erin Lewantowicz
2020 has been a year full of insane changes and unexpected territory. Hopefully, 2021 will be better. We have so much to look forward to in 2021: a Covid-19 vaccine, a new school year, and new TV shows. There are so many new shows coming out in 2021, and here are just a few of them!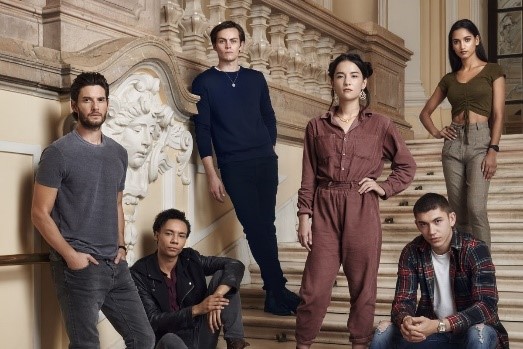 Shadow and Bone is an upcoming Netflix series. It is set to release April 2021. This show is a fantasy series based on the two book series, Shadow and Bone and Six of Crows. Fans of these books are anxiously awaiting this upcoming show and newcomers to the fandom are sure to enjoy this TV series!
Resident Evil is another upcoming Netflix series. It doesn't have a set release date yet. This show is based off the video game with the same name. the first season will have eight hour long episodes. It is an action horror series produced by Constantin Film.
The Sandman is yet another Netflix series releasing in 2021. It is another American drama show and an adaption of the comic book series of the same name. Cast members include Samantha Morton, James McAvoy, Andy Serkis, and Josie Lawrence.
Disny+ recently announced several new shows and films that will begin releasing in 2021. Several of these are within the Marvel franchise.

WandaVision will release January 15, 2021. It is a blend of the Marvel Cinematic Universe and a classic sitcom. Wanda Maximoff and Vision, two MCU characters, live their ideal suburban lifestyles, but it is filled with several unexpected twists and turns.
The Falcon and the Winter Soldier will release March 19, 2021. It is focused on the two characters, Sam Wilson and Bucky Barnes, and will encompass the aftermath of Avengers: Endgame.
Loki is set to release in May 2021 starring Tom Hiddleston. This series is about the alternate timeline Loki began in Avengers: Endgame. Loki can be expected to continue getting into trouble and playing tricks throughout the whole show.
What if…? will be 10 episodes releasing in mid-2021. It will feature stories of what could have happened if major moments in the MCU films played out differently.
Hawkeye starring Jeremy Renner will release in late 2021. It will feature Hawkeye/Clint Barton and his life after the events of Avengers: Endgame. Fans hope to see more of Clint's family throughout the series after getting brief scenes with them in Avengers: Endgame.

HBO Max's Gossip Girl reboot will premier in 2021. It is set eight years after the original Gossip Girl series and will focus on brand new high schoolers. It will address how social media has adapted since the original show. Although many fans wish the old actors were playing their characters, this show is still expected to be a huge hit!
Fans of these shows are so excited for the upcoming episodes, and if we are stuck in quarantine through 2021, at least there will be plenty new TV series to watch!