The First to Get the Vaccine
By Mayzie Karem
After almost a year of fighting a worldwide pandemic; the vaccine has been tested and released. Who got it first? That question has multiple answers. Of course, health care workers across the US were among the first to get the Coronavirus vaccine. These health care workers are on the front lines of the pandemic, so therefore they are prioritized to receive the first doses of the vaccine.
Most Americans are hopeful this vaccine is a turning point in the pandemic. Dr. Gregory Schmidt, an intensive care physician, was among the first people to get the vaccine on Monday. He said, "To be able to take this step feels like a piece of what we all need to do to make our world safe again, to get back to the life where we can see each other's faces." The vaccine is the start to finally ending the worldwide pandemic the US has been fighting since the beginning of 2020. Dr. Schmidt said he felt great following the shot and he is going to continue to let the vaccine work through his body and hopefully make a difference. Not only did he get the vaccine on Monday, but so did many other health care workers like Dr. Mark Conroy.
When the biotech company Moderna discovered the vaccine, they tested it on 45 people. After testing, the vaccine appeared safe and gave a promising immunity response against the Coronavirus. The patients whom got the virus tested on them varied from ages 18-55 and received two vaccinations 28 days apart. Each patient had a good reaction to the vaccine giving hope to end the virus once and for all.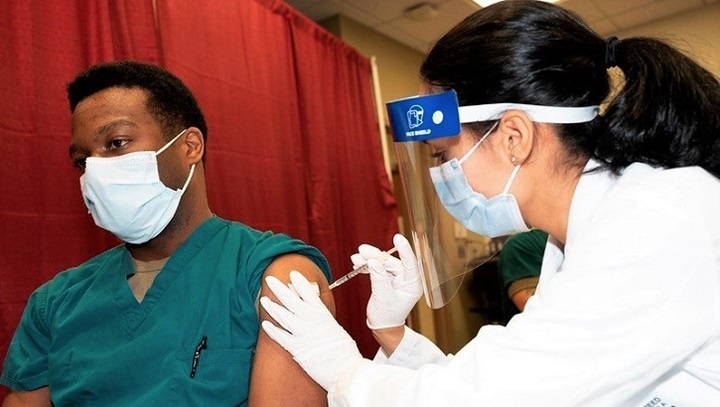 Now the vaccine is being delivered to health care workers across the US in order to protect them against the virus knowing they are at risk. They continued to test the vaccine on the 45 people and more than half of the participants had side effects including chills, headaches, fatigue, and muscle aches but no side effects were considered serious. The vaccine is said to "exceed all expectations" and give a glimpse into the future of the US. health care workers said the decision to take the vaccine is something everyone should consider for the health of not only themselves but for everyone who surrounds them. Sandra Lindsay, a nurse at Long Island Jewish Medical Center, said, "I feel like healing is coming. I hope this marks the beginning of the end of a very painful time in our history." The hope for this vaccine rises as these medical professionals receive this vaccine and continue to search for the end of the pandemic. The future is bright for the US and the end is hopefully near.