Insurrection at the Capitol
By Emily Dewey
All over the world, people gathered New Years Eve to wish the sorrows of 2020 away. Many were hoping to turn a new leaf in 2021, with the inauguration of President and Vice President- Elect Joe Biden and Kamala Harris. Nevertheless, on January 6th, 2021 many awoke to the vulgar news of a pro-Trump protest happening on the property of the United States Capitol. This "protest" quickly turned sour and was announced as many things opposite of a protest; including a mob, insurrection, a domestic act of terrorism, and a coup orchestrated by current President Donald Trump. Congress was scheduled to meet to count the results of the Electoral College and certify Joe Biden and Kamala Harris as the winner of the 2020 Presidential race this day.
Since the predicted vote turnout to the finalization of the electoral colleges' votes, Donald Trump has denied losing in every way. Most notable through Twitter and large unmasked rallies, where he claims voter fraud through miscounted and repeating ballots, and foreign interference. This rumor has been continuously debunked by elected officials and higher courts in an attempt to keep things impartial. This did not stop the incessant talk of an uprising to overturn the "fraud" of the 2020 election. Trump announced plans for a rally ahead of this mob, and on December 18th announced in a tweet "Big protest in D.C. on January 6th. Be there, will be wild!". These rioters had previously planned to stage a violent uprising against the final certification for weeks. This violence was aimed towards Democratic Congress women and men, Vice- President Mike Pence, and Law enforcement who would protect the Capitol. Although Pence is the right-hand man of Trump, he is knowing for recently coming out to accept and encourage the peaceful transfer of power and end to the ongoing battle of rumored voter fraud. To plan this riot, supporters of Donald Trump gathered on sites such as Parler, Telegram, and Gab, which are smaller social media apps that most would not concern themselves with. According to AP News, "Many of the posters planned for potential violence prior to the event, with some individuals discussing how to avoid police on the streets and which tools to bring to help pry open doors."
Mayor of Washington D.C., Muriel Bowser, requested that District of Columbia protections were deployed to support police. They were directed to carry no weapons and be responsible for management rather than violence and restraint. When asked if it was necessary to deploy the National Guard, officials declined stating that it would not be a violent uprising.
Over 20 groups of far-right Conservatives and Republicans attended, including the Boogaloo Movement, The Three Percenters, The Proud Boys, and the Neo- Confederates. Only 1/6th of the thousands of protesters were wearing masks- some not even properly. When looking into who attended, most were classified as white nationalists. Many wore clothing representing their group. This included but is not limited to, Neo Nazi apparel, and a shirt that made references to Auschwitz Concentration camp. The most notable are members of the Proud Boys, who wore shirts with the lettering "6MWE" (6 million wasn't enough). A quote taken from an interview conducted by reporters at the Capitol, many Trump supporters indicated this was the "beginning of the start of the [White] Revolution in the United States". This racist quote, and more, was only the start to the verbal and physical destruction of the Capitol Building, and a Democracy. What was thought to be a peaceful protest turned quickly into a violent insurrection.
When Black Lives Matter protest started in summer over the deaths of many African Americans due to police brutality, a counteractive movement arises claiming "Blue Lives Matter". The blue lives they are referencing to are members of the Law Enforcement community and was made as a direct retaliation to the original BLM movement. The security at the front doors proved ineffective as thousands of pro-Trump rioters fought with officers and pushed through multiple metal barriers. Congresswomen and men were rushed into hiding as domestic terrorist smashed through the windows and doors of the Capitol building. The Conservative mobsters contradict their aforementioned movement by spraying offers with various chemical agents and hitting them in the heads with lead pipes. The officers were not prepared for this type of pushback, and did not come equipped with tear gas, rubber bullets, pepper balls; all of which were brought to some of the peaceful protests in the summer. Surprisingly, groups like the Proud Boys turned against law enforcement and posted on social media with their plans to cause any type of violence necessary during the storming.
As hundreds began to infiltrate the Capitol, the evacuation of these politicians was necessary. The senate chambers evacuated completely, but the house was not as lucky. Many representatives were told to put on gas masks and take cover. Additionally, they stacked wooden cabinets and chairs against the doors as rioters attempted to kick down the doors and attack the politicians. Quick thinking staff members secured the sealed electoral votes to avoid tampering that could occur by the mob outside. Capitol protection and police officers busted out the glass door and held many rioters at gun point, threatening them to stay back. Multiple rioters broke into offices, including House Speaker Nancy Pelosi, and ransacked the Senate Parliamentarian office; all while documenting this incriminating event by pictures
The Aftermath
After the Capitol building was secure, many started to assess the damage the act of terrorism caused. Several rioters had plastic handcuffs with the intention of taking hostages. For the first time in history, the racist confederate flag entered the United States Capitol building and was flown. The
U.S. flag was ripped down and replaced with a "Trump 2020" flag. In addition, gallows were made outside of the doors. When rioters were questioned why this was built, they conveyed their plan to hang Vice President Mike Pence for agreeing with a peaceful transfer of power. It was revealed that Donald Trump refused to deploy the National Guard, leaving Mike Pence to do this himself. In addition, a very close friend of Pence stated that Donald Trump had little to no communication with Pence during this time and ordered security to be fairly nonexistent around the VP and his family during the insurrection.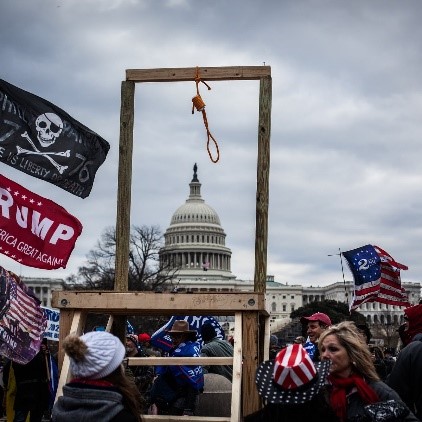 The rioters caused extensive physical damage. Capitol Police officers reporting the building had been trashed, including portraits of former Presidents, urine and feces tracked through the hallways, a marble bust of Zachary Taylor smeared with blood, and destroying of a placard honoring the life of congressman and civil rights leader John Lewis. In positive spirits, destroyed artifacts are being put in the national museums for reflection on this detrimental day of American Democracy. This insurrection left one woman, a rioter, shot inside the Capitol, and three others dead from medical incidents. It led to at least 52 arrests and counting. Finally, it humiliated a nation that has always considered itself the greatest democracy.