By Emily Dewey
The summer and fall of 2020 was one to remember. Many gathered in the streets of large cities to protest the deaths of many African American citizens by police brutality. This included our very own city, Louisville, Kentucky after the death of Breonna Taylor. At the time, Chief Steve Conrad was in charge. He was quickly fired after the death of David McAtee. Interim police chief Robert Schroeder lasted for a couple months before Yvette Gentry was appointed interim chief as an effort to control the mass protest downtown. This proved ineffective as the protest rang on.
Former Atlanta Police Chief Erika Shields stepped down from her Atlanta position in June after officers shot and killed Rayshard Brooks in a Wendy's parking lot. When speaking to Mayor Fischer about possibly taking the position as LMPD Chief, she acknowledged a need for healing and growth across the community of Louisville. Originally from uptown New York, she moved across the country to obtain her bachelor's degree in international studies from Webster University and a master's degree in criminal justice from Saint Leo University.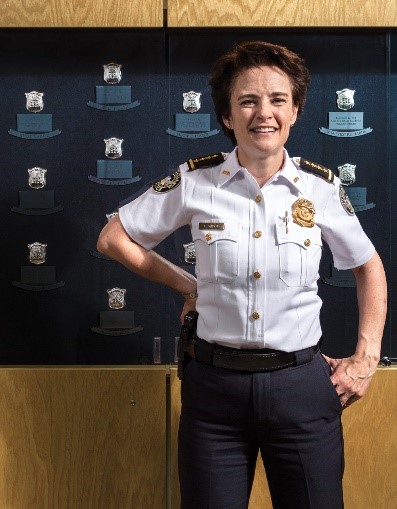 Shields is an experienced police officer with 25 years of experience under her belt. She makes history as being only the second women to lead the Atlanta Police Department and first member of the LGBTQIA+ community to do so. On the basis of George Floyds murder, she stated it was completely unbelievable and unacceptable. When discussing the recent protest across the United States, Chief Shields expressed her frustration over the diminishing value of black lives among police officers and other citizens. Some of her plans for the reform of the criminal justice system include better training, weeding out the "bad cops", raising morale of the department, and praising the use of body cameras. Although Shields disagrees with the violence that took place during many protests, she understands the need to let people voice their opinion, whether they want to peacefully and quietly protest, or scream and shout.
Shields is already working to gain the trust of the police department after misspeaking at her first press conference. She mistakenly stated Breonna Taylor was asleep in her bed when shot. This is a rumor that has circled Louisville for the past months and has been debunked many times. Many citizens in favor of this possible future Chief for Louisville are screaming to give her a chance. On the other hand, those opposed to Erika Shields have the same argument of "keeping the streets clear." Shields had unanimous approval with the cities diverse eight-person panel. On Wednesday, Mayor Greg Fischer suggested that "[Shields] believes in the role of policing but also knows that the practice of policing must evolve with the times that we live in."
Whether or not you agree with the views of new Louisville Metro Police Department Chief Erika Shields, it is a new voice to be heard in the city of Louisville. A chance for a new beginning, understanding, and reformation that could soon make our city a role model in every way possible. She will be sworn into office January 19th.