From Virtual to Hybrid: January at AHS
By Lily Bickel
Going back to school after Christmas break can always be a challenge. With the help of Assumption High School's hybrid schedule, it offers students a chance to be home and in the building. Our hybrid schedule goes like this: The first block of the day starts at 8:30 am. The Maroon cohort students (last names A-K) go into
the building on Mondays and Tuesdays. Wednesdays are a day for club meetings, class meetings, homeroom time, and much more. The Blue cohort students (last names L-Z) come into the building on Thursdays and Fridays. Finally, the last block lets out at 2:50 pm with a staggered dismissal. There are students who choose not to come into the building at all, which are the Pink cohort girls. Assumption does a terrific job of including all cohorts in school wide activities.
Starting after Thanksgiving break, Assumption and its students went all virtual. It has been all virtual from after Thanksgiving break until Monday January 10, 2021. Assumption is very excited to welcome back it students in the building. Two members of the class of 2021 had a lot to say about starting back with their hybrid schedule. Starting with Jane Luckett, a member of the Blue cohort, when asked what her daily hybrid schedule is, she said "When going in person I have to get up about an hour earlier because I live pretty far when I'm staying at my dad's". Jane says her favorite part of the hybrid scheduling is actually being able to be in the building and seeing her friends and teachers and being at home offers a few days of the relaxation and comfort of her own home. The hybrid schedule offers a balance of relaxation and safety.
Moving on to Molly Potter, class of 2021, she said that her first day of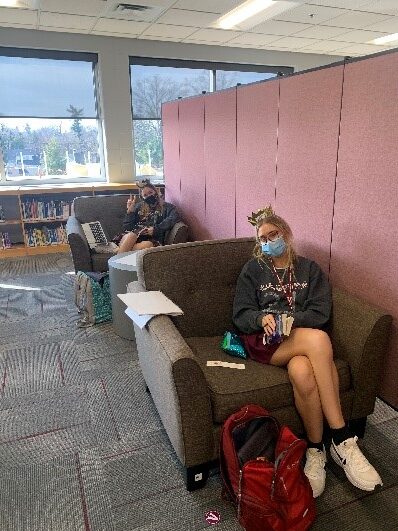 hybrid schedule was online classes, but her first day in person was super fun! Her typical morning routine for classes at home is waking up at 8:15 am and logging on. One thing that molly noticed was different about Assumption during her in person days was that the first-floor connector was finally finished. Being able to use the connector again will make it easier to walk to class to and from the main building and the CAC building.
Overall, Assumption does a great job of keeping its students and staff happy and healthy. The one-way hallways are still in effect, as well as the desks being six feet apart. If the Assumption community can all work together to keep following these rules, maybe we can all be together again one day.