Trump's Impeachment Process
By Sarah Koch
It's official: as of January 13th, 2021, Donald Trump is officially the first President in history to be impeached twice (and Nancy Pelosi wore the same outfit both times).  A little over a year after being charged with and acquitted of Abuse of Power and Obstruction of Congress, Trump was formally charged with Incitement of Insurrection for the role he played in the January 6th Capitol riots.  The articles were introduced to the House of Representatives on the 11th by Reps. Jamie Raskin, David Cicilline, and Ted Lieu with more than 200 cosponsors.  The same day, Speaker Pelosi gave Vice President Pence an ultimatum: invoke the 25th Amendment and remove Trump from office, or face impeachment proceedings for the second time.  Pence refused to act, so the bill passed two days later.  It received 232 votes in favor and 197 against, and the 10 Republicans who voted in favor marked the largest margin of GOP members in history who voted to impeach their own President.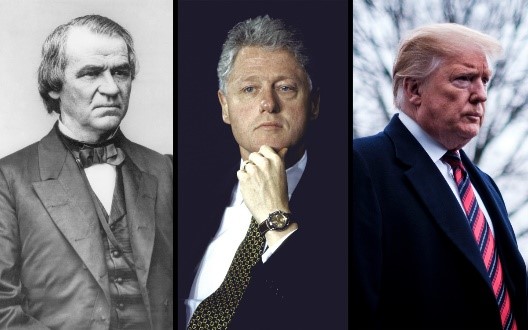 Trump's trial, which will be taking place under the Biden-Harris Administration, will be the first time the Senate has tried a former President.  Other Presidents who have been impeached are Andrew Johnson and Bill Clinton; Nixon would have also been impeached, but he resigned before proceedings could take place charging him for his role in the Watergate Scandal.
Many citizens are questioning why Democrats would push for conviction even after Trump has left office, and the short answer is this: precedent.  However, if convicted, Trump would also lose his $200,000 annual pension and travel allowance.  A few widely-circulated Tweets speculated that he would also lose his Secret Service protection, but this assertion has since been disproved.  Possibly the most important consequence of Trump's trial is his ability to run again for President in 2024.  Although conviction does not automatically strip him of this privilege, it opens the door to a vote on the subject.  To convict the President on impeachment charges, a 2/3 vote in the Senate is required (67 Senators total).  However, the vote on his ability to run again will likely need only a simple majority to block Trump from holding political office again.
In order to reach 67 Senators, 17 Republicans need to vote to convict Trump of Incitement of Insurrection.  Trump's fate is largely in his own party's hands—a party he is considering leaving to form his own "Patriot" party—as GOP Senators consider whether to vote in favor of conviction.  This is a significant change from his first impeachment, in which all Republicans except Sen. Mitt Romney staunchly opposed conviction.
Given his efforts to overturn the election results, it's not surprising that many experts believe Trump will sue the Senate, either to try and stop the trial from occurring or to overturn the results if he is convicted.  While it is true that the Senate does not have jurisdiction over private citizens (which Trump is, now that he is no longer President), the passage of impeachment articles before the end of his term significantly damages his case.  Impeachment is also not Trump's only legal problem as he leaves office—federal and/or state prosecutors may pursue charges in relation to the phone call he made to Georgia Secretary of State Brad Raffensperger, in which he pressured Raffensperger to "find the votes" to overturn the Presidential election results and flip the state back to red.  Other legal charges relating to Trump's taxes, sexual assault allegations, and more are not off the table either, though they will likely not resurface until well after the impeachment trial.  Many expected Trump to try to pardon himself of all accused crimes while still in office; this did not end up happening, and even if it did, it likely would not have worked out in the President's favor.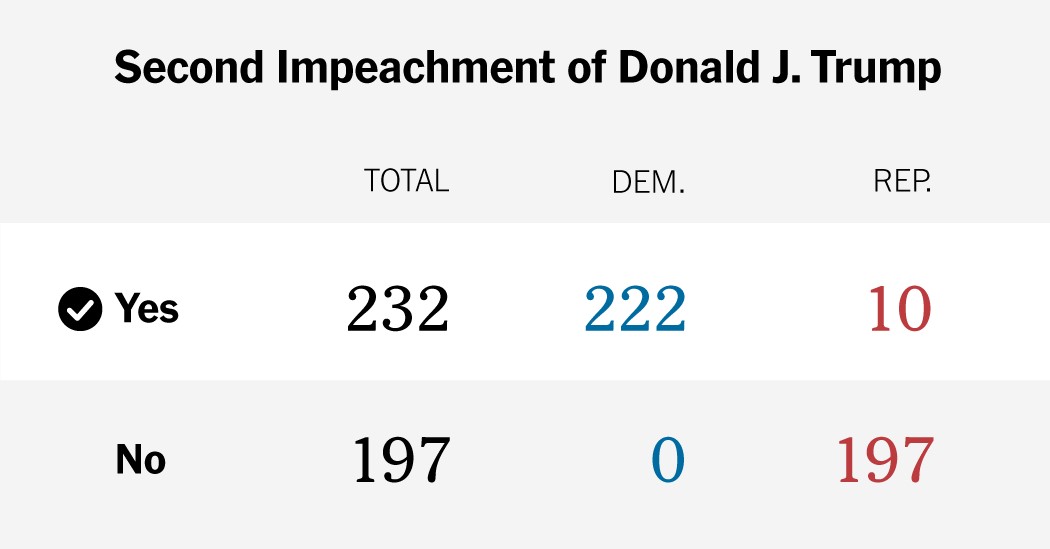 Recently, questions have arisen about how the Senate will make time for Trump's trial as President Biden rushes to accomplish many of his goals for his first days in office.  Shortly before his inauguration, Biden was reportedly in communication with Senator McConnell about a possible "bifurcation" in which the Senate would spend half of each day on the trial and the other half on normal proceedings.
Reflecting back on the past four years, Senior and AP Government student Sophie Herbig said, "It is amazing to learn about the ups and downs of our nation and government while living through the history that has been 2020.  I feel that the knowledge I have gained has guided me through understanding the important processes of government, especially ones that happened during Trump's presidency like impeachment, shutdowns, elections, and judicial nominations."  Sophie is right—we're living in unprecedented times, and we're lucky to be able to experience it while learning about similar topics in high school.  The world of American politics is changing.  It will soon be up to Gen Z, to all of us, to determine the future of our democracy and our country.