10 New Recipes to Try at Home
By Alli Brooks
COVID-19 has taken so much from so many people, but something it has given some people is time. If you, or someone you know, has to quarantine or needs a new hobby take the extra time to put towards something like cooking.
If this interests you, then read on! This article is going to share 10 easy, quick, and family friendly recipes for you to try out. The recipes will vary from breakfast, to lunch, dinner, and dessert. Lets get started.
Breakfast Recipes:
I found two easy breakfast recipes to share today. To start off is the breakfast quesadillas. This recipe was inspired by an option off of a list from favfamilyrecipes.com but it can be twisted to fit anyone.
The key ingredients would include: eggs, cheese, and tortillas. There is always the option to have additional veggies and flavors added in, but those are the three basic things. Simply cook up the eggs – scrambled would work best – then in a separate pan place the tortillas and cheese and then add the cooked eggs in as well. Here are some inspiration pictures:
Another breakfast option was also found through favfamrecipes.com and it is oatmeal. Yes, yes, it can be bland, but learn how to spice your oatmeal up. For starters look into trying overnight oat recipes, they require minimal effort and ingredients.
The basic ingredients for overnight oats are oats and your milk of choice. You can add fruits, honey, and chia seeds as well but all you have to do is place your mixture in a bowl in the fridge overnight and in the morning, you have a beautiful, simple, and delicious breakfast option.
Lunch Recipes:
Next up, three lunch options to try out.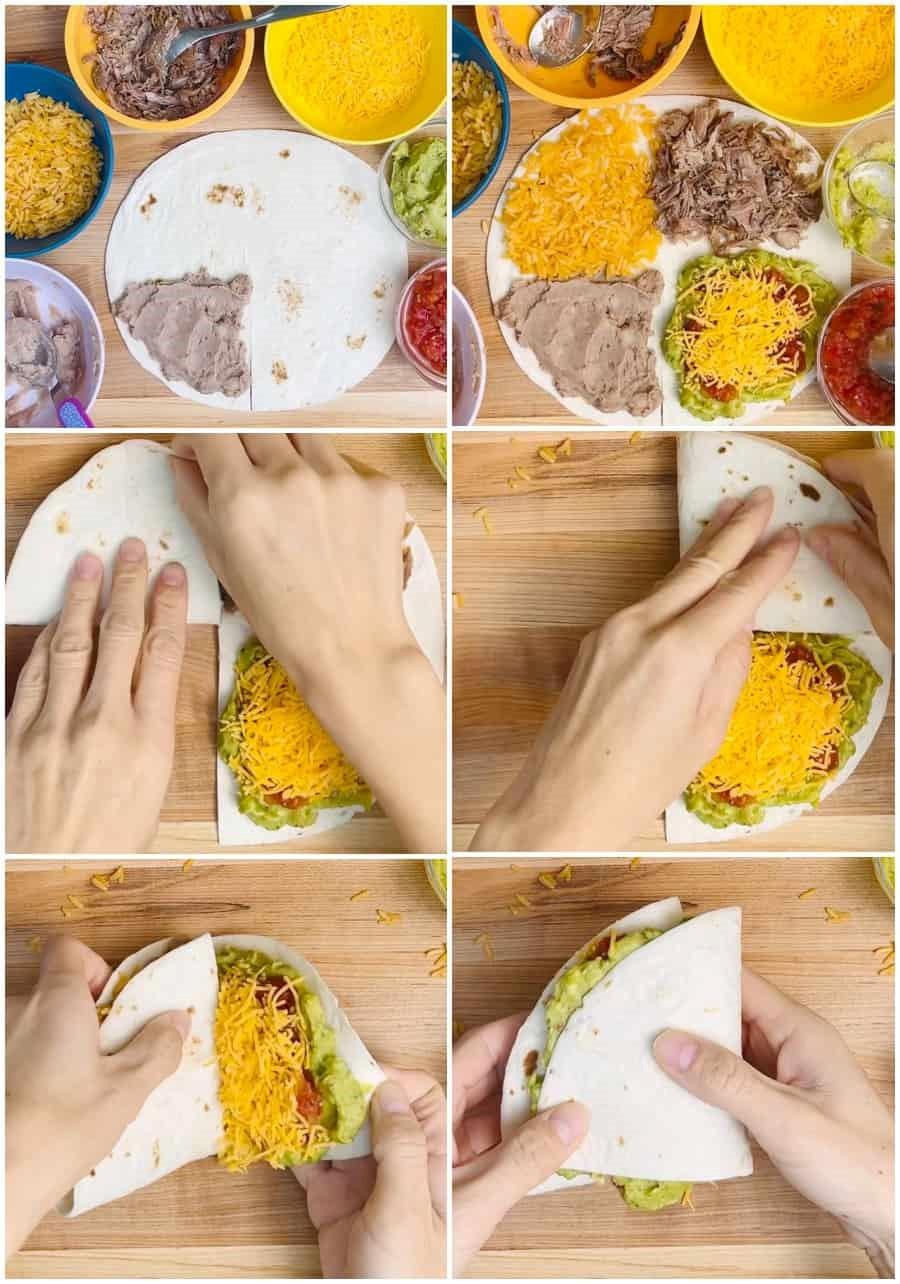 Anyone with the popular app TikTok has seen the fold over sandwiches that have been going viral. If not, here is a reference:
The fold over sandwiches only need a tortilla and whatever sandwich making supplies the creator desires. The example above pictures a Mexican themed sandwich, but recently I made one with turkey, mayo, lettuce and cheese. There is plenty of freedom with this lunch idea.
Another lunch idea is a power bowl. Yet another versatile meal option that is very easy to make. To make it start with a base of cooked quinoa or rice, then add chopped v
egetables (tomatoes, cucumber, avocado, etc), then add proteins of choice (chicken, salmon, or tofu), and lastly add seasonings and a dressing of choice.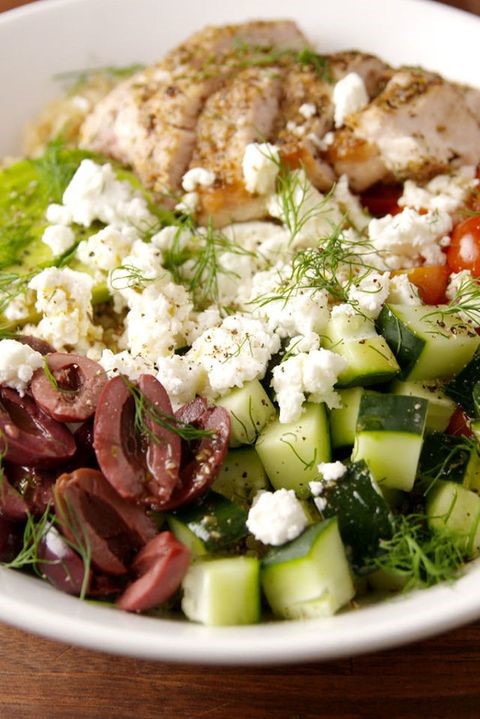 Here is a Greek power bowl from delish.com:
The last lunch recipe recommendation today is the solid option of a salad. Salads are easy to change for your own desire but here is a recipe from delish.com for a Mediterranean chickpea salad:
2 (15-oz.) can of chickpeas (drained and rinsed), me
dium cucumber (chopped), bell pepper (chopped), 1/2 red onion (thinly sliced), 1/2 c. chopped kalamata olives, 1/2 c. crumbled feta, Kosher salt, freshly ground black pepper. And then add whatever dressing you prefer.
Dinner Recipes:
When looking for easy and family friendly dinner recipes, casseroles are the way to go. The first dinner recipe is just that, from life-in-the-lofthouse.com a teriyaki chicken casserole:
3/4 cup low-sodium soy sauce, 1/2 cup water, 1/4 cup brown sugar,1/2 teaspoon ground ginger, 1/2 teaspoon minced garlic, 2 Tablespoons cornstarch + 2 Tablespoons water, 1pound boneless skinless chicken breasts, 1 (12 ounce) bag stir-fry vegetables (can be found in the produce section of grocery stores), 3 cups cooked brown or white rice
Instructions
Preheat oven to 350° F. Spray a 9×13-inch baking pan with non-stick spray.
Combine soy sauce, ½ cup water, brown sugar, ginger and garlic in a small saucepan and cover. Bring to a boil over medium heat. Remove lid and cook for one minute once boiling.
Meanwhile, stir together the corn starch and 2 tablespoons of water in a separate dish until smooth. Once sauce is boiling, add mixture to the saucepan and stir to combine. Cook until the sauce starts to thicken then remove from heat.
Place the chicken breasts in the prepared pan. Pour one cup of the sauce over top of chicken. Place chicken in oven and bake 35 minutes or until cooked through. Remove from oven and shred chicken in the dish using two forks.
Meanwhile, steam or cook the vegetables according to package directions.
Add the cooked vegetables and cooked rice to the casserole dish with the chicken. Add most of the remaining sauce, reserving a bit to drizzle over the top when serving. Gently toss everything together in the casserole dish until combined. Return to oven and cook 15 minutes. Remove from oven and let stand 5 minutes before serving. Drizzle each serving with remaining sauce.
Another dinner recipe worth trying out is creamy garlic shrimp from taste.com.au:
Ingredients: 25g butter, 1 tablespoon oil, 2 cloves of garlic, 1 tbs plain flour, 1 cup chicken stock, 2 tbs white wine, ½ cup cream, 2 teaspoons Dijon mustard, 1.6 lbs of shrimp, parsley, salt and pepper.
Directions: Heat butter, oil and garlic in a medium frying pan over medium-high heat until butter has melted. Add flour. Cook, stirring for 1 minute or until mixture bubbles.
Slowly add stock, 1/4 cup at a time, stirring constantly to prevent lumps forming. Add wine and cream. Cook, stirring for 3 minutes or until sauce boils and thickens. Add mustard, to taste. Season with salt and pepper. Add shrimp. Simmer, stirring for 3 minutes or until shrimps are cooked through. Stir in parsley. Serve creamy garlic shrimp with steamed rice.
And one last recipe to check out is shepherd's pie from simplyrecipes.com: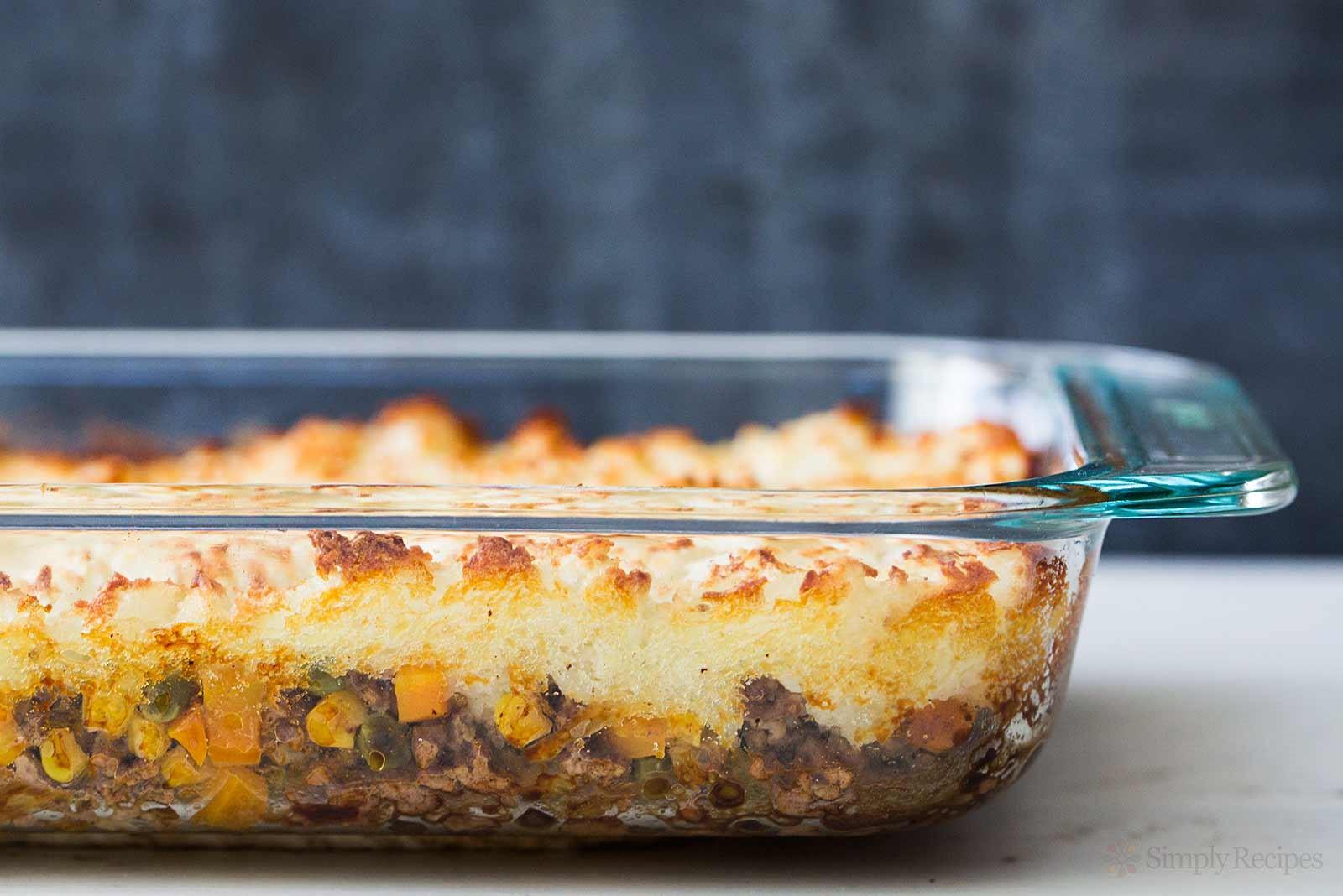 Instant potatoes mixture (4lbs)
8 Tablespoons (1 stick) butter
1 medium onion chopped (about 1 1/2 cups)
1-2 cups vegetables—diced carrots, corn, peas
1 1/2 lbs ground round beef
1/2 cup beef broth
1 teaspoon Worcestershire sauce
Salt, pepper, other seasonings of choice
Instructions: While the potatoes are cooking, melt 4 tablespoons of the butter in a large sauté pan on medium heat. Add the chopped onions and cook until tender, about 6 to 10 minutes.
If you are including other vegetables, add them according to their cooking time. Carrots should be cooked with the onions. Preheat oven to 400°F. Spread the beef, onions, and vegetables (if using) in an even layer in a large baking dish (9×13 casserole). Place in a 400°F oven and cook until browned and bubbling, about 30 minutes.
And enjoy!
Dessert Recipes: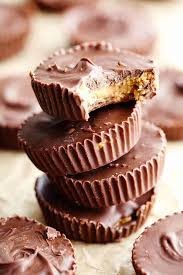 Save the best for last!
A super easy dessert to try is home-made ice-cream cookies. Simply buy ice-cream and cookies from the market and put them together at home for a delicious treat.
The last recipe of the list is a home-made candy bar of choice for dessert. For example, to make Reese's, just get chocolate to melt, peanut butter, powdered sugar, and cupcake wrappers. Combine the powdered sugar with the peanut butter and surround it with a bottom and top layer of chocolate with it in the cupcake wrappers. Freeze or let set for 12 hours or longer and then you have a nice little treat!
Be sure to try out these fun and easy recipes!