By Emily Letterle
Quarantine has been incredibly draining for many of us. During this time, it is so important that we take proper care of our minds, bodies, and spirits even though it is difficult. Here are some great self-care ideas to help nurture and re-energize yourself!
Writing letters is a great way to stay in touch with friends and spread some joy! I painted these letters to my friends to make the surprise letters even more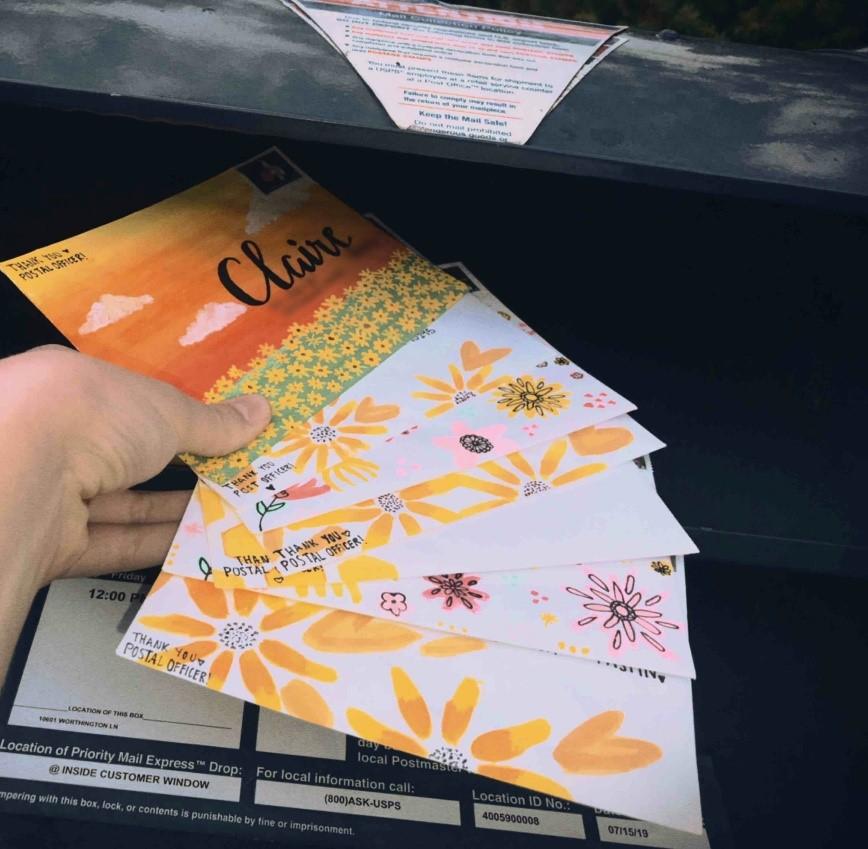 exciting.
Keep in touch with friends

The pandemic has made it increasingly harder to stay in touch with friends, and this can have a serious impact on your mental health. Reach out to friends you haven't heard from in a while with a text, call, or even a letter! Reaching out to your friends will help you, but it's also important to check in on them too!

Learn to cook

There is a variety of cooking classes online that you can take for free! There are also several videos and recipes on the AHS Journalism website and Instagram you can follow along to! Cooking is a very important life skill, and it is essential that you take the care to make sure you are eating healthy in order to provide your body with the nutrients it needs. For extra fun, get some of your friends to take the classes with you over facetime or zoom!
Workout routine from home

It is important to get consistent exercise, even if it is too cold to workout outside or you may not feel safe going to the gym. There are lots of youtubers and personal trainers online that offer free workout programs you can do from home! Chloe Ting is one popular workout youtuber that has a variety of different workout plans for you to chose from and they are all for free!

Plant an indoor garden

Although it is cold outside, there are still several types of plants you can grow indoors during the winter. Plants will liven up your room, and if you decide to grow herbs or vegetables, can liven up your food as well!
The Bible in a Year podcast is great to

learn more about and grow your faith. You can find it on almost any podcast/music streaming service including Spotify, Apple music, and Amazon music.
Find a new podcast to listen to

Podcasts can be entertaining, but also educational and help nourish your mind and spirit. One great podcast released this year is "The Bible in a Year (with Father Mike Schmitz)". This podcast is only about 20 minutes everyday and a fantastic podcast to help you learn more about the Bible with readings, commentaries, and reflections.