The Basketball Team's MORE Mindset
By Natalie Koch
The Assumption sports season has been a challenging one this year due to the pandemic. Practice time is limited and very different than the teams are used to experiencing. The basketball team, however, has worked on different ways to make the season special for themselves and the school they represent. Despite not being able to be physically together as often as they're used to, the team has found other ways to make the dream work. This year, the team has come up with the mindset of "MORE." According to their coach, Mr. Rogers, the seniors come up with a phrase each year, and this was the motto they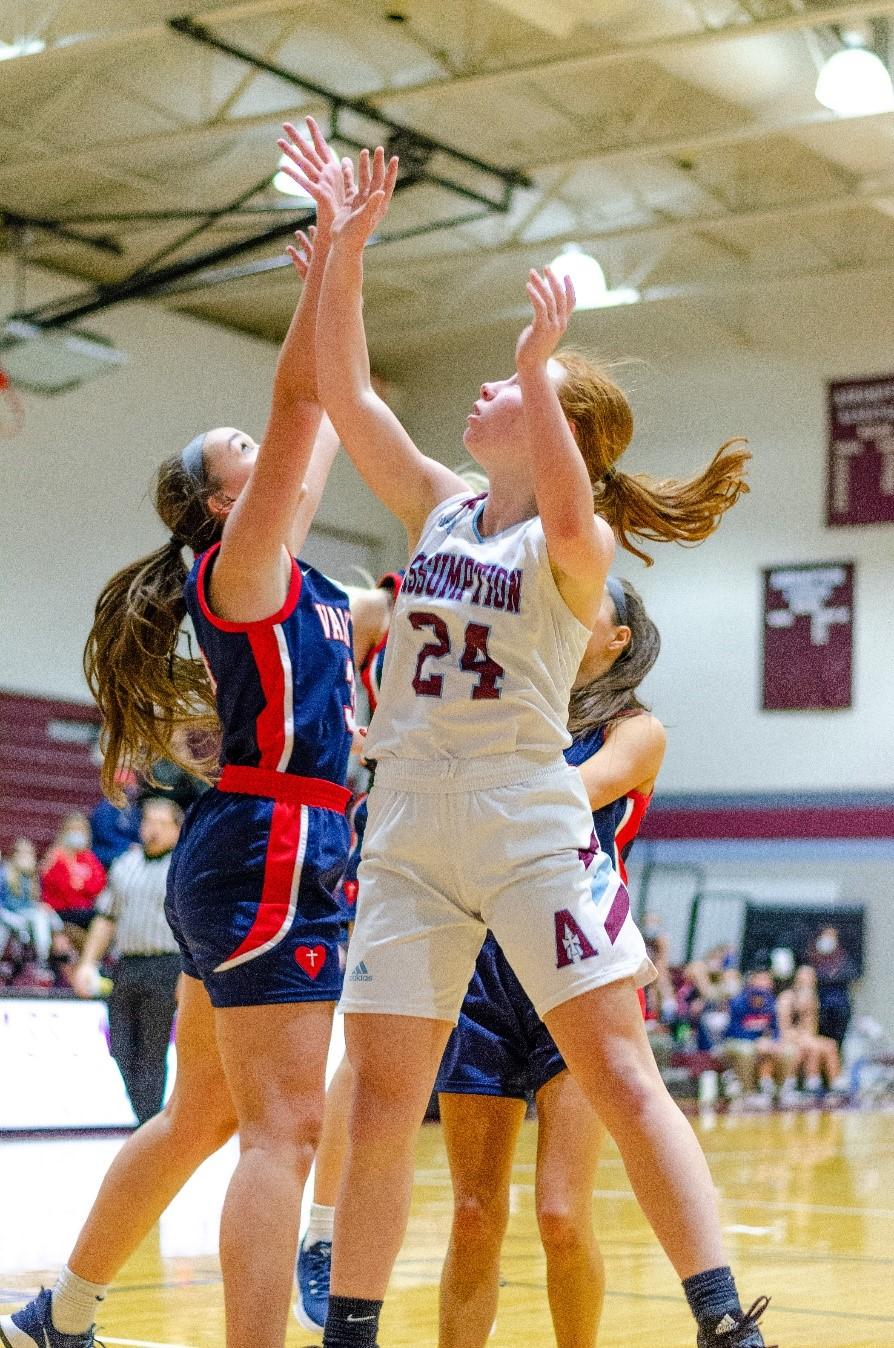 decided to have represent the team for this season. "It is one of those things that you have to be a part of the program to know what it really means," Mr. Rogers stated. This makes the motto something special to the players, and something that they can really connect on together as a team.
Amelia Cassin shoots for the stars when competing against SHA.
While the COVID-19 pandemic certainly came with many cons for people everywhere, the basketball team has managed to find strengths among the challenging weaknesses. "I think that our team is really tough," Mr. Rogers explained. "They want to be able to play together and play for each other. The pandemic has made them appreciate being able to play for each other."
Mr. Rogers has been a basketball coach for 5 seasons now. He's been the head JV coach for 3 of those 5 years, and he loves doing it. When asked what his favorite part about coaching was, he responded that he loves developing the players that he gets to work with. He enjoys accompanying them on their high school journey and watching them succeed and grow throughout their basketball careers with AHS, and even onwards.
Mr. Rogers stays on the sideline throughout the game, while giving his support and words of advice before and during the game. The MORE mindset comes into play with the things he reminds them of before they start a game. "I tell them to control the things that you can like effort and attitude," he stated. While the MORE mindset sounds like it would be more demanding of the players and the things they achieve during a game, Mr. Rogers says that this isn't the case. As a coach and a math teacher, he knows that mistakes are okay and that what matters most is the effort put into the task at hand. "You are not going to make every shot, or every play, but you can control how hard you play and the attitude that you have while you are out there." His words remind the team that the belief they have in themselves is what's most important.
Mr. Rogers is of course very supportive of the players. He knows that the team is special for many reasons, but his big reason is because they treat each other like sisters. Mr. Rogers enjoys getting to see the interactions between the players, because they love being with each other. "They are a family," he said. Mr. Rogers is proud of everything they accomplished this season. Go Rockets!