AHS Teachers and Part 1 of the Vaccine
By Sarah Koch
On Monday, February 8th, Assumption faculty and staff were lucky enough to receive their first doses of the Moderna COVID-19 vaccine.  They traveled downtown to Broadbent Arena to be vaccinated by healthcare professionals.  The vaccines were distributed in a drive-through style, with recipients waiting in the parking lot for 15 minutes afterwards to make sure they did not have an adverse reaction.
Mrs. Kelly Kirwan is an English teacher and the Director of the McAuley Scholars program at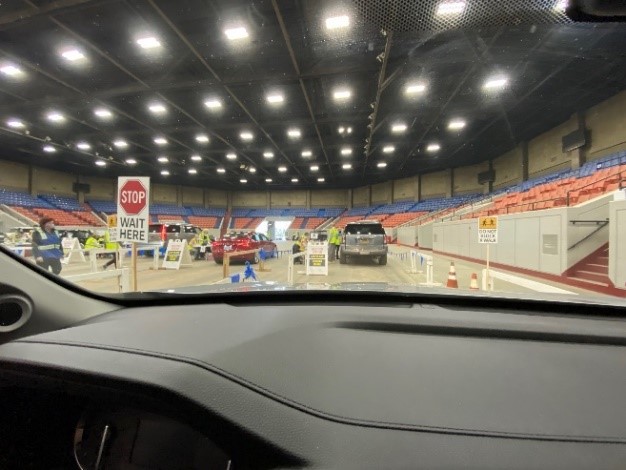 Assumption.  She reported a positive physical response to her first vaccine dose, with only a little arm soreness that evening and the following day.  Reflecting back on the experience, Mrs. Kirwan stated, "I felt hopeful; it seemed to be the best step to take not only for me, but for our community, nation, world in our efforts to control the pandemic. The volunteers working at this event were fantastic, kind, and so compassionate. It is encouraging to see people come together in such a positive way to make a difference."
Mrs. Kirwan also reported that her second dose of the COVID-19 vaccine is scheduled for March 8th at 8:00 a.m. at Broadbent Area.  This is 28 days after the first round of AHS teacher vaccinations, and those who participated on Monday were able to schedule their next doses on-site.  When asked what message she wanted to share with the community of Assumption about vaccination and this extraordinary year, Mrs. Kirwan remarked, "It is amazing how quickly scientists created multiple vaccines to counter COVID-19."  She teaches AP Research to seniors, in which students create and use Informed Consent documents.  These are also used for the COVID-19 vaccine, so Mrs. Kirwan added that "To be able to draw these parallels between students' educational experiences and real life is so powerful."  She observed that Monday was "a light for all of us" as we navigate this unprecedented school year.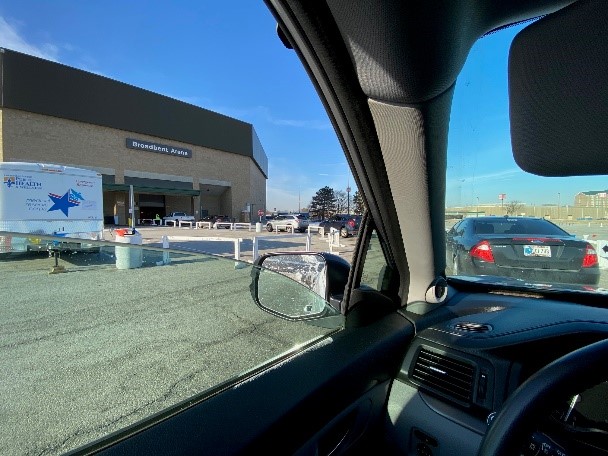 Mrs. Stephanie Shelton, Social Studies teacher, is another member of the AHS faculty who received the first vaccine dose on Monday the 8th.  Her experience was unique in that her vaccination marked the 25,000th dose given in Broadbent Arena.  As she received her injection, everyone in the arena cheered!  Once two weeks have passed since all faculty and staff members received their second dose, some teachers who have been teaching virtually may be able to return to school.  The community of Assumption is so grateful to all the scientists and healthcare workers who made this day possible!