The Origin of Valentine's Day
By Lily Bickel
Valentine's Day is a day to spread love toward the special people in our lives. However, many don't know where this historical holiday originated from. The holiday came from the Roman festival of Lupercalia. Lupercalia is held in mid- February and celebrates the coming of spring. At the end of the fifth century, Pope Gelasius I decided to replace Lupercalia with St. Valentine's Day. The holiday got its romantic celebrations from around the 14th century. Valentine's Day got its name from a priest who was martyred around 270 CE by the emperor Claudius II Gothicus. From what the legend says, the priest signed a letter "from your Valentine" to his jailer's daughter, whom he was friends with and healed from blindness. Another legend says that St. Valentine defied the emperor's orders and secretly marry couples to spare the husbands from war. This is the main reason for the holiday's association with love. The Catholic Church recognizes at least three different saints named Valentine or Valentinus, all of whom were martyred. The Catholic Church believes that St. Valentine was a priest who served during the third century in Rome.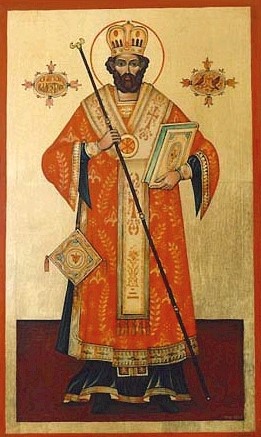 Valentine's Day greetings started in the 1500's and by the 1700's commercially printed cared were being used. In the United States, the first commercial Valentine's greetings were printed in the 1800's. Valentines often depict Cupid, the Roman god of love, also with hearts.
Traditional gifts for Valentine's day are candy and flowers, particularly red roses, a symbol of beauty and love. The holiday is popular in the United States, Britain, Canada, and Australia. It is also celebrated in other countries like Argentina, France, Mexico, and South Korea. In the Philippines, it is the most common wedding anniversary. Valentine's day has expanded to include not only significant others, but also family and friends.