The Best Superbowl Commercials
By Avery Dobozi
Last Sunday was the greatest annual game in American football: the Super Bowl! The Super Bowl is played every February and is the last NFL gam of the season. Even non-football fans watch the Super Bowl for the famous Super Bowl Commercials and Pepsi Halftime Show. Despite Covid-19 limiting fan capacity at the Tampa Bay Stadium, the Super Bowl Commercials did not disappoint! Here are some of this year's favorites.
M&M's
This year's M&M Super Bowl Commercial featured someone apologizing to someone else by gifting them a packet of M&M's. The scenarios are hilarious, and the commercial ends with someone apologizing to some M&M's for eating their friend!
https://www.youtube.com/watch?v=lKUcHcizEMc
Cheetos
Cheetos' commercial this year featured Ashton Kutcher accusing Mila Kunis of eating Cheetos by singing a parody of "It Wasn't Me" by Shaggy. In fact, Shaggy made a guest musical appearance in this commercial! Check it out below to see the hilarious new version of the song.
https://www.youtube.com/watch?v=lIxdasBrDMI
Bud Light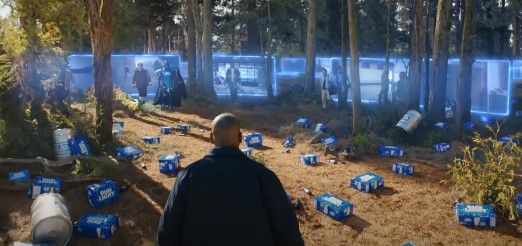 Every year, Bud Light puts out a commercial featuring 'Bud Light Legends." Some of these heroes include medieval people, Post Malone, and Cedric. This year, all the legends came together to help save the day when Bud Light goes missing from stores. With lots of great cameos, this commercial is a must watch!
https://www.youtube.com/watch?v=X9jkvq4-tCU
General Motors
In the General Motors commercial, Will Ferrell travels to Norway to beat the Norwegians at selling electric cars per capita. Unfortunately, Will Ferrell doesn't necessarily make it to Norway in this hysterical commercial.
https://www.youtube.com/watch?v=mdsPvbSpB2Y
Rocket Mortgage
In the Rocket Mortgage commercial, Tracy Morgan convinces a family that it is better to be absolutely certain in situations rather than just "pretty sure." Tracy presents the family with scenarios where being "pretty sure" was not good enough and buying a home means "pretty sure isn't sure enough."
https://www.youtube.com/watch?v=EMgA-y2nRWE
State Farm
Everyone knows the iconic Jake from State Farm, but in this Super Bowl commercial, Jake has an understudy who just so happens to be another famous celebrity. See who it is below!
https://www.youtube.com/watch?v=aKg66q1zEuw
Toyota
The Toyota commercial was arguably the most heart warming commercial of 2021. Featured in the commercial is Paralympic swimmer, Jessica Long. The commercial shows Jessica swimming through her life, starting with her mom adopting her. Toyota is a sponsor of the Paralympics, so using Jessica in the commercial connected the car company with the heartfelt plot line.
https://www.youtube.com/watch?v=Pr3jR2keirk
T-Mobile
The T-Mobile commercial featured one of Hollywood's favorite couples… Blake Shelton and Gwen Stefani! The commercial showed the true story behind how the pair met, a spotty network! This quick twist on reality was surely entertaining!
https://www.youtube.com/watch?v=T0biHjojjnI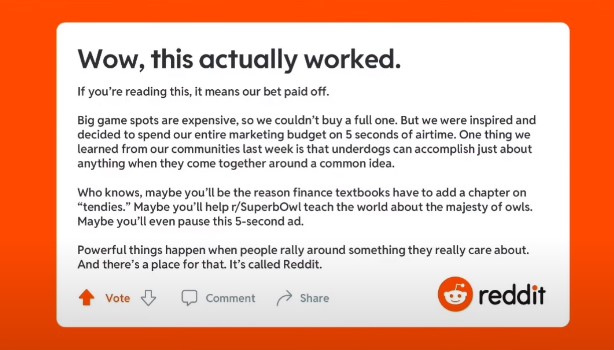 Reddit
Even if you watched the Super Bowl commercials, you may have missed this one. The Reddit commercial was a whopping 7 seconds long! To watch the social experiment that has social media buzzing, click the link below!