By Annie O'Dea
To celebrate Black History Month, let's look back at three impactful women in Kentucky's history.
Helen LaFrance Orr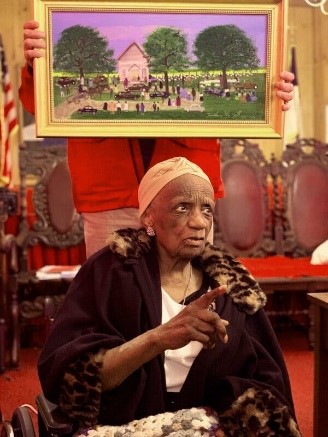 Helen LaFrance Orr was born on Nov. 2, 1919 in Graves County, KY. She was a self-taught artist who was known for "memory painting", a type of folk art where she would paint scenes from her childhood. She used bright and vivid colors to tell stories of her rural life growing up in Kentucky. She was born in a time of hardship during the Great Depression, but, "Instead what comes through is joy, and the values of family and work…Her blend of personal experience, Black American culture and heritage, and her skill all come into play to make her work unlike anyone else's," said Kathy Moses Shelton, author of, "Helen Lafrance: Folk Art Memories", in an interview. Ms. LaFrance received Kentucky's Folk Heritage Award in 2011, and there are collections of her work in the Saint Louis Art Museum and the Owensboro Museum of Fine Art. She died on November 22 of 2020 in Mayfield, KY at age 101.
Sara Martin
              Blues singer Sara Martin, "The Famous Moanin' Mama", was born in 1884 in Louisville, KY. She started off her music career as a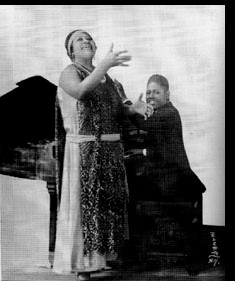 vaudeville singer around 1915 and performed with a jug band. In 1922, she signed a recording contract with Okeh Records and began producing numerous recordings until 1928. She toured around many major US cities, Cuba, Puerto Rico, and Jamaica, and was known for her stage presence; she dawned extravagant costumes and had diamonds in her teeth. Daphne Duval Harrison, blues historian, stated that, "Martin tended to use more swinging, danceable rhythms than some of her peers … when she sang a traditional blues her voice and styling had richer, deeper qualities that matched the content in sensitivity and mood." She retired her music career in the 1930s and moved back to Louisville. She was one of the most-recorded classic blues singers.
Georgia Davis Powers
Georgia Montgomery Davis Powers was born on October 19, 1923 in Springfield, KY. Her family moved to Louisville where she attended Central High School and Simmons College. In 1962 she started in politics by joining the campaign staff of Louisville Mayor Wilson Wyatt. She became weary of her setbacks that she had as a black woman and decided to join the Civil Rights Movement. She helped lead Kentucky's March on Frankfort in 1964 where ten thousand people gathered to protest the discrimination against African Americans in public spaces. She then returned to politics and became the first African American and woman serving in the Kentucky State Senate in 1967. For 21 years as a senator she advocated and fought for the rights of women, people of color, the disabled, and the disenfranchised. In her autobiography, she wrote that she had a personal relationship with Martin Luther King Jr. and that she was at the Lorraine Motel when he was assassinated. She also worked alongside Rev. Jesse Jackson and Jackie Robinson while fighting for racial justice. She passed away on January 30, 2016 at 92.