St. Patrick's Day Dessert Ideas
By Michaela Pate
Saint Patrick's Day is celebrated on March 17, which is right around the corner. St. Patrick's Day is a celebration of the Irish and the saint with parades, parties, and of course amazing food! Here are some delicious Saint Patrick's Day inspired treats to get festive!
Pot O' Gold Cups
These brownies are fun, creative and delicious!
Ingredients:
Cooking spray or butter
1 box brownie mix (including ingredients called for on box)
2 rainbow candy belts
2 cups of Cool Whip, for decorating
Gold sanding sugar, for decorating
Directions:
Bake the brownies according to the box directions in muffin tins
Once the brownies are out of the oven, press into the middle of each to make an indent. Let the brownies cool completely.
Cut the candy belt into 2-inch strips
Scoop Cool Whip into each brownie "pot" and sprinkle with gold sugar. Then place the candy belt forming an arch, resembling a rainbow.
Copycat McDonald's Shamrock Shake
This limited time, classic shake is always must have around this holiday, so let's make it at home!
Ingredients: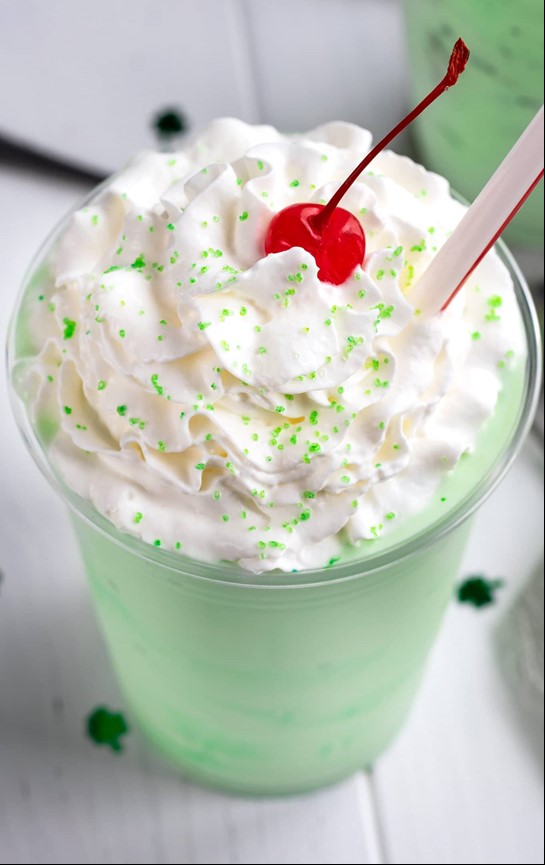 3 scoops of vanilla ice cream (about 1/4 cups each)
1/4 cups of heavy cream
1/2 tsp. peppermint extract
6 drops of green food coloring
Whipped cream, for topping
Maraschino cherry, for topping
Directions:
Blend and top with whipped cream and a cherry!
St. Patrick's Day Shamrock Bark
This desert is simple, quick, and delicious!
Ingredients:
1 Bag of Wilton Green Candy Melts
2 4 oz. Boxes of Bakers White Chocolate
1 Cup of Green M&M's
Directions:
Melt the candies in separate bowls
Pour out the Melted Green Candy and spread it out 1/8-inch-thick on wax paper.
Add the White Chocolate on top and use a toothpick or the tip of a knife to swirl the white and green chocolate together.
Top with M&Ms (and green sprinkles for extra decoration if you want).
Apple Crumble
This is delicious, especially when served with vanilla ice-cream. It is a classic in Ireland to make your St. Patrick's Day celebration even more special!
Ingredients:
¾ cup or 1 ½ sticks of melted butter
1 ½ cup of flour
1 cup of chopped pecans
1 cup of lightly packed brown sugar
½ tsp. kosher salt
6 large apples sliced into wedges
½ cup of sugar
2 tsp. ground cinnamon
½ tsp. ground ginger
Juice of ½ lemon
Vanilla ice-cream!
Directions:
Preheat oven to 350 degrees and grease baking pan with butter
In bowl, whisk the flour, pecans, brown sugar, and salt. Mix in the melted butter. The mixture should be course and a sandy color
Add the apple slices, sugar, cinnamon, ginger, and lemon juice to baking dish. Make sure it is combined.
Then, add the layer of the crumb mixture on top.
Bake until apples bubble, and the top is golden. This should take around 50 minutes
Serve warm with ice-cream!
This is a fun dessert that is delicious and easy!
Ingredients:
Brownie mix (1 box). (Including ingredients called for on the box)
1 box of vanilla pudding
1 (8-ounce) container of Cool Whip
Green food coloring
1 package of Mint Oreo's crushed
Directions:
Make brownies and pudding according to the box directions
Add desired amount of green food coloring to the pudding
To create the trifle, add layer of cut up brownies, then a layer of pudding, a layer of cool whip. Do this order of layering again, then top with the crushed Oreos.