Ways to Celebrate St. Patrick's Day
By Emily Letterle
Saint Patrick lived during the 5th century and was born in Roman Britain before being kidnapped and brought to Ireland to be a slave when he was 16. Saint Patrick later escaped slavery, but later returned to Ireland as a missionary, bringing Christianity to the Irish. Saint Patrick is best known for using the three leaves of a single shamrock to explain the Holy Trinity to the Irish people. St. Patrick's Day is celebrated annually on March 17th, honoring the day Saint Patrick died. The holiday celebrates Irish history and, of course, Saint Patrick.
This year St. Patrick's Day, as everything else, will be celebrated differently. Here are some ways you can safely celebrate St. Patrick's Day this year!
Participate in the Shamrocks & Shenanigans Virtual 4 Mile Run Walk
Although the ongoing COVID-19 pandemic restricts runners from racing together, you can still participate in the 4-mile run/walk virtually! You can register for the race at https://www.eventbrite.com/e/2021-shamrocks-shenanigans-virtual-4-mile-run-walk-louisville-registration-135680779865?aff=ebdssbdestsearch. Once you register, you will receive a race packet in the mail containing the Shamrocks & Shenanigans Finisher Medal (composed of 4 – one-mile marker magnets), an official Tyvek Race Bib, and you can opt to also receive a Shamrocks & Shenanigans Finisher Shirt. You can complete all 4 miles at once, or one at a time between March 1st through March 31st. Once you have completed all 4 miles, you can submit your results to earn your medals! Although you don't have to complete the challenge on St. Patrick's Day, you're encouraged to deck out in your best St. Patty's Day attire for extra fun!
Bake a Traditional Irish Soda Bread
Soda bread originated in Ireland in the early 1800s and is widely regarded as a traditional Irish cuisine. Traditional recipes, such as one from https://cooking.nytimes.com/recipes/1015683-traditional-irish-soda-bread, consist of flour, salt, baking soda, and buttermilk. Making soda bread is a fun, delicious way to celebrate Irish culture and St. Patrick's Day!
Attend the Paint It Sweet "Lucky Gnome Paint Party" Across the River
Paint It Sweet in Corydon, Indiana is hosting a painting party on March 17 to celebrate St. Patrick's Day. The event includes a pre-sketched canvas, all painting supplies, and green cupcakes available for purchase from their cupcake bar. Tickets to this painting party are $30.00 and can be purchased from https://www.eventbrite.com/e/lucky-gnome-paint-party-tickets-142050891039?aff=ebdssbdestsearch.
Take a Virtual Intro to Irish Dance class!
McTeggart Irish Dance Studio in Lexington is offering recorded or live virtual classes where you can watch along and learn the basics of Irish Dance! Classes are held live on Zoom every Monday in March (March 8, 15, 22, 29) from 6-7 pm. Tickets are $40 and include all four zoom classes. You can buy your tickets at https://www.kyirishdancers.org/.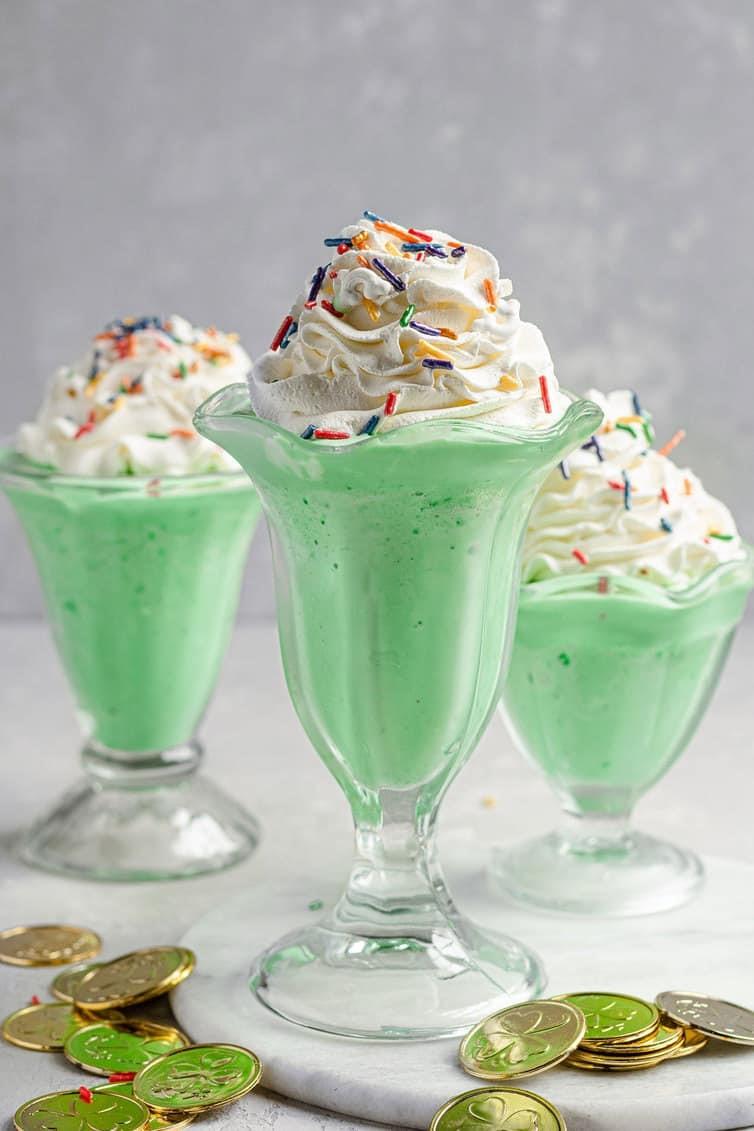 Grab (or make) a Shamrock Shake!
Head out to McDonald's to get the limited time, iconic St. Patty's Shamrock Shake! The Shake returned to menus starting on February 15th, and will be available until shortly after St. Patrick's Day on March 17th. Or, you can even attempt to make the shake at home with a copycat recipe from https://www.browneyedbaker.com/homemade-shamrock-shake/.
And Of Course… Wear Green!
Participate in a colorful St. Patty's Day tradition by wearing green. If you don't wear green, the tradition says that you'll be pinched by a leprechaun! This tradition started in the 17th century as the Irish would wear green to represent the green in the Irish flag (which symbolized the Roman Catholic Irish population) and Saint Patrick.