By Sarah Koch
This year at the National Eating Disorders Association (NEDA), "Every body has a seat at the table" for National Eating Disorders Awareness Week.  From February 22-28, NEDA and the mental health community celebrated NEDA week to raise awareness about and recognize those afflicted by eating disorders.
This year's theme for NEDA week was "Every body has a seat at the table."  This theme seeks to highlight the fact that eating disorders can affect anyone; just because someone does not "look" sick does not mean they aren't fighting their own battle.  National surveys estimate that 20 million women and 10 million men in the United States will have an eating disorder at some point in their lives.  They are considered psychological rather than physical illnesses, and anorexia is the deadliest mental health issue, with 1 in 5 of those affected dying from either suicide or complications related to malnutrition.   Every 62 minutes, someone dies from an eating disorder.  These statistics, though frightening, motivate NEDA to push for change.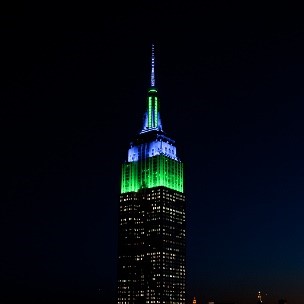 One exciting aspect of NEDA week 2021 was the lighting of over 100 buildings and monuments across the country with NEDA's signature blue and green.  Even the Empire State Building participated!  NEDA also partnered with Aerie to create a limited-edition shirt whose proceeds were donated to NEDA.  People could also use #AerieReal on Instagram to support NEDA, with $1 donated by Aerie for every use of the hashtag.  This marks the 7th year of Aerie's collaboration with NEDA.
The NEDA blog and Instagram account (@neda) were also very active during NEDA week.  Many people shared their stories of recovery to spread hope to those suffering from eating disorders.  NEDA encouraged people to share their stories to social media but cautioned against the sharing of before and after photos, which may be triggering to people.
The NEDA website, though especially active during NEDA week, is available year-round to those seeking help for themselves or loved ones.  The website includes educational videos and articles, a blog with inspirational stories of recovery, resources including a helpline and assessment quizzes, and more.  They aim to promote body positivity, inclusivity, and pro-recovery culture.  Each year, NEDA also hosts a walk; this year's walk will be held virtually on different dates in April for different regions of the U.S.
Assumption's Mental Health Awareness club also spreads awareness about eating disorders by posting informational handouts on social media (@rocketsmentalhealth on Instagram), educating club members about eating disorders, providing resources to those who may be struggling, and (usually) participating in the annual NEDA walk.  The Club's Vice President, Charlotte Levenhagen, wants to spread the message that "Prioritizing your mental health is just as important as prioritizing your physical health.  I want to create a safe space where people can talk about their mental health without feeling judged or criticized."  Her goal reflects that of the entire community of Assumption as we strive to create a safe environment in which all students can thrive.
Note: If you or a loved one may be struggling with an eating disorder, do not hesitate to reach out to a parent, trusted adult, counselor, or mental health professional and make use of the resources provided by NEDA at https://www.nationaleatingdisorders.org/.  Remember that you are not alone and that your struggles are valid, no matter how "sick" you may appear physically.