By Annie O'Dea
Myanmar, also known as Burma, is a country bordered by Bangladesh, India, China, Laos, and Thailand in Southeast Asia. In 1948, Myanmar gained independence from Britain, and it was led by military forces from 1962 to 2011 when civilians began ruling again. On February 1, following the latest election which was claimed to be won on fraud, the military seized control of the country yet again and mass protests broke out.
Min Aung Hlaing was the leader of the coup and has now taken power. He received much public condemnation, but he claims that he wants to form a "true and disciplined democracy" and that he will hold a "free and fair" election after the emergency.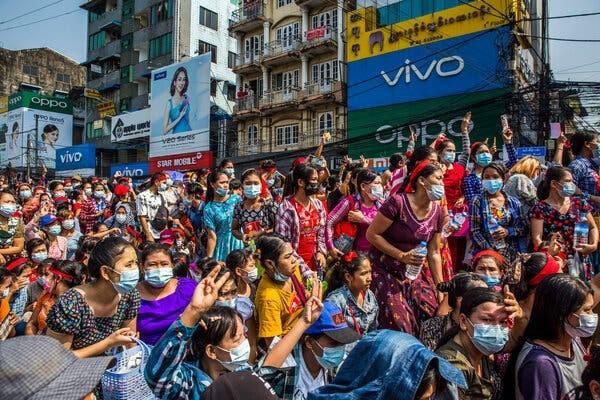 The protests over the new rule have been ongoing since Hlaing's rise to power, bringing with it much violence from military forces. More than 60 people have been killed and 1,800 others have been detained since the coup and protests started, although their violent practices and fear tactics have been going on for much longer.
In 2017, more than 700,000 Rohingya Muslims were driven out of the country in what the United Nations said was genocidal. Soldiers rape women and girls in their homes and use men and boys as shields. Last April, U Thein Aung and his friends were forced to go with soldiers to another village and one was blown to pieces after stepping on a land mine. Mr. Thein Aung stated, "It is very clear that they used us as human land mine detectors."
Teachers, lawyers, students, bank officers, and government workers are participating in the protests. Forces have been using water cannon, rubber bullets, tear gas, and are gunning down peaceful protesters on the streets. They have imposed restrictions like curfews and limits to gatherings, and now control state television. On Monday, they invoked licenses from five media organizations, suppressing free press.
On Sunday, security forces established bases at universities, hospital compounds, and Buddhist pagoda complexes. U Kesara Viwunsa, the abbot at the Mahamuni Buddha Temple in Mandalay, claims that the soldiers have taken over for a month and says, "No one comes to worship here anymore because people are afraid of them."
The military's takeover has been condemned by the international community, yet Myanmar's neighbors in China, Cambodia, Thailand, and the Philippines claim that it is an "internal matter" and oppose international intervention.