The Start of the Lacrosse Season
By Alli Brooks
Spring is a time of new beginnings. At Assumption, this spring season is beginning with the many beloved sports, including lacrosse.
Tryouts for the lacrosse team took place in February and the team had been practicing even before tryouts. They started holding their two-hour practices on Mondays through Fridays about three weeks before their first game against Kentucky Country Day School (KCD) Wednesday, March 10th.
Despite the AHS team's efforts after many practices, they lost against KCD 20-1 varsity and 10-3 JV.
It was a disappointing loss for the Varsity team, yet senior player, Madeleine Will, explained that the loss was expected because KCD is a very strong team. According to Madeleine,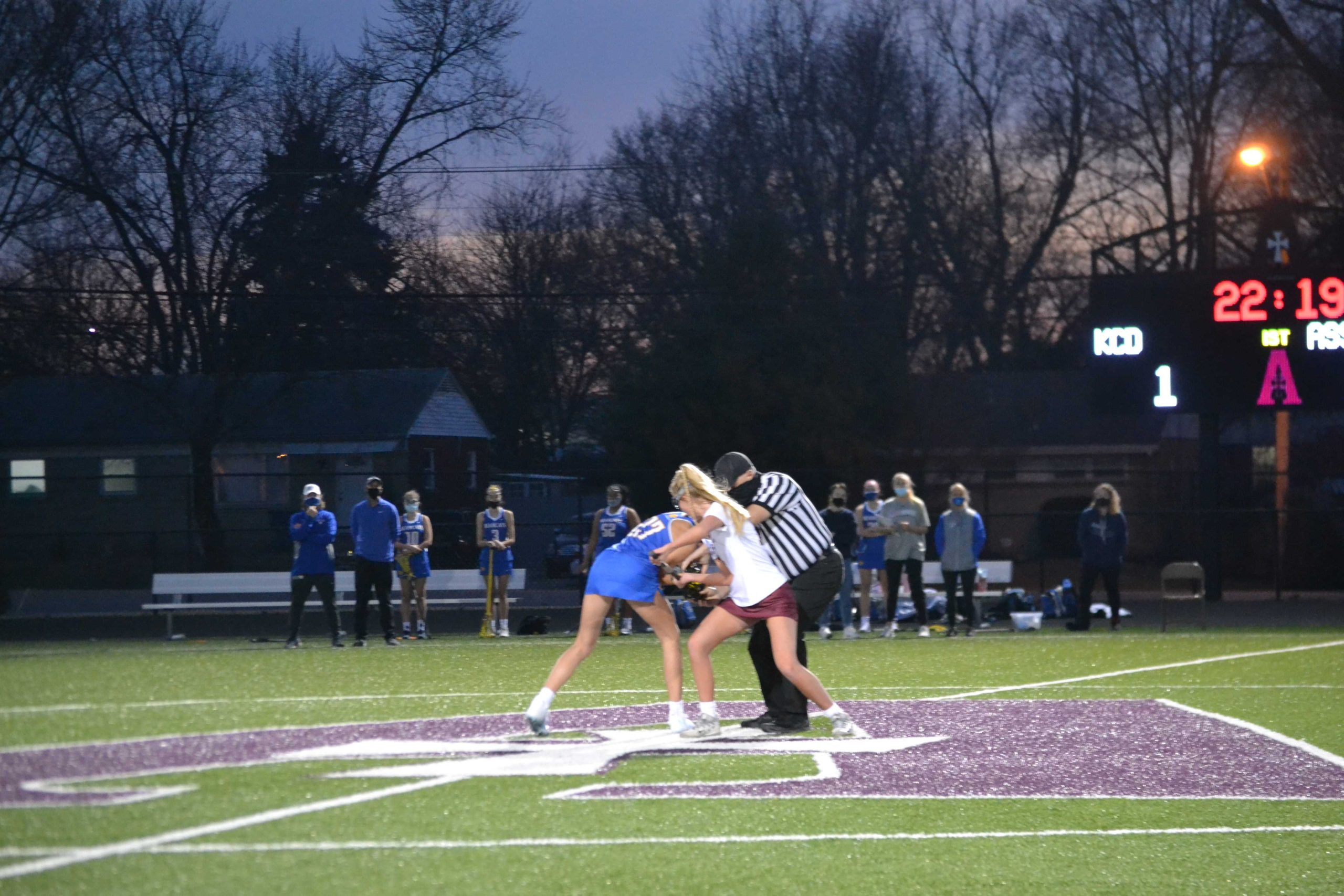 Assumption still played well under the circumstances, with one goal being made by senior Caroline Timperman.
Madeleine Will stated that the new varsity coach has been working with defense which is helping the AHS team improve significantly. The defense has started to work on a new zone defense combined with a man-to-man defense, resulting in a hybrid defense.
When interviewed on the Thursday after the loss against KCD, Will declared, "I'm really excited about this season because even though we lost yesterday, our defense is obviously stronger than any year before."
She is confident in this since she has been with the team since her freshmen year at Assumption. Will only picked up lacrosse about 5 months before tryouts as a freshman. She encourages people to just try the sport because it was pretty simple for her to learn.
The JV team had a better game with a smaller number of points between them and their opponents. Sadie Townsend made a goal for the JV team and Sophia Young made two more. The younger players lost, yet still had an enjoyable game because, like Will had mentioned, they played well under the circumstances.
The Lacrosse coaches for the varsity team are head coach Sam Saunders, goalie coach – Alyssa Sweet, and assistant coach – Halle Pittman. The JV team is lead by head coach Kristey Ferry, assistant coach – Delaney Carter, and the same goalie coach as the varsity team.
As the season goes on, the teams and coaches seem very confident and excited about improving and possibly winning in the future