By Alli Brooks
The 2021 Assumption Archery season was a very successful one, even with the COVID-19 restrictions. There were multiple tournaments this year, and the last one was held Friday, March 12th.
Archery practices throughout the season were held on Tuesdays and Thursdays for one and a half hours. The coaches of the team are Emily and Jake Lomax who have been with AHS Archery for two seasons now. According to the ahsrockets.org, "Together they bring a tremendous amount of talent and experience to Assumption Archery." In their first season of coaching AHS, they led the team to get 3rd place at the KHSAA Regionals. They were also the only single-gender team in the region to go.
Many players made 50s this season, also known as bulls-eyes. This is the highest point players can get at a time. Seniors Siena Riley and Claire Stemmer are some of these players, along with many underclasswomen.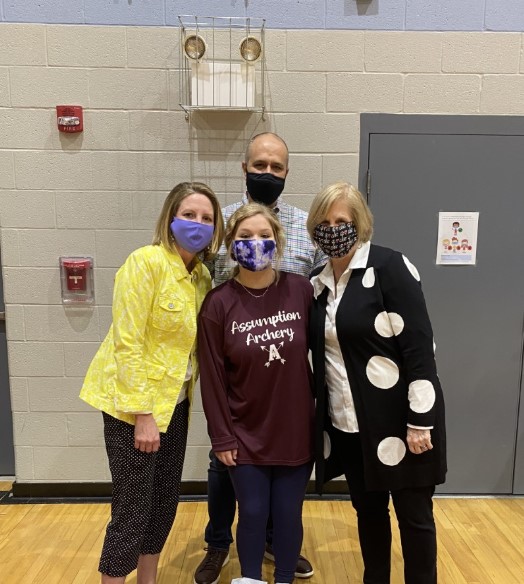 COVID-19 restrictions called for many changes. For instance, more space between teammates in practices and tournaments, and there were even virtual tournaments with schools like Sacred Heart Academy. Senior Bea Holbrook, who has been doing archery since sixth grade and joined the AHS team in 11th grade, said that "Tournaments this year were really nice, we got a target to ourselves and it was less crowded." Other archery members made similar comments that reinstated how the tournaments were less stressful this year than last year.
As a senior on the team, Bea Holbrook mentioned feeling sad over the end of her last season of archery. Though on the brighter side, she has a lot of confidence in the juniors on the team that will be stepping into the leadership roles in next year's season. Holbrook also stated, "I'm happy I got to experience the happiness of my team when we beat Mercy at every tournament!"