By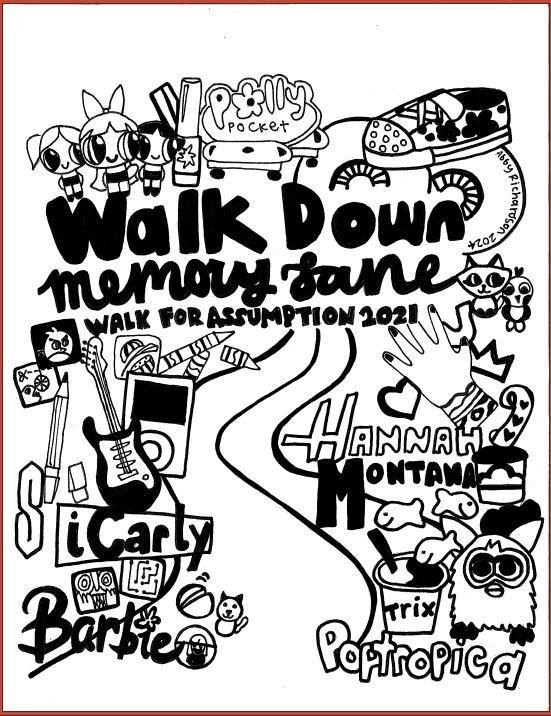 Avery Dobozi
Every year the Walk for Assumption is hosted as an incentive to sell Rocket Raffle tickets. Rocket Raffle sales are hosted as a fundraiser for student financial aid. Usually, the Walk is hosted right after Rocket Raffle sales end, but this year, sales were hosted in the fall and the Walk is happening in the spring. This year, the Walk will be hosted on April 29th. If you sold 3 or more Rocket Raffle tickets, you could participate in the Walk!
The Walk is a 3+ mile walk around Assumption's neighborhood. Students travel with their class around the neighborhood wearing extravagant costumes and sharing laughs. In a normal year, all grades would walk at the same time, but this year, Freshman, Sophomores, Juniors, and Seniors will walk at different times. Due to rain and bad weather, the Walk happened indoors this year, with girls walking throughout all the hallways.
Each year, there is a theme of the Walk for students to dress up along with. After much anticipation, a variety of teasers, and an amazing reveal show, the theme was finally revealed. Assumption hosted the first ever Assumption Choice Awards nomination ceremony with musical performances from Justin Bieber, Lady Gaga, and Hannah Montana, as well as guest appearances of One Direction, the mom from The Lorax, and even Barbie! This year, after the amazing Assumption Choice Awards, the theme was revealed to be "A Walk Down Memory Lane!"
The theme, "A Walk Down Memory Lane" hosted a variety of creative costume opportunities for students to dress up in. Girls were told to dress according to class colors: freshmen are green, sophomores are blue, juniors are yellow, and seniors are pink. Through this theme, students can dress as a favorite childhood character, music star, actress, celebrity, or even dress as an old baby picture!
On the day of the Walk, classes assembled in the gym for a Walk kickoff. This kickoff will have a wide variety of activities for students including a family fashion show, more information about the Assumption Choice Awards, including the winners, and maybe you'll even see your favorite teacher get slimed! This kickoff was definitely one to remember!