By Erin Lewantowicz
Field dances were part of April's Spirit Month, along with the Walk, Pink and White, and many dress-up days. These dances replaced the bleacher dances that usually take place in February during the Winter Pep Rally. Originally, they were to be filmed at the Green on the field, but this changed due to inclement weather (snow in April!). Rather, they were all filmed in the back lot of the Highland Hall building. They were filmed using a drone and were very high-quality. Class officers prepared the music and choreographed dances for the classes. Social distancing and masks were part of the dances, but they were still incredible! The dances were shown during the Walk assembly for each class. Students got to see each class' dance and were so proud of what they accomplished.
The freshmen decked out in their green to film their field dance, and so many from their class showed up. Even though it was their first dance, and different than usual, they did an incredible job. They used tons of fun, popular songs that showed what their class is about. They killed their first dance!
The sophomores showed up in their blue for their boyband-themed dance. Mr. Stairs cameoed as a voiceover in the beginning which was an extremely creative idea. They danced to Justin Bieber, One Direction, NSYNC, and several other groups. They had a lot of fun being together as a class to make this dance!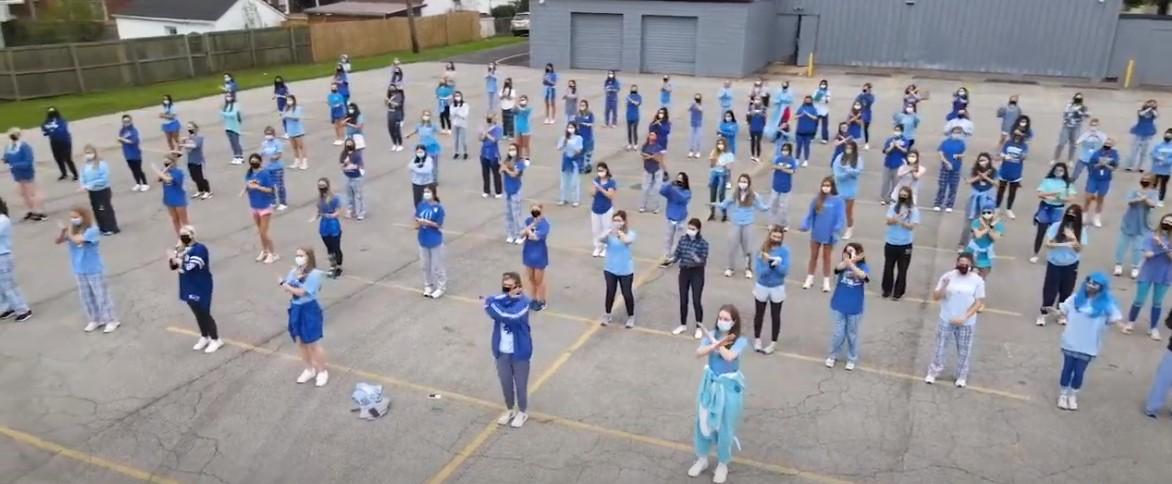 The juniors came out in their yellow and started out with a bang to Crazy Train. They had some really creative songs throughout their dance and made it one to remember. The drone accentuated their moves and showed that they had an awesome time. They only have one more dance to go!

Lastly, our seniors did an incredible job on their joint field dance/fly girls. They began by marching in with the Rocket flags and had so much fun making their dance. They filmed the same day as Pink and White, so the dance was filled with energy. Even through all the adversity, the Class of 2021 has continued to show up and put their best and positive energy into all they do.