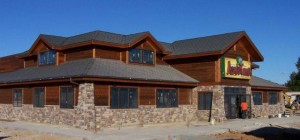 By: Lindsay Vogel
A big question that many teens have when deciding where to eat is where can I go that is affordable and good? This question came up when my friends and I all went to eat together at Aspen Creek located on 8000 Bardstown Road, before the school dance. The atmosphere of the restaurant was a laid back, low-key place with dimmed lights and stoned walls.
Although there was not much room to stand while we were waiting for our table due to all the other families waiting, the staff at the restaurant was quick to get our table ready for us so that we were able to sit. It was a tight squeeze to fit six people in our booth but our waitress was happy to do anything that we asked of her.
Story continues below advertisement
As my dinner I chose the Mama's Homestyle Lasagna which had an assortment of meat and cheeses served in a bowl along with one breadstick. Although I am not normally a fan of lasagna, this one impressed me and I found it to be extremely enjoyable. The breadstick along with the actual lasagna was cooked at the perfect amount and the serving size was just the right amount to where I did not have an overwhelming amount of it left over.
The variety of items included on the menu range from Italian to several types of meats to seafood making it the perfect place to go to when you have a family with a large variety of food favorites. The pricing of the restaurant is affordable with no item being priced over $16.
The people working at the restaurant along with the people eating at the restaurant were all friendly and easy to joke around with, making our experience enjoyable and relaxed. Although we went in our dresses, people were dressed in every type of clothes, meaning that the next twelve thirty day you and a group of your friends could go in your uniforms and fit right in. Your experience will go just as the restaurant's motto goes: Amazing food and even more even amazing prices.