By: Hannah Moore
Next is our Cross Country team.
The cross country team this year has had a great season. They are currently ranked 8th in the nation! They finished 2nd at the Palatine Invitational, 3rd at the Manhattan Invitational and won the Great American Cross Country festival. They won the regional tournament this past week and they have the state tournament this upcoming weekend. This year's team was led by 31 seniors.
-Elise Amshoff     -Devin Armstrong     -Anna Kate Reed
-Emily Bean     -Kelcie Bowman     -Lydia Brian
-Meredith Burnham     -Kelly Constant     -Kassi Taylor
-Courtney Rapson     -Alex Holland     -Haley Smith
-Lindsey Vogel     -Olivia Vanegas     -Bailey Davis
-Abby Lampton     -Alice Mower     -Mary Heeb
-Colleen Hess     -Lindsay Bell     -Sydney Wessel
-Katherine Receveur     -Katherine Cook     -Kate Crawford
-Kenzley Defler     -Lauren Hayden     -Emily Riedling
-Caroline Radmacher     -Lauren Loehnert     -Kyndel Guyton
-Jessica Byrd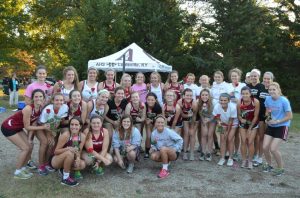 Story continues below advertisement
Photo Taken By: Gwen Crawford
Congratulations on a great season! Go Rockets! Take State!