Paul McCartney rocks the KFC Yum! Center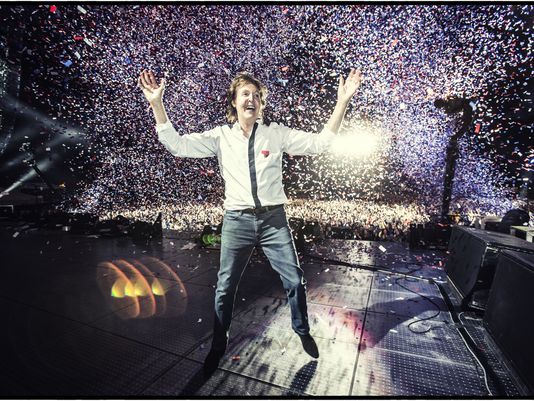 For many of the students reading this review, some may be wondering, "Who in the heck is Paul McCartney?" Well to answer the question, Paul McCartney is a music icon- a living legend whose music has stood the test of time in a world of ever changing musical genres and styles.
And on Oct. 28, in front of a sold out crowd at KFC Yum! Center, the 72 year old proved he can still rock, preforming for 3 hours straight with no breaks or intermission. McCartney's "Out There" tour rocked the house with 39 iconic songs that came from his long and successful career.
McCartney took to the world stage as a member of '60's British rock 'n' roll band, The Beatles. He, along with band members John Lennon, George Harrison, and Ringo Starr became international celebrities with their unique sounds and rock beat. The band broke up in 1969 but their music has lived on. McCartney preformed 29 Beatles songs including number one hits like "Hey Jude", "Let It Be", "Paperback Writer", and "Eleanor Rigby."
After The Beatles, McCartney formed the band, The Wings. The band broke up in 1981 but hits like "Maybe I'm Amazed" and "Band on the Run" were performed at the concert.
Despite being 72, age seemed to play no factor into the performance. McCartney kept a level of high energy and enthusiasm throughout the 3 hour show. He switched instruments periodically from the guitar, to the piano, to the ukulele, and to the same bass he used over 40 years ago with The Beatles.
During the second encore, McCartney ended the concert in the same way The Beatles end their last album Abbey Road- with a medley of "Golden Slumber", "Carry That Weight" and "The End." The final verse "And in the end, the love you take is equal to the love you make" rang through the crowd as McCartney bid farewell to the Louisville fans.
Listening to him sing was like listening to the CD. His voice has not lost its touch, despite 50 years singing. His talents have not waivered and it was an unbelievable privilege to hear him live.
Set List:
"Eight Days a Week"
"Save us"
"All My Loving"
"Listen to What The Man Said"
"Let Me Roll It"
"Paperback Writer"
"My Valentine"
"Nineteen Hundred and Eight-Five"
"The Long and Winding Road"
"Maybe I'm Amazed"
"I've Just Seen a Face"
"We Can Work It Out"
"Another Day"
"And I Love Her"
"Blackbird"
"Here Today"
"New"
"Queenie Eye"
"Lady Madonna"
"All Together Now"
"Lovely Rita"
"Everybody Out There"
"Eleanor Rigby"
"Being For the Benefit of Mr. Kite!"
"Something"
"Ob-La-Di, Ob-La-Da"
"Band on the Run"
"Back in the U.S.S.R."
"Let It Be"
"Live and Let Die"
"Hey Jude"
Encore:
"Day Tripper"
"Birthday"
"Get Back"
Second Encore:
"Yesterday"
"Helter Skelter"
"Golden Slumber"
"Carry That Weight"
"The End"
Article by Lauren Monaghan 
Photo by MJ Kim