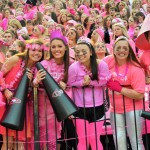 By: Kaitlyn Dwyer
Despite what people in the area may think, The Pink and White Game on April 24th was not a disappointment for Assumption. It was an emotional game that only tested the strength of the community.
The game started off well with Assumption scoring the first 9 points. Sacred Heart caught up and eventually finished off the game at 34-26. No matter what happened, The Rockets stuck together.
The student section or "rage cage" as some girls called it, never stopped cheering. The school spirit roared throughout the entire game. Senior Jenny Graft said, "I lost my voice halfway through the game!" That was the case for most of the girls as they stayed the entire time to support team pink.
Story continues below advertisement
Halftime was a highlight for everyone as the St. X and Trinity boys took the field to perform a dance routine. St. X, dancing for Assumption, won for having the best dance.
When the game ended Assumption stayed classy and congratulated Sacred Heart Academy on their big win. The game left the Assumption community feeling united as a school. Love and support poured out from the crowd to the players on the field.