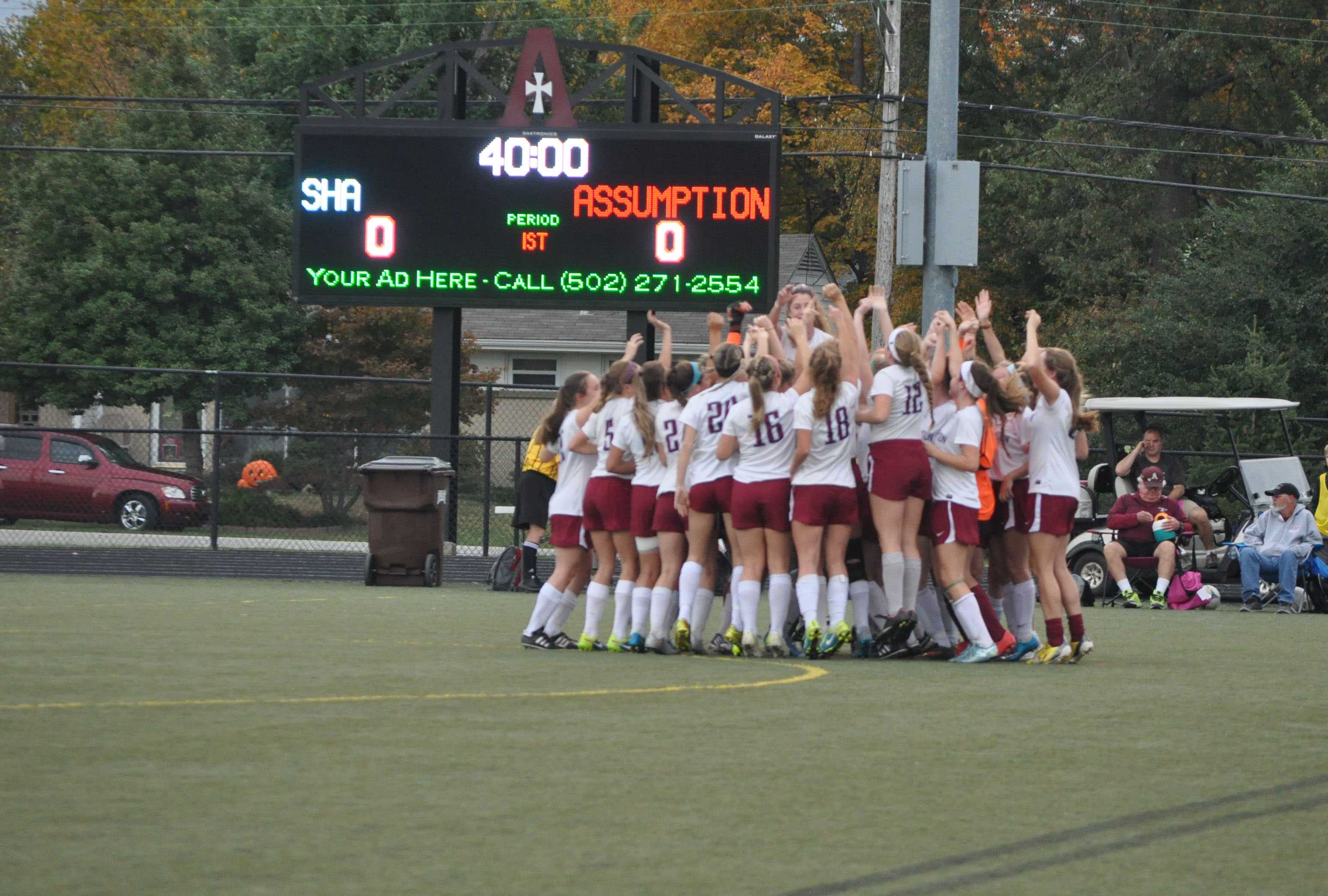 Rocket Soccer fell to Sacred Heart 1-0 in the Region Championship on October 23 at home, despite senior goalkeeper Ellie Coke's 5 saves.
Being one of the biggest rivalries in the state, Assumption and Sacred Heart both put a lot of emotion into playing each other. Assumption coach Kenyon Meyer said, "We see the beauty of the rivalry and appreciate the opportunity."
Coke agreed by saying, "We put all of our effort into pre-practices and pre-games. We were trying to be really motivated to win." Despite the Rockets' motivation, Sacred Heart sophomore and University of Louisville commit Cassie Amshoff scored at 35:27 in the first half from the top of the box. The shot from 18 yards out soared above Coke's head and into the net.
Story continues below advertisement
Amshoff described the feeling of scoring as "exhilarating," and said, "It meant [we get] to go to the next round."
Coach Meyer responded to this by saying, "I was disappointed…I felt if we made it through the first fifteen minutes without a score from them, we could win." The Rockets played mostly defense for the majority of the game.
Assumption fan, Haley Harkins, recognized this and said, "We're playing defensive minded. We need to have more offense to even the score." Rocket players agreed they needed to come together.
"We couldn't find our own players to pass to. We weren't organized," said senior, Taylor Hubbs.
After thirty minutes passed in the second half, the Rockets started their last minute push to score, and got 3 shots off, all of which were blocked by Sacred Heart's junior goalkeeper, Sarah Stodghill. Sacred Heart Coach, Jaclyn Puntillo, said, "The hardest part was the last ten minutes, we really were given 110% out of Assumption."
Amshoff led Sacred Heart to win with her lone goal. She explained, "We just do us" to prepare for games, and said she looks forward to the state championship.
Although the season ended unfavorably for the Rockets, Coke said, "I'm proud about everything with this team. We've beat the number 1 team. We've won the cleat back."
By: Anna Gibson & Jenna McKune