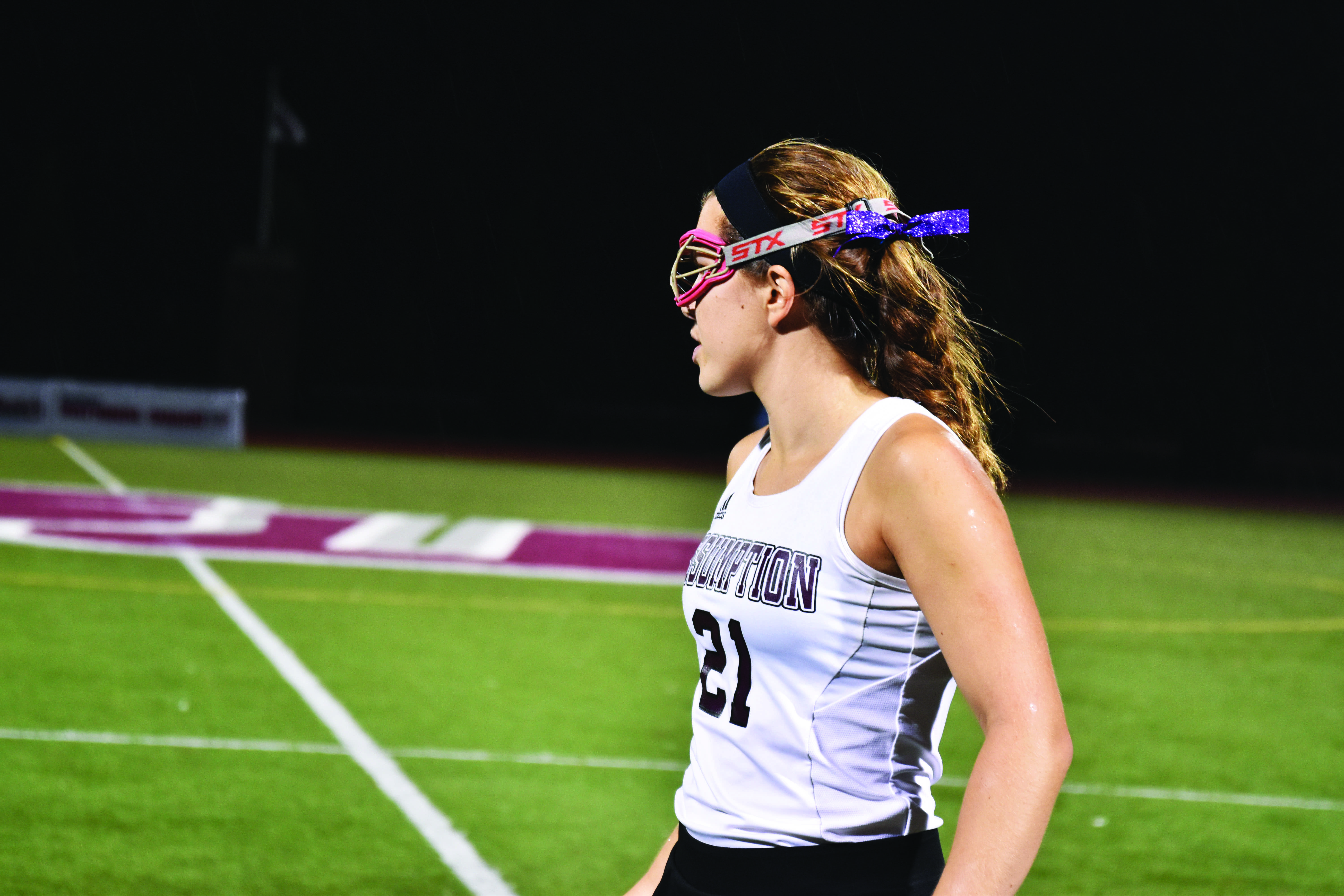 The AHS field hockey team was defeated by DuPont Manual in the state semi-final game.
The Assumption field hockey Rockets lost to the DuPont Manual Crimson Rams on October 26th during the state semi-final tournament game. What began as a calm game soon turned into an aggressive battle for the win.
Starting out, energy was even higher than usual, with Assumption's starter, Sydney McKenna, having transferred from DuPont Manual only this year. In less than five minutes, more than three attempts had been made, both teams fighting for the goal. As the game continued, the game only got more aggressive, with countless attempts at scoring, though with no success. Half time was called with the score remaining zero to zero.
Story continues below advertisement
The second half began in a whirl of corner shots and fouls. After attempts by both teams, Assumption's Camryn Pichea and Manual's Sara Swarz went down in an attempt at the ball. While Pichea quickly got off the field, Swarz was down for minutes, eventually walking off with the help of her coaches. The ball was given to Manual.
This began a series of attempts by Manual, leading to the only goal of the game by Shelby Young with less than seven minutes remaining in the game. This pushed the rockets, and they attempted at two corner goals with no avail. DuPont Manual won, with the score one to zero. For the rockets, this was a devastating loss.
Junior Emma Spinetto remembers the hardest part being, "the girls were very physical, and they pushed on you a lot."
Coach Debbie Judd agreed on Manual's aggressive playing, and after questioned about what she would say to her team, she responded by telling them "how proud we were of them. They played hard, but Manual did a good job getting us out of our game." In the future, she says the team will have to learn to adapt to rougher teams.
Manual Coach Brittany Tolan respectfully agreed that Assumption played well as she congratulated her players. When asked what made this team different from competitors and other teams she has coached, she replied, "the seniors. They have great leadership and led us to victory."
In addition, Manual player Aubrey Draper stated that her team's preparation is what helped them win. "We meet two hours before every game for pep talks and we give our all at practice. We're just a family. I love this team so much."
Manual went on to lose in the finals with a score of three to one against Sacred Heart. The rockets already look forward to playing hard next season.
 By: Rosie Bartley & Holly Zoeller