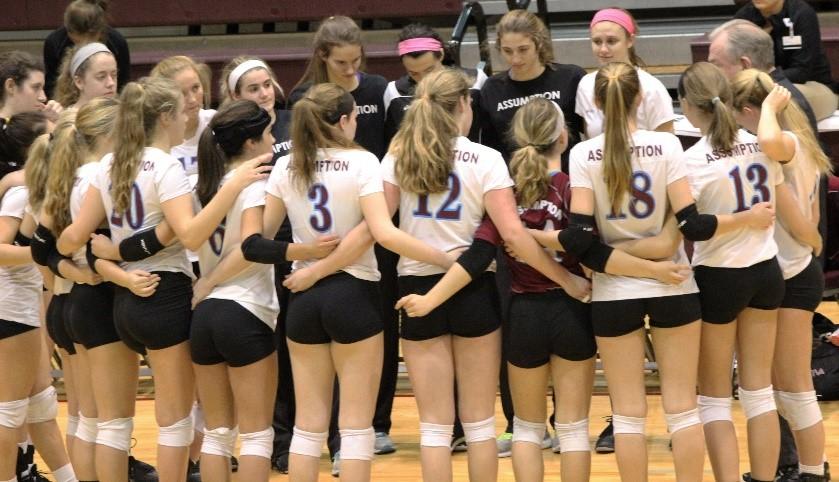 Starting off in the fight for state, Assumption came ready for a win in the first game of regionals. On October 26, Assumption began the tournament playing Eastern High School. Both teams came out with smart strategies to win but knowing what they could face later in the tournament drove Assumption to win the match in 3 sets.
Story continues below advertisement
The match started off on a strong effort by both teams; Assumption working hard on the net while Eastern covered the backrow. Assumption started off the match with the serve. Assumptions passers and setters did a great job with setting up the hits to help them get the lead to start off the match. Even though the final score of the first set (25-8) might not show it, Eastern's backrow covered their court fantastically, popping up any ball they could. That was Eastern's plan, according to John Frank, an assistant coach on Eastern's team. They knew Assumption had a strong front row and that they "had to be ready defensively and offensively."
The next game, Eastern came out more organized and they ran more playsets. Assumption still stayed prominent at the next, winning the second match (25-9). In the third game, Assumption had the serve but Eastern was ready to fight. Eastern took advantaged of Assumption's errors during the last game and played on their toes. Even though Eastern gave a strong fight throughout all three games, Assumption still came on top, winning the last game 25-12.
Ron Kordes, Assumption's head coach, said after the game that the season for them had been a rollercoaster so far. And going into the tournament, the team really needs to focus on keeping a high intensity and working together. This tournament is the closest Ron Kordes has seen in 27 years and he is hoping that their great season finish will follow them into tournament play this weekend.
Assumption High School battled their way through the rest of the state tournament and went on to win their 19th State Championship.