Galentine's Day, a Valentine's dedicated to you and your gals. Valentine's Day overshadows Galentine's every year, so take this winter break to commemorate this often-forgotten holiday. Here is a list of 10 things to do with your gal pals:
Get together and have a nice meal; whether it be brunch or dinner, enjoy your friend's and your food's company.
Have a rom-com movie marathon night; everyone brings a list of your favorite rom-coms and watch them all night long.
Throw a stereotypical girls-night sleepover with pillow fights, chocolate chip cookies, matching pajamas, and the cutest of selfies.
Bring a box of cake mix and have a competitive bake off, then enjoy your treats.
Put together a Secret Cupid exchange, bring chocolates and flowers for your assigned partner.
Create a DIY photo booth. Make those Instagram pictures pop with a decorative background and handmade props!
Host a karaoke party and sing all your hearts out to everyone's favorite songs.
Get matching mani-pedis with your best friends and show them off when we return to school.
Have a paint swap party! Everyone brings their own canvas and every ten minutes swap canvases with someone else and admire the masterpieces once everyone's had a turn.
Obviously, last but not least, shop till you drop. Go to the mall and buy that dress you've been wanting or that top that you just know you could rock, bring your friends and give a post-shopping fashion show.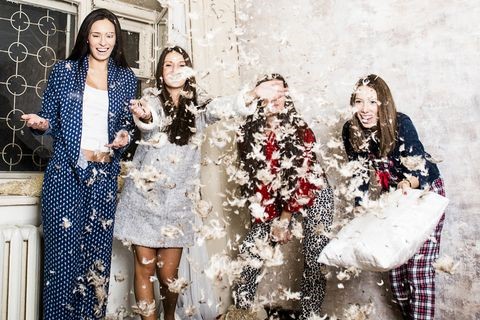 Now go out, be safe, have fun, and celebrate your girl-friends!
By: Hailey Doran
Story continues below advertisement